Cardinal Zen gathers hundreds at three churches on route to forbidden pro-democracy protest
Cardinal Joseph Zen Ze-kiun led prayers in Hong Kong Sept. 15 as thousands defied a police ban on staging demonstrations to support their five pro-democracy demands.
The Civil Human Rights Front had planned to march from Causeway Bay to Central but police refused the group permission, declaring that anyone demonstrating in that area would be breaking the law.
Cardinal Zen, 87, a long-time advocate for human rights, announced on his Facebook page that morning that he would pray for Hong Kong starting at 3 p.m. in three churches along the planned route.
"Today is the memorial of Our Lady of Sorrow. In this moment that our freedom, dignity, and justice is being deprived here in Hong Kong, let us have a pilgrimage to visit three churches and pray to our Lady, who understands the meaning of sorrow, to accompany us in this journey of suffering and ask for her intercession," the retired archbishop of Hong Kong posted.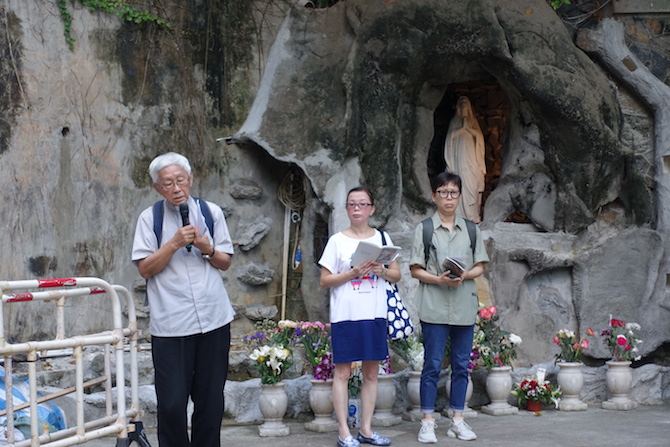 A prayer, not a rally
More than 200 Catholics arrived at the Christ the King Chapel in Causeway Bay, where the cardinal held his first prayer.
A sign saying "What can we do when our right to peaceful demonstration has been taken away?" was held up by some Catholic participants.
In order to prevent his prayers being declared unlawful, Cardinal Zen reaffirmed that it was just a prayer service, not a rally.
"We have just come here individually and you go to the next church your own way," he told a crowd of hundreds. "We are not walking together."
After praying part of the rosary and the Way of the Cross at the Christ the King Chapel, the congregation dispersed and went to the second station, Our Lady of Mount Carmel Church, and then on to the last stop, St. Joseph Church in Central.
Ms Ng, a Catholic who took part in the prayers, said she did not think going out and praying was unlawful and warranted police action.
"I pray because the government tried to implement the law at the beginning and the police beat and arrest our young people irrationally," she told ucanews.com.
When the prayers had finished, police fired tear gas at demonstrators nearby, resulting in Catholics helping each other leave the area safely.
Following the pro-democracy march, media reported violence broke out near government offices in the city. There were also reports that police used water cannon and tear gas against protesters throwing petrol bombs and bricks. Likewise there were reports of fights breaking out in different parts of Hong Kong over the weekend between pro-Beijing supporters and those supporting democracy.
The police released a statement the following day, condemning "unlawful protests and assemblies" across Hong Kong.
"They blocked roads illegally, hurled petrol bombs at the Central Government Offices and police officers, set fire at multiple locations, and attacked other people and reporters," they said.
"Police express severe condemnation of all such violent acts, which disregarded law and order."
The five demands
Hong Kong leader Carrie Lam's Sept. 4 withdrawal of a controversial extradition bill has been described as too little too late. The bill, introduced in April, sparked months of mass protests. It would have allowed criminal suspects to be extradited to mainland China.
The withdrawal of the bill was one of the protestors' five demands. The remaining demands are a commission of inquiry into alleged police brutality, retracting the classification of protesters as "rioters," amnesty for arrested protesters, and dual universal suffrage.
Source: ucanews.com