To support Hong Kong's protesters and denounce communist tyranny, 65 cities in 24 countries around the world held rallies on September 29.
by Li Bei
"Yesterday, it was Xinjiang and Tibet. Today, it is Hong Kong and Taiwan. Tomorrow, it will be the free world," said delegates of Hong Kong protestors at a press conference on September 25, urging people around the world to fight against totalitarian regimes.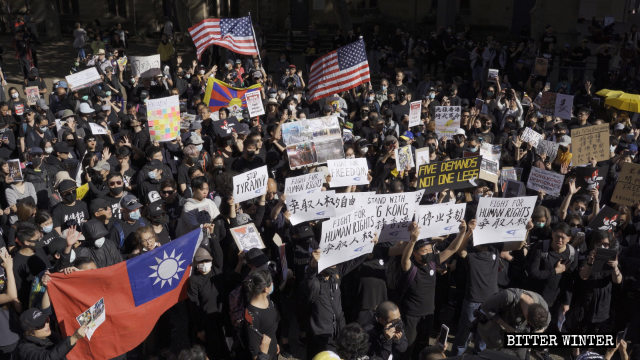 On September 29, thousands around the world joined the "Global Anti-Totalitarianism" rallies. Exiled Uyghurs, Tibetans, and people of faith persecuted by the CCP also joined the events to support Hong Kong and oppose the CCP's tyrannical rule.
In Sydney, more than 1,000 people express solidarity with Hong Kong
Australia was the first stop of global action against totalitarianism, with large-scale marches and rallies organized in several Australian cities, including Sydney and Melbourne.
Video: The "Global Anti-Totalitarianism" march and rally in Sydney.
More than 1,000 supporters of Hong Kong's democratic struggle gathered in front of the State Library of New South Wales in Sydney. Wearing mostly black, some in black facemasks, people shouted slogans in support of Hong Kong, such as "Oppose CCP Nazis, resist totalitarianism" and "Five demands, not one less," referring to the Hong Kong protesters' requests for formal withdrawal of the extradition bill, independent inquiry into police conduct, amnesty of arrested protesters, retraction of the classification of protesters as "rioters," and universal suffrage for the city's legislature and executive.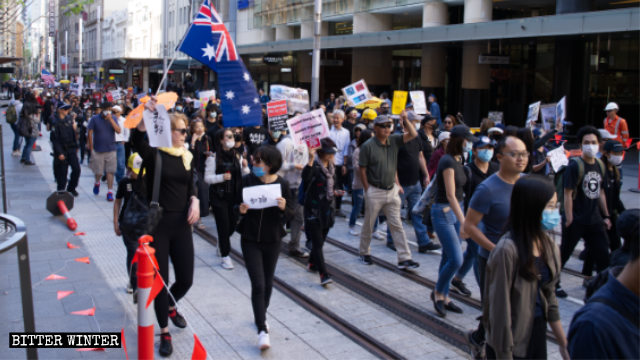 "I think Australians should support the democracy and human rights movement in Hong Kong," Ms. Frances, a Sydney resident, told Bitter Winter. "This is very important. I think that Australia and Hong Kong have a lot in common in terms of their social ideologies. We should work together to resist evil forces and fight for freedom of religion and democracy."
Video: Marchers, shouting slogans in support of Hong Kong, arrive at the square in front of the Town Hall House.
Members of 
The Church of Almighty God
 (CAG) also participated in the march. Believers of this Chinese 
new religious movement
 are empathetic to the struggles of Hong Kong residents. They know first-hand what CCP's clampdowns mean – the CAG 
has been brutally suppressed
 since the movement's founding in 1991. Over the years, more than 100 CAG members have been persecuted to death, and about 600,000 have fled China to escape the totalitarian regime.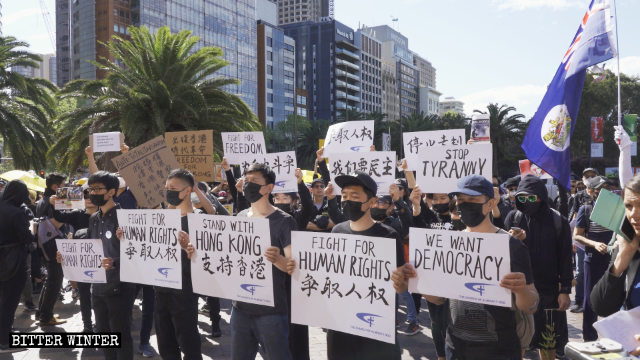 One of the rally participants, a CAG believer, said that the CCP's tyrannical rule in mainland China had resulted in the deaths of 100-200 million Chinese people. "They continue arresting and killing people of faith, committing genocide against Uyghurs, Tibetans, and other ethnic minorities," the man said with emotion. "Everything that is happening in Hong Kong proves that chaos, misery, and suffering will arise wherever the CCP extends its evil hand." He urged people to stand up for human rights and say "no" to the CCP government.
From 4 to 6 p.m. that day, about 200 people held a rally outside the State Library of Victoria in Melbourne.
Jane Poon is a retiree from Hong Kong. She said that the extradition bill crosses a red line for the people of Hong Kong, and that "one country, two systems" will no longer exist, leaving only "one country, one system," which is why the people of Hong Kong are protesting. She added that without freedom or democracy, there is no future. Only by striving for and obtaining "dual universal suffrage" (i.e., universal suffrage for both the Legislative Council and the Chief Executive) can Hong Kong enjoy true freedom. 
Pro-CCP youth attempt to disturb the rally in Toronto
More than 1,000 supporters of Hong Kong's struggle against CCP's tyranny gathered in Toronto, Canada.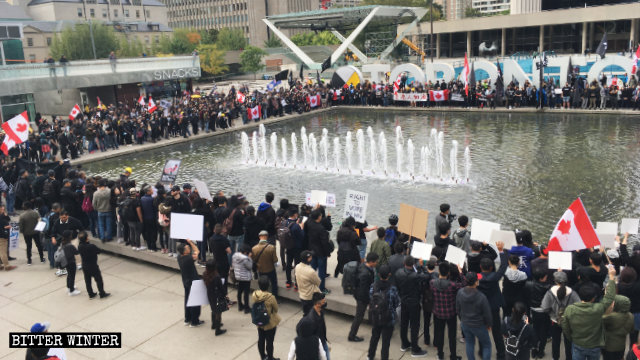 One of the rally's organizers, who introduced herself as Jane, said before the march: "We know this battle against totalitarianism is lengthy, and every bit of support is vital. We urge Canadians to join us to stand against totalitarianism and suppression. For Canada, for Hong Kong, and for the world."
Ella Lin, a representative of the Association Against Religious Persecution, a non-governmental organization focusing on suppression of faith in China, remarked at the rally that "the evil force of the CCP, which resists God, is the biggest enemy of the democratic free world and the biggest threat to world peace.
Black-clad participants began marching at around 2:45 p.m., singing the "anthem" of protests, Glory to Hong Kong, and carrying Canadian flags and black flags with Hong Kong orchid (Bauhinia blakeana). "Liberate Hong Kong, the revolution of our times," "End the one-party dictatorship," "Down with the Communist Party," and other slogans echoed through the city.
Video: Toronto march participants shout slogans in support of Hong Kong.
The march proceeded in an orderly manner, the procession stretching several kilometers. At some point, over a dozen young men appeared on the second-floor balcony of Toronto City Hall, waving Chinese flags and attempting to stir up trouble. Some Hong Kong supporters also climbed onto the balcony and held up a 
banner
 reading, "Liberate Hong Kong, the revolution of our times." The marchers shouted, "Let's go, Hong Kong!" "Young Chinese nationalists, get out of here!" After a five-minute standoff, the police escorted the CCP supporters away.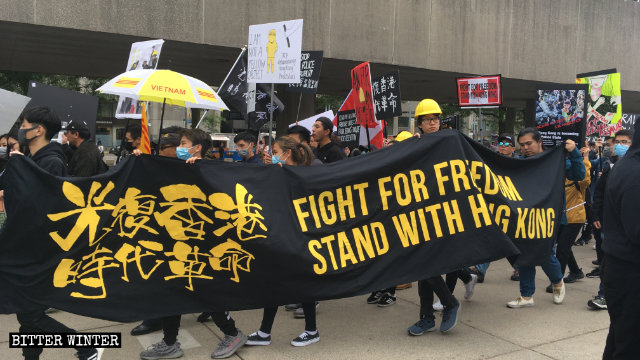 China's regime supporters also attempted to disrupt a pro-democracy march in Taipei, attended by over 100,000 people, according to the rally organizers. A masked man threw red paint at Hong Kong activist and singer Denise Ho who was speaking to reporters outside the Parliament building. Two Taiwanese men, linked to an organized crime group that supports closer ties between Taiwan and China, were arrested after the attack.
Origami cranes carry messages of support from Tokyo
About 700 people dressed in black joined the "Global Anti-Totalitarianism" protest in Chidorigafuchi Park in the capital of Japan.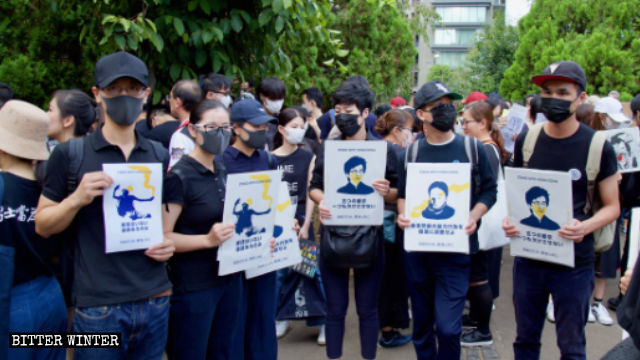 Participants handed to protest organizers origami cranes containing messages, such as "I'm moved by your bravery," "We support you in the fight for freedom," and "Let's go, Hong Kong," to show their support for Hong Kong's democratic movement.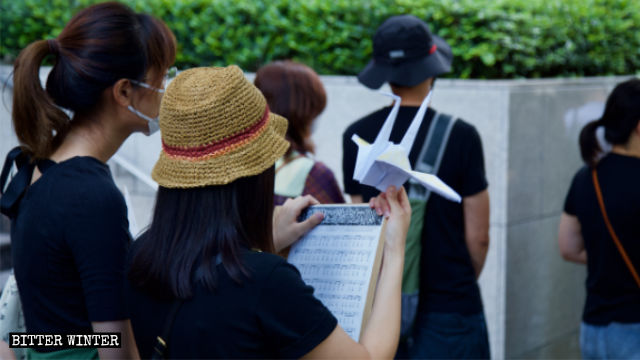 The origami will be sent to the people of Hong Kong to encourage them to continue their struggle to defend democracy and human rights.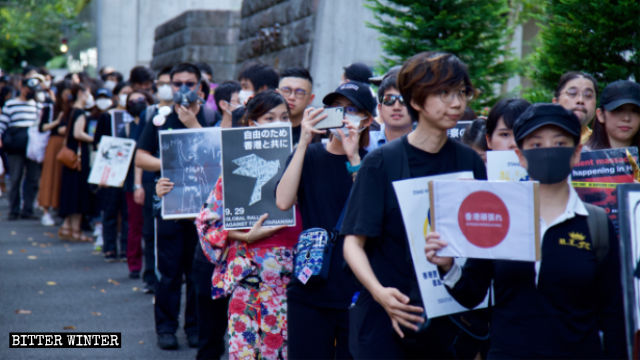 The same afternoon, about 100 democracy supporters gathered in Castle Park in the Chuo-ku ward in Osaka. Some participants came from Taiwan and Hong Kong.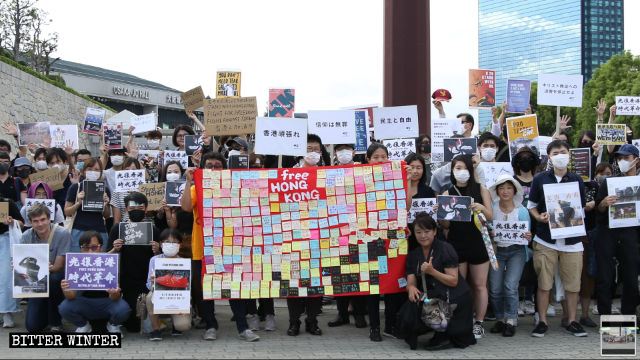 The anti-totalitarianism march in Hong Kong on September 29 set out from Causeway Bay and ended at the Central Government Complex in Admiralty. The police deployed water cannons and armored vehicles, attacking protesters with tear gas and pepper spray. Numerous people were arrested and injured by the police.