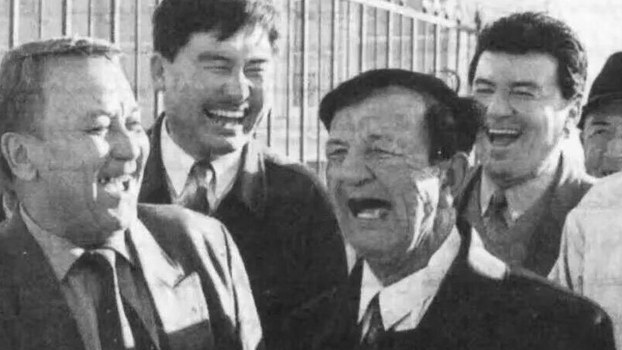 Hidayet Musajan, a young Uyghur man living and studying in exile in Turkey, last spoke with his father, a well-known comedian in northwest China's Xinjiang Uyghur Autonomous Region (XUAR) named Musajan Ehmet, in September 2017. Musajan later learned through a friend that his father was sentenced to 20 years in prison for having traveled abroad and flouted family planning policies that require rural ethnic minorities have three children or less. Ehmet had visited his son in Egypt once before, after securing permission from authorities to travel abroad. He had also paid a fine in 2016 for Musajan's 10-year-old sister, who had been born outside of the family planning policy, so that she could be formally registered with the Chinese state. According to the friend, Ehmet is currently being held in a prison in Kuitun, a county level city in the XUAR's Ili Kazakh (Yili Hasake) Autonomous Prefecture.
Ehmet, who was born in Ghulja (Yining) city in 1970, worked at the Ili Kazakh Autonomous Prefectural Culture Bureau from 1991-1993, and for the cultural division of the Kepekyuzi township government in Ghulja county until his detention. He became popular as a comedian among Uyghurs for his original jokes and wordplay, performing with some of the region's best known comics and releasing several recordings of his work.
Musajan, who is in his third year of studies in graphic design at the Istanbul Media Academy, moved to Egypt in 2014, but relocated to Turkey in 2017 after Cairo forcibly repatriated several Uyghur students to China. He recently discussed how he learned about his father's imprisonment in an interview with RFA's Uyghur Service and called for the international community to pressure China over his release.
"My communication with my father was cut off completely after we last spoke with one another in September 2017. Ever since then, even though I've suspected that my father had been detained by the Chinese government, I had no chance to get any information directly from the homeland about my father because the Chinese government completely controls communication with people in foreign countries. But two months ago, as a result of doing some digging around with the help of several acquaintances of mine, I heard news that my father, Musajan Ehmet, was detained in September 2017 for having had more than three children and having gone abroad, that he was sentenced to 20 years in prison, and that he's currently in a prison in Kuitun."
"From my father's and many other tragic cases, I have come to understand that the fact that Uyghurs are different from Chinese is itself a sufficient 'crime' for the Chinese government. I see the way that they used the fact that my father—a widely known person in our homeland—had more than three children and went abroad, which are within the rights of any average citizen, as 'crimes' upon which to detain and sentence him to a long prison term. It's clear proof that individual lives are the price of the ethnocide that the Chinese are enacting against the Uyghurs."
"I call on the U.S. leadership, the United Nations, human rights organizations, as well as all countries and societies that are working in defense of human rights and justice, to do their jobs [in regards to my father's case]."
Reported by Nuriman for RFA's Uyghur Service. Translated by Elise Anderson. Written in English by Joshua Lipes.
Source: Copyright © 1998-2016, RFA. Used with the permission of Radio Free Asia, 2025 M St. NW, Suite 300, Washington DC 20036. https://www.rfa.org.