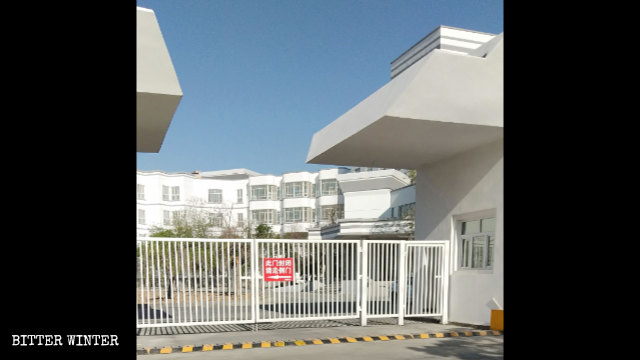 The majority of tens of thousands of people from a southeastern prefecture of China's Xinjiang Uyghur Autonomous Region (XUAR) who will be hired to do construction work in coming years are currently detained in internment camps, according to a source from the job center that is placing them.
RFA's Uyghur Service recently obtained a copy of a document which was circulated by the government of Bayin'gholin Mongol (in Chinese, Bayinguoleng Menggu) Autonomous Prefecture on July 13, stating that it plans to put 19,000 people in construction jobs over the next three years.
The document says that the plan was prepared by the XUAR government under the "guiding light" of China's President Xi Jinping as part of a strategy to bring stability and peace to the region, which has seen unrest and tensions between Uyghurs and a growing population of Han Chinese since the 1990s.
While it is not stated explicitly, certain details in the document suggest that the plan is, at least in part, a way of dealing with detainees from the XUAR's vast network of internment camps, where authorities are believed to have held up to 1.8 million Uyghurs and other Muslim minorities since April 2017.
RFA called several government offices in Bayin'gholin and was able to speak with a Han Chinese representative with the prefectural Party Committee, who refused to comment on the work program unless it was in person.
"If you need help with anything, bring your work authorization card to come see us," the representative said, adding, "Let's not talk about this on the phone!"
However, a Han Chinese staffer from the job center listed on the July 13 document confirmed the existence of the program and said that most of the 19,000 would comprise camp detainees, in addition to workers from several different fields and institutions.
"Yes, there are people from the internment camps—of course there would be people from the camps," he said, speaking on condition of anonymity out of fear of reprisal.
"[But] there are also people from all kinds of institutions and schools."
When asked what percentage of workers will be from the camps and which ones, the staffer said he was unsure.
But asked whether the majority will be from camps, and if the plan was designed with the goal of relocating detainees from camps into the workplace, he answered, "Yes, that's correct."
"This program has not been officially launched on a large scale," he told RFA, adding that further details should be available by the end of the year.
"If you want more information, ask the Housing and Construction Department. It was their decision to hire 19,000 people. We're just following the government's laws and policies."
RFA also asked the staffer which of four known camps in Korla (Kuerle), a county-level city in Bayin'gholin and the XUAR's second-largest city, would provide the workers, but he said he was unable to answer because it was unrelated to his job duties.
He also referred a question about whether the plan was being executed because there isn't enough space for people to be held in internment camps to XUAR government officials, saying, "we don't arrange these particular matters."
Over the past several years, RFA has received several tips that the number of detainees in Korla camps had grown so excessively large that jails and prisons had been repurposed to house the overflow.
Camp network
Beijing describes its three-year-old network of camps as voluntary "vocational centers," but reporting by RFA and other media outlets shows that detainees are mostly held against their will in poor conditions, where they are forced to endure inhumane treatment and political indoctrination.
Amid pressure from the U.S. and, to a lesser extent, the European Union and the United Nations, experts believe that China has begun sentencing Uyghurs held in internment camps to prison, providing legal cover to the detentions.
However, growing evidence suggests some Uyghurs and other detainees are being relocated to factories inside and outside of the XUAR as forced labor, under the guise of gaining employment connected to their purported vocational training.
In a July 2019 press conference, XUAR Chairman Shohret Zakir told reporters that more than 90 percent of internees from so-called "vocational training centers" had graduated from their "studies" and been placed into jobs. In later statements, the Chinese authorities claimed that all "centers" had been closed.
However, the confirmation from Bayin'gholin that camp detainees will be part of a new work placement scheme directly contradicts these year-old claims, suggesting that camps are still operational and that many citizens are being held involuntarily inside them.
RFA's previous reporting has shown that Bayin'gholin was a center of "vocational training" in the XUAR.
'Residential areas'
It was not immediately clear whether the detainees to be placed in jobs under the Bayin'gholin program will be moved into forced labor settings or into "residential areas" like one RFA reported on earlier this month in the seat of Makit (Maigaiti) county, in the XUAR's Kashgar (Kashi) prefecture.
In that report, sources told RFA that a special, restricted-access residential area had been established to relocate internment camp detainees accused of lighter "offenses," which requires study of Mandarin Chinese, while employing detainees in several on-site factories.
Known as the "14th Neighborhood Committee," the zone permits detainees to live with their families, but otherwise differs little from the camps.
Residents are strictly monitored and made to attend mandatory political indoctrination classes, sources said, as well as sessions involving "self-examinations" and "confessions," while entry and exit are prohibited without special permission.
Reported by Shohret Hoshur for RFA's Uyghur Service. Translated by Elise Anderson. Written in English by Joshua Lipes.
Source: Copyright © 1998-2016, RFA. Used with the permission of Radio Free Asia, 2025 M St. NW, Suite 300, Washington DC 20036. https://www.rfa.org.