From Secretary Pompeo to the Bar Human Rights Committee of England and Wales, UN experts, and a coalition of 190 NGOs, many are now breaking the silence.
by Ruth Ingram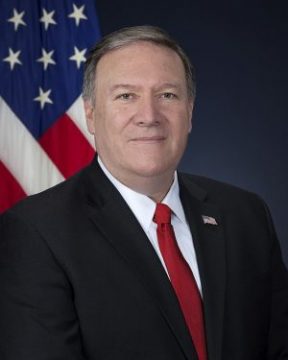 Nixon's China Policy Discussed
On July 23, U.S. Secretary of State Mike Pompeo delivered an important speech on China at The Richard Nixon Presidential Liberty and Museum in Yorba Linda, California.
For the first time in American diplomatic history, Pompeo stated that the strategy devised by Richard Nixon in 1967, to "induce change" in China through international recognition and commerce, has failed. China has not changed, and will never change until the CCP remains in power. As an example of the CCP's total disregard for human rights, Pompeo mentioned what he called "concentration camps" for Uyghurs, ethnic Kazakhs, and others in Xinjiang.
The Bar Human Right Committee of England and Wales
Pompeo is not alone. The world must wake up to its responsibilities, to hold China to account for a tranche of human rights abuses being inflicted against Uyghurs and Turkic people in its far North West, claims a consortium of the UK's foremost human rights barristers and legal practitioners.
In its report published this week, the Bar Human Rights Committee of England and Wales (BHRC), insists that mounting evidence that Beijing is flouting a raft of internationally accepted legal conventions, cannot continue to be ignored by the international community.
In its high level briefing paper, "Responsibility of States under International Law to Uyghurs and other Turkic Muslims in Xinjiang, China," it lays out a range of possible legal avenues by which China can be made to face what has been described by China researcher Adrian Zenz as crimes tantamount to genocide. The BHRC urges States not to shy away from tackling China for its flagrant catalogue of human rights violations, which have come to light particularly over the last four years, since Chen Quanguo assumed the helm of the CCP in the troubled autonomous region.
"The severe ill-treatment, repression and abuse of Uyghurs and other Turkic Muslims by the Chinese State has been widely reported and these allegations have emanated from a number of diverse and credible sources," write the authors. "The allegations, if proven, would constitute very serious violations of international human rights and international criminal law; violations which are alleged to be continuing even now. The allegations must be taken seriously, and urgently, by the international community, and pursued using all appropriate means available, including by reference to international law and the international legal framework."
Reported violations according to the document, include the mass surveillance and arbitrary detention of over 1 million Uyghurs and other Turkic Muslims, torture and inhuman treatment of detainees, the forced separation of children from their parents, the denial of the right to practice their religion or speak their language, forced sterilization, forced labor, forced organ harvesting, enforced disappearances and killings in detention.
How to hold China accountable
Attempting to hold Beijing directly accountable for these crimes is not straightforward, says the report, since whilst agreeing in principal to norms governing international crimes of genocide, crimes against humanity, war crimes, and the crime of aggression as laid down by the Rome Statute of the International Criminal Court, China has managed to evade accountability on several points by placing reservations on the dispute resolution and complaints clauses and inter-State resolution mechanisms.
But, says the report, the fact that all States, including China, have unequivocally accepted that slavery and racial discrimination, torture and genocide are prohibited and should not be carried out gives governments leverage in calling China out where flagrant violations are perpetrated on its soil.
Endorsing the report, Sir David Alton of Liverpool, and Baroness Helena Kennedy QC point to the conclusions of the report. While acknowledging limitations to international legal accountability for alleged crimes in Xinjiang, "this Paper makes clear that alternative routes exist which the international community can use to place pressure on China to meet its own legal obligations towards all peoples within its border, as well as addressing the legal obligations of States other than China."
States, civil society join the protest
In the face of unequivocal evidence coming out of China, world governments are beginning to take seriously the need to rein China in and call it to account. Fierce debates in the British Parliament recently over its involvement with China's tech giant Huawei where human rights abuses against the Uyghurs were flagged up have prompted the UK foreign Secretary Dominic Raab to accuse China of "gross and egregious" human rights abuses.
The US government's Uyghur Human Rights Act and the imposition of Magnitsky sanctions against Chinese officials, followed this week by France demanding independent observers be allowed into Xinjiang, indicate growing feeling that Beijing's ill treatment of the Uygur people is not acceptable.
A coalition to end forced labor in Xinjiang
Civil society and trade unions have also taken up the baton this week as more than 190 organizations, including Bitter Winter and its parent organization CESNUR, under the banner of "The coalition to end forced labour in the Xinjiang Region," responded to a "Call for Action" to join forces in persuading brands and retailers to exit the Uyghur Region at every level of their supply chain.
Given that 84% of cotton production from China, and 20% of the world's cotton itself, comes from the Uyghur Region, with one fifth of the world's cotton apparel in the global clothing market tainted by forced labor, Jasmine O'Connor of Anti-Slavery International appealed to the world to put a stop to this slavery scandal.
She said that in order to call a halt to the horrific abuses of Uyghurs by the Chinese government, the time for "empty declarations" was over. "Now is the time," she called, "for real action from brands, governments and international bodies." She urged them to make ruthless and meticulous investigations to ensure their supply chains were not linked to the atrocities meted out against Uyghurs, ethnic Kazakhs, and other Turkic Muslim peoples. She warned that only by exiting the region and terminating relationships with "suppliers propping up this Chinese government system," could they ensure they were not party to the exploitation. The Call to Action report states that "every major apparel brand and retailer selling cotton products is potentially implicated."
"Brands and retailers must take (…) steps in order to fulfil their corporate responsibility obligations to respect human rights as defined in international principles such as the UN Guiding Principles on Business and Human Rights," it stressed.
Uyghurs: "Business as usual with China should stop"
Heartened by the BHRC report, and the increased concern around the world concerning the plight of his people, Omer Kanat Executive Director of the Uyghur Human Rights Project, welcomed the findings.
"The United Nations and government officials around the world are now on notice," he said. "The time is over for raising concerns privately with Chinese officials while conducting business as usual. Without international intervention, the pattern of Chinese government behavior tells us China's policies will succeed in wiping out the Uyghurs as a people in their own homeland," adding that "those entities with political power who remain bystanders are complicit."
Encouraged by the statement issued recently by 50 UN independent experts denouncing China's human rights record, he welcomed their unprecedented call for the creation of a dedicated and special session to address the reports.
Whilst heartened by the BHRC report, he pleaded for the momentum to continue. "These measures must be followed up in the UN and among states at the bilateral level. Muslim-majority countries are conspicuous for looking the other way. Business as usual cannot stop genocide. Governments and the United Nations cannot be bystanders. They must act now."
Source: Bitter Winter