While the CCP governs the Three-Self Church, many of its venues are not issued religious activity registration certificates and are subsequently stifled and shut.
by Wang Anyang
Since the new Regulations on Religious Affairs came into force in February 2018, the Chinese government has been applying increasingly repressive measures to control people of faith and reduce the number of sites for them to assemble. The new law foresees that no place of worship can operate without a religious activity venue registration certificate, which is issued by the Religious Affairs Bureau. Before the changes, many such unlicensed state-approved venues were allowed to exist. However, now, any place of worship without this permit is considered illegal and is closed down. 
Bitter Winter talked to some people in charge of Protestant and Buddhist venues who shared their experiences of applying for a religious activity venue registration certificate.
210 pages of supporting materials are not enough
The person in charge of a Three-Self venue in the Pulandian district of Dalian, a major sub-provincial port city in the northeastern province of Liaoning, told Bitter Winter that his place of worship was established in 1993. In 2018, it was closed down for being "unlicensed" because the venue did not have the required registration certificate. The man is still trying to get one.
"Very many documents are required, such as land use and fire safety certificates, as well as bank statements, to be submitted to numerous government departments, including the Religious Affairs Bureau, Civil Affairs Bureau, Fire Prevention Bureau, and the police," the in-charge explained. "Besides, each document needs additional materials, and ID information of all clergy members should be provided. No typos are allowed, the font cannot be too large or too small. Any slight mistake will make the entire process go to waste. Meaning that the paperwork needs to be done again from the very beginning. The final version of our application consisted of 210 pages, which took us three months to prepare."
After he finally submitted the application, government departments began pushing responsibility from one to another, all refusing to take care of his request. "The government says we have religious freedom. Do we really?" the man was visibly upset. He added that none of the local Three-Self meeting venues that have applied for a new or renewed certificate after their places of worship had been closed down received it so far.
Song Yongsheng, the chairman of the Three-Self Patriotic Movement of Shangqiu, a prefecture-level city in the central province of Henan, committed suicide on July 17 last year, exhausted from the government's control.
And the number of wearied and disappointed believers is growing. A Buddhist in his seventies from Inner Mongolia attempted to end his life, unable to cope with the difficulties he encountered while applying for the certificate. In October 2019, more than 40 law enforcement officers and officials from the United Front Work Department raided his temple in Bayannur, a prefecture-level city in western Inner Mongolia. They sealed the entrance to the temple and its main hall and covered all Buddha statues and other symbols inside with iron sheets. According to a source familiar with the matter, the Buddhist in charge has applied for the certificate 17 times and was turned down each time. On one occasion, officials simply ripped apart his application materials.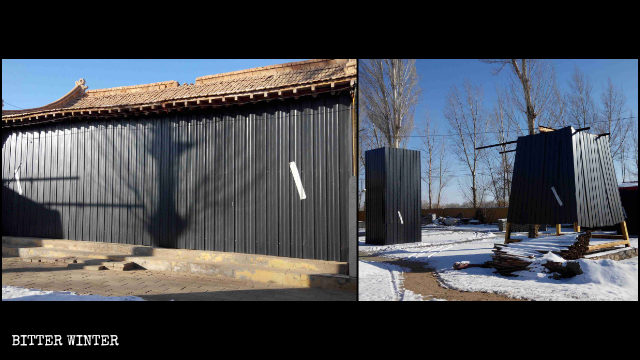 All demands satisfied, but no luck
Another Three-Self Church venue in the Pusandian district applied for the certificate in 2018 after implementing all necessary refurbishments and installing equipment as per the Fire Prevention Bureau's requirements. Even a well was dug in front of the venue to satisfy the Bureau's demand to have a water source nearby.
The certificate was not issued, even though the congregation did everything they had been told. The believers continued to gather in secret, but the venue was soon shut down after the authorities found out about the secret gatherings.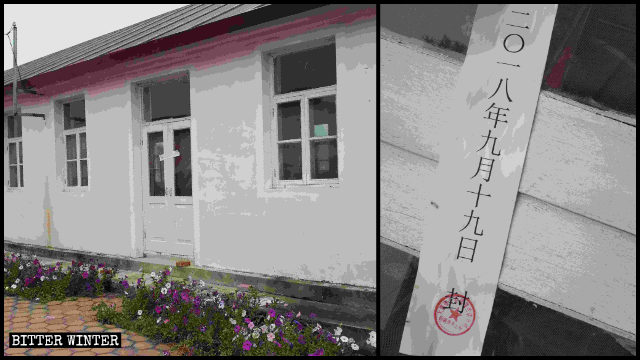 In April 2019, a Three-Self meeting venue in Foshan, a prefecture-level city in the southern province of Guangdong, was ordered to cease worship services on the grounds that it "was unlicensed and its fire control measures were substandard." According to a church member, the venue was well equipped with fire extinguishers, emergency lights, and other devices, all up to the government's requirements. The church has previously applied several times to the local Religious Affairs Bureau for the certificate but never received any response.
A staff member at a property management company in Foshan told Bitter Winter that they had received a document from the local Religious Affairs Bureau, demanding local police stations, property management offices, and other departments to join forces in getting rid of this particular Three-Self venue.
"Saying that fire safety measures fail to meet the standards is nothing but an excuse," a young church member commented. "Obviously, the government does not want us to hold worship services."
After the venue was closed down, the congregation has been meeting in a new place in secret, taking all possible precautions not to be caught. They don't park their electric bicycles by the gate to the building or sing hymns loudly, and a believer always stands guard outside the venue, who warns those inside to leave whenever danger arises.
Source: Bitter Winter