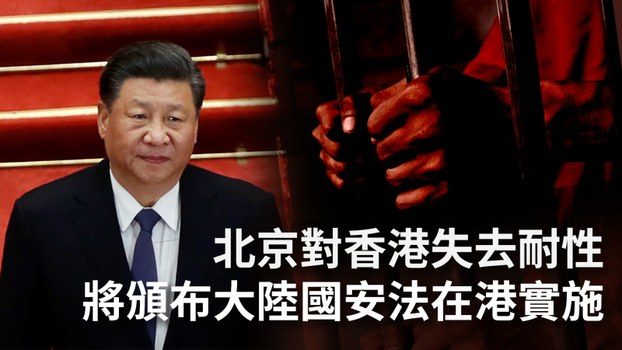 China on Thursday said it was gearing up to "perfect the legal system" of Hong Kong with national security legislation that will outlaw speech and actions considered subversive, pro-independence or part of "foreign interference" in the city.
"The … National People's Congress (NPC) will consider a draft decision on … perfecting Hong Kong's legal system and law enforcement mechanisms … with regard to national security," state news agency Xinhua reported, citing NPC spokesman Zhang Yesui.
The announcement follows media reports that the ruling Chinese Communist Party could be gearing up to insert the new law directly onto Hong Kong's statute book without tabling it in the city's legislature.
The draft law will ban "seditious" and "subversive" activities deemed to be aimed at toppling the central government, as well as external interference in Hong Kong's affairs, as well as "acts of terrorism," a phrase that has been increasingly used by the city government to describe pro-democracy protests, the South China Morning Post (SCMP) reported.
In mainland China, peaceful critics are often targeted with national security charges, including "subversion" and "incitement to subvert state power."
The SCMP quoted a Chinese official source as saying that the opposition in Hong Kong's Legislative Council (LegCo) to recent attempts to pass a law banning "insults" to China's national anthem had led Beijing to conclude that it should find another way to enact the unpopular legislation.
"We can no longer allow acts like desecrating national flags or defacing of the national emblem in Hong Kong," the source was quoted as saying, in a reference to the actions of protesters outside Beijing's Central Liaison Office in Hong Kong last summer.
Hong Kong chief executive Carrie Lam arrived in Beijing on Thursday ahead of the NPC's deliberations, slated for Friday, the paper said.
The government-leaning news site HK01.com also carried a story suggesting Beijing is gearing up to bypass LegCo and unilaterally enact the hugely unpopular Article 23 legislation that was shelved for nearly two decades after the last attempt to table it sparked mass street protests.
Beijing breaks promise
Government broadcaster RTHK also reported that "Beijing would be introducing its own national security legislation for Hong Kong and doing away with the need for [Hong Kong] to enact laws under Article 23."
It said the likelihood of a strong performance by pro-democracy candidates in September's LegCo elections following months of mass pro-democracy protests could have been a factor behind the decision.
Pro-democracy activist Joshua Wong said the move shows Beijing is abolishing its promise that Hong Kong would continue to function as a separate jurisdiction under its "one country, two systems" formula after the 1997 handover.
"On the eve of HK's Tiananmen massacre vigil, Beijing is now scrapping its promise of #1country2systems by circumventing HK's legislature and directly imposing the most controversial national security law #article23 upon Hong Kong," Wong tweeted on Thursday.
"This disputable legislation [will be] promulgated without any legislative scrutiny, just by the direct promulgation by #Beijing authority," Wong wrote, saying Beijing would create a "new mechanism" for directly enacting laws in Hong Kong.
"Beijing's move is a direct retaliation on #hongkongers' efforts to arouse awareness over the past one year. Beijing is attempting to silence #Hongkongers' critical voices with force and fear," he said.
Hong Kong political commentator Liu Ruishao said he believes Beijing is trying to find a quick and effective way to end months of unrest in Hong Kong amid the coronavirus epidemic.
"Beijing still believes that foreign governments and overseas forces are stepping up their operations in Hong Kong," Liu said. "They believe that this is a threat to national security."
'This is very unwise'
Pro-democracy lawmaker Tanya Chan said the move also shows that Beijing hasn't learned from the mass public opposition to Carrie Lam's proposed extradition law, and to Article 23 legislation dating as far back as 2003.
"Back in 2003, they shelved national security legislation under Article 23, at a time of huge public concern," Chan said. "Now, they are forcing that legislation on Hong Kong with no public consultation whatsoever."
"This is very unwise," she said.
The state-run China Daily said there are limited options under current Hong Kong law for prosecuting people for subversion and sedition.
"What has happened in Hong Kong since June last year indicates that the legal system in the SAR is not only weak with regard to national security, as its limited number of relevant articles are scattered among various laws and regulations, some of which date back to British rule and many of which have been left in a state of dormancy since then, but also frail in its law enforcement power which has been unable to quell the unrest," the paper said in an opinion piece on Thursday.
The HK01 report said the new law would be immediately enforceable in Hong Kong once it had been added to Annexe 3 of the city's mini-constitution, the Basic Law.
Such a mechanism could be re-used to pass any future legislation that was likely to meet with significant public opposition, whether in LegCo or on the streets.
The move comes as Washington reviews the city's separate trading status under the Hong Kong Human Rights and Democracy Act, passed in November 2019. The separate status was based on China's promises that the city would maintain "a high degree of autonomy" and a separate legal jurisdiction for 50 years after the handover.
Last year's protests escalated in June amid mass public opposition to plans to allow extradition to mainland China, before broadening to include demands for fully democratic elections, as well as accountability for police violence and an amnesty for protesters.
The largely peaceful movement enjoyed widespread popular support, culminating in a landslide victory for pro-democracy candidates in November's District Council elections.
Reported by Gao Feng for RFA's Cantonese and Mandarin Services. Translated and edited by Luisetta Mudie.
Source: Copyright © 1998-2016, RFA. Used with the permission of Radio Free Asia, 2025 M St. NW, Suite 300, Washington DC 20036. https://www.rfa.org.