The CCP forces people to use the infamous "Xi Study Strong Nation" app and uses their accumulated scores to either punish or award them.
by Lu Xiaojing
Like Mao Zedong, Xi Jinping is obsessed with his "thoughts." Even during the coronavirus outbreak, authorities didn't stop pressuring people to use the "Xi Study Strong Nation," an app launched in 2019 to make CCP members and regular citizens cram the president's views on socialism with Chinese characteristics.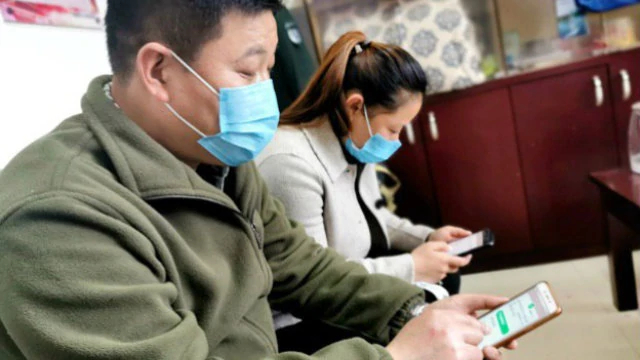 "People no longer say 'Hello' or 'Good morning' greeting each other but say 'Have you studied?' or 'Have you accumulated 30 points?'" a teacher from Maoming city in the southern province of Guangdong commented on the app's pervasive nature. "Life for all Party members and teachers now means accumulating points."
She added that teachers have no choice but spend time on the app because schools check on their progress every few days. Those who accumulate fewer points are publicly criticized in school.
According to the "Xi Study Strong Nation" app rules, users can accumulate multiple points when using the app at specifically designated times.
"The first thing I do each morning after waking up is to pick up my cellphone to use the app because you can get double points from 6 to 8:30 a.m.," the teacher explained.
A teacher from Guangdong's Guangzhou city told Bitter Winter that she works on the app every evening before sleep. "I have to make sure that I've completed the points quota for the day," the teacher said. "If I don't know whether I have, I panic and get nervous, and I can only sleep peacefully when I know that the quota has been reached. The app not only indoctrinates people to love the Party but also controls their thoughts."
A state-run enterprise employee in Yantai, a prefecture-level city in the eastern province of Shandong, complained that he has to study Xi Jinping's thoughts and speeches after long days at work. "Are they useful? Does studying Xi Though prevent the epidemic? The entire world is anxious, busy fighting the pandemic, but we are forced to study the president's speeches every day," the man lamented. "This is how a personality cult is used to indoctrinate people."
"Countless people have been affected by the pandemic, many living in misery, but the government demands them to worship Xi Jinping and use this app," another Yantai resident commented. "Will this bring the dead back to life?"
Despite growing dissatisfaction, local governments not only use the scores on the app accumulated by CCP members, public servants, teachers, and others working in the public sector to decide on their promotion—even regular citizens could be awarded or punished based on their achievements studying "Xi Thought." Those with high scores can be assigned a "civilized household" title, holders of which are given preferential treatment in government-related matters or be given social welfare benefits. Those with low scores can have their welfare benefits canceled.
On March 16, a government department in charge of "Xi Study Strong Nation" in Guangxi Zhuang Autonomous Region issued a notice to local education bureaus and other public institutions, demanding to expand the study on the app to the masses. To implement this, propaganda through media outlets should be utilized, extending "vertically to the bottom and horizontally to the edge, with full coverage and no dead corners," the notice demands.
In early June, village officials in Ci county of Handan, a prefecture-level city in the northern province of Hebei, were given orders to force residents in their communities to download the "Xi Study Strong Nation" app. Talking to villagers, the officials claimed that "it is a political task for all people to use the app, and those who refuse to use it won't receive subsidies for gas or pensions." Villagers had no choice but to do as told.
"During the Cultural Revolution, Mao Zedong made people memorize his quotations and study his thoughts," an elderly villager commented. "Now, Xi Jinping, like Chairman Mao, forces all people to read his speeches. Everyone has to obey. This society has been ruined."
"The political situation is unstable now, and many residents don't support the CCP," a sub-district Party secretary from Guangdong Province explained. "That's why the government mobilizes masses to use the 'Xi Study Strong Nation' app." He added that every community in his area had been demanded to create a "Xi Study Strong Nation" WeChat group with at least 100 members.
Source: Bitter Winter