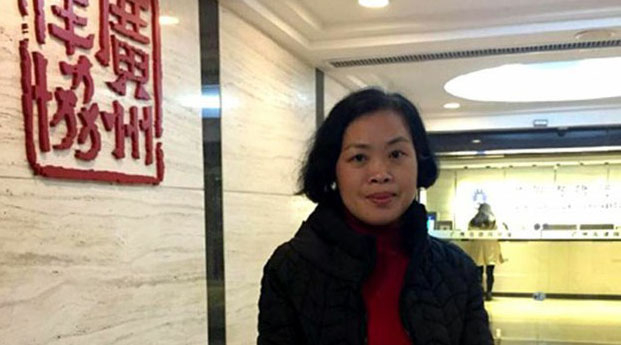 Yang Bin, a human rights lawyer based in the southern Chinese province of Guangdong, was recently informed that her law firm wouldn't be renewing her contract, and that the authorities plan to strip her of her license to practise.
Yang said the move came after she sheltered then fugitive rights activist Xu Zhiyong, who has called on ruling Chinese Communist Party general secretary Xi Jinping to resign.
"It had been raining very heavily back then," Yang said. "That afternoon, I got a call from someone saying they were from the village committee."
"Then they came to my home to search it," she said. "No sooner had I opened my door than a lot of police officers shoved their way in."
Xu was detained that day at Yang's home in Guangdong's Panyu city after several months on the run in the wake of a Dec. 13 gathering of dissidents and rights activists in the southeastern port city of Xiamen.
Yang had also shown public support for late whistleblowing Wuhan doctor Li Wenliang, who later died of coronavirus after being reprimanded by police for trying to alert the authorities to the danger, in the early weeks of the pandemic.
Protecting vulnerable people
But Yang said she had already run afoul of the authorities for taking human rights cases protecting some of the most vulnerable people: rural residents facing government land grabs and forced evictions.
"It started at the end of May 2019. In fact, the case was not even that sensitive," she said. "It was helping the residents of Guangji village in Yunnan. There was a serious conflict with the government over land acquisition and house demolitions."
"Several villagers were arrested and sentenced. When these villagers were released from prison, the local people beat gongs and drums, and held up a banner to welcome the released villagers home at the end of their sentences," Yang said.
"The authorities then detained all of them for creating unrest."
"The initial reason that the law firm declined to renew my contract was because I took this case and wrote about it. The [local] justice bureau and my law firm both told me to delete the post, but I refused. So the law firm responded … by saying that I should leave."
"I feel pretty helpless right now. This situation is ridiculous. The cancellation of my license … is caused by a lack of protection for freedom of speech in China," she said.
"That's the root cause, regardless of whether it had anything to do with Xu Zhiyong or Li Wenliang," Yang said.
Overseas study, a fund for victims
A source familiar with Yang's work said she had always gotten involved in rights cases, setting up a public fund for victims and going overseas to study.
"All these events have been taken into consideration by the government," the source said. "Now they are using them as evidence for their settling of accounts with her."
The Guangdong justice bureau hasn't set a date for Yang's license hearing yet, but has informed her that she has a right to defend herself and make a statement.
Yang said she hasn't ruled out making a formal complaint about her treatment.
Reported by Gao Feng for RFA's Mandarin Service. Translated and edited by Luisetta Mudie.
Source: Copyright © 1998-2016, RFA. Used with the permission of Radio Free Asia, 2025 M St. NW, Suite 300, Washington DC 20036. https://www.rfa.org.