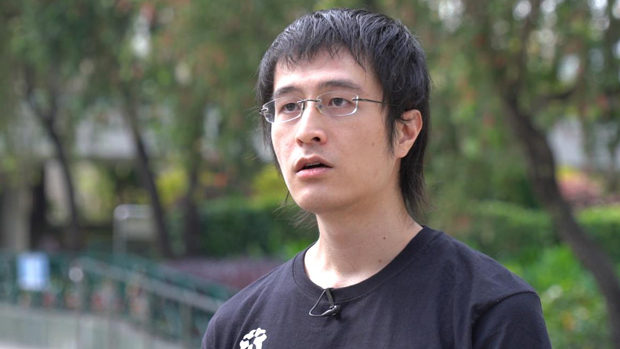 Authorities in the southern Chinese province of Guangdong have detained more than 10 people believed to be Hong Kong activists fleeing to the democratic island of Taiwan amid a national security crackdown in their home city.
"At about 9.00 a.m. on Aug. 23, the Guangdong Coast Guard was in Chinese waters southeast of Guangdong and Hong Kong (21°54'00"N, 114°53'00"E )," the China Coast Guard said via its official account on Weibo.
"A speedboat was apprehended, along with more than 10 people suspected of illegally crossing a national border," it said. "Investigations into the case are ongoing."
Sources told RFA that the boat, which was stopped by the authorities near Ninepin Islands, had been carrying 12 Hong Kong activists to Taiwan.
Among those detained was Andy Li, a member of the pro-democracy group Hong Kong Story, who was released on bail after being arrested by Hong Kong police on Aug. 10.
The remaining 11 people included suspects in two makeshift bomb cases, RFA has learned.
They took a speedboat arranged with the help of a local triad criminal gang, leaving from Po Toi O in the seaside town of Sai Kung.
Sources said they had planned to apply for political asylum on the democratic island of Taiwan.
Chinese law would enable the arrestees to be jailed for a fixed term of one year on immigration offenses before being deported to Hong Kong.
The arrestees are currently in the custody of the China Coast Guard, and the Chinese police are investigating.
Others fled earlier
Hong Kong's Ming Pao newspaper reported on Aug. 11 that some protesters involved with last year's demonstrators have already fled Hong Kong.
An official who answered the phone at the Guangzhou headquarters of the China Coast Guard, which is under the aegis of the People's Armed Police, declined to comment when contacted by RFA on Thursday, saying they knew nothing of the case.
Hong Kong police commissioner Chris Tang said the city's police were "actively asking about any relevant information" from the Chinese authorities, but said he was unable to comment further.
"For the time being, we do not have any facts about the allegations, so I'm not in a position to comment," Tang said.
Chiu Chui-cheng, spokesman for Taiwan's Mainland Affairs Council (MAC) said that, while the island's government has offered an immigration pathway to Hongkongers fleeing oppression, the authorities don't encourage anyone to enter Taiwan illegally.
"We will pursue criminal prosecutions against anyone entering Taiwan illegally, and against anyone helping them," Chiu told reporters. "There is also a huge safety risk attached to doing this, so the government absolutely does not encourage this."
"We call on people to respect Taiwan's laws," he said.
Incalculable risks
Hong Kong barrister Lawrence Lau said the risks taken by people trying to cross the border illegally were "incalculable," but that Hongkongers are now being driven to try it by a rapidly deteriorating situation at home.
"In recent decades, it has mostly been mainland Chinese or residents of Southeast Asia who have crossed borders illegally," he said. "But now Hong Kong has gotten to the point where it's impossible to just carry on living a peaceful existence here."
"The risks of smuggling yourself across a border are endless," Lau told RFA. "If the smuggling operation, run by snakeheads, goes badly, it can turn into a nightmare."
"And the authorities can deploy this weapon, this national security law, with stunning ferocity," he said. "The scale and frequency of raids of this kind will only increase in future."
In an interview with RFA in April, Li said Hong Kong Story — which has built extensive links to overseas parliamentarians in a bid to bolster international support for the protest movement — had been campaigning for "real freedom" in Hong Kong.
Protesters call this strategy the "international front," and have used it to lobby for sanctions on officials behind police violence and human rights violations since protests first escalated in June 2019.
"What we are striving for is real freedom, human rights, and justice for the people of Hong Kong," Li said. "The international front is a gift to Hong Kong, a way for Hong Kong people to take control of their own lives and their own freedom."
Reported by Lu Xi, Man Hoi-tsan, Gigi Lee and Hwang Chun-mei for RFA's Mandarin and Cantonese Services. Translated and edited by Luisetta Mudie.
Source: Copyright © 1998-2016, RFA. Used with the permission of Radio Free Asia, 2025 M St. NW, Suite 300, Washington DC 20036. https://www.rfa.org.