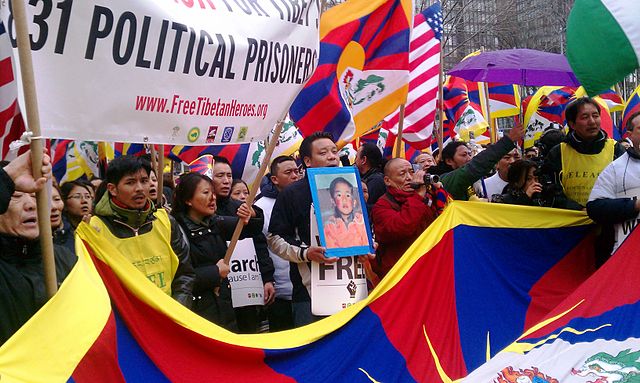 By Joshua Lipes
On the eve of the Panchen Lama's 31st birthday, religious freedom advocates called on China Friday to release the second most well-known religious figure in Tibet, believed to be languishing under house arrest in an undisclosed location.
On May 14, 1995, Tibet's exiled spiritual leader, the Dalai Lama, recognized six-year-old Gedhun Choekyi Nyima as the 11th Panchen Lama and three days later, Chinese authorities took him and his family away, installing another boy in his place. He was for years considered the world's youngest political prisoner.
The religious leader's whereabouts and condition remain unknown and he has not been seen in public since his disappearance.
"Amidst the increasing spread of the coronavirus around the globe, we are ever more worried about his health condition at this moment," said Tenzin Dorjee, chair of the U.S. Commission on International Religious Freedom (USCIRF).
"We insist that the Chinese Communist Party (CCP) immediately release a televised statement on the well-being of the Panchen Lama and confirm that he is alive. The world community must also insist that China immediately release the Panchen Lama."
Separately, USCIRF issued a statement saying the group is "deeply worried" about the Panchen Lama, who it recently added to a project on religious prisoners of conscience.
"On his 31st birthday, we urge the Chinese government to show some compassion and free Gedhun Choekyi Nyima," the commission said.
A spokesperson for the U.S. State Department echoed USCIRF's call for China to provide information on the Panchen Lama's situation on his birthday and amid a crackdown on the Tibetan community.
"The United States remains deeply concerned that PRC (People's Republic of China) authorities continue to take steps to eliminate the religious, linguistic, and cultural identity of Tibetans, including their ongoing destruction of monastic dwellings and other structures important to the study and practice of the faith," the spokesperson said in a statement.
"Members of Tibetan Buddhist communities, like all faith communities, should be able to select, educate, and venerate their religious leaders according to their traditions and without government interference. We call on Beijing to make public the Panchen Lama's whereabouts and wellbeing immediately and to uphold its international commitments to promote religious freedom for all persons."
EU and Japan
Similar sentiments were expressed in the European Union, where Mikulas Peksa, a member of the European Parliament and president of its Tibet Interest Group, published an open letter urging the the High Representative of the Union for Foreign Affairs and Security Policy, Josep Borrell, to pressure Beijing over the Panchen Lama.
"We urge the European Commission to call upon the Chinese government to finally ensure freedom of religion and belief in Tibet, by freeing Gedhun Choekyi Nyima and his parents immediately without any conditions, together with all Tibetan political prisoners," he wrote in a letter signed by 31 of his fellow lawmakers.
Days earlier, the Office of Tibet, Japan, launched a month-long campaign, calling on world governments and human rights organizations to pressure China for the Panchen Lama's release.
In an appeal letter the office urged the Japanese government and members of the Japanese Parliament to "raise and reiterate the call upon the Chinese government to free Gedhun Choekyi Nyima and his parents," citing Beijing's "total disregard of its obligations to international human rights standards, as well as its own laws and regulations."
Earlier US pressure
In October, at a conference hosted by the Tibetan Institute for Performing Arts held in Dharamsala, India—seat of the Tibetan government-in-exile—U.S. Ambassador at Large for International Religious Freedom Sam Brownback called on China "to release immediately the Tibetan-recognized Panchen Lama Gedhun Choekyi Nyima or share the truth about his fate with the world."
Brownback said at the time that the successor to the Dalai Lama will be chosen by the Tibetan people themselves and not by Beijing, which claims authority over the process of recognition.
In January, a bill to strengthen U.S. policy in support of Tibet won strong approval by the House of Representatives. The Tibetan Policy and Support Act (TPSA) was passed by a vote of 392 to 22, and now requires a vote in the Senate, which is also reviewing a companion bill.
Co-sponsored by Democratic Rep. James McGovern and Republican Senator Marco Rubio, the TPSA when signed into law will require China to allow the opening of a U.S. consulate in Tibet's regional capital Lhasa before any new Chinese consulate can open in the United States.
It will also establish a U.S. policy that the selection of Tibetan religious leaders, including future successors to exiled spiritual leader the Dalai Lama, is a decision to be made by Tibetans free from Chinese government interference.
Chinese authorities meanwhile maintain a tight grip on the Tibetan region, restricting Tibetans' political activities and peaceful expression of ethnic and religious identity, and subjecting Tibetans to persecution, torture, imprisonment, and extrajudicial killings.
Source: Copyright © 1998-2016, RFA. Used with the permission of Radio Free Asia, 2025 M St. NW, Suite 300, Washington DC 20036. https://www.rfa.org.