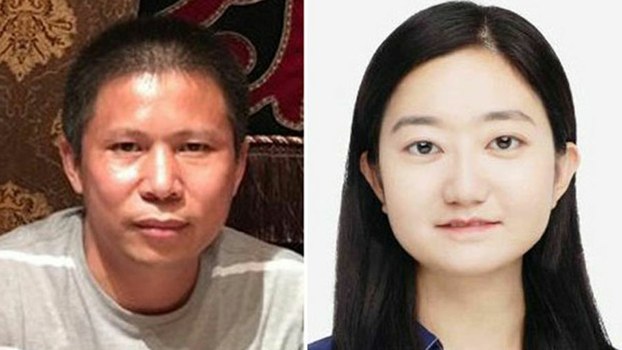 China's state security police are investigating detained dissident Xu Zhiyong for subversion after detaining him in the city he fled to after calling on President Xi Jinping to resign.
Xu, who has already served jail time for his spearheading of the New Citizens' Movement anti-corruption campaign, penned an open letter to Xi while in hiding following an earlier meeting in Xiamen, calling on him to step down.
A source close to Xu said he is currently being held incommunicado in "residential surveillance at a designated location" (RSDL) pending the completion of the investigation.
RSDL allows police to hold anyone they say is suspected of crimes linked to national security without contact with family or a lawyer for up to six months.
Xu is currently being investigated for "incitement to subvert state power," the source said.
Xu's girlfriend Li Qiaochu is also incommunicado, the source said, and is likely being held as a bargaining chip to put pressure on Xu to "confess" to his crimes.
Reported missing by sister
Xu's family only found out about his status after his sister reported him missing to state security police, who only then admitted to her that he is in their custody, the source said.
"The police station admitted it, saying they had him," the source told RFA. "[They said] he was someone in the custody of the Beijing state security police, who had sent the notification to his hometown in [the central province of] Henan."
"His sister then found out more from the Henan state security police, who said he is being held under RSDL," the source said.
"They weren't allowed to hire him a lawyer; he has to have a lawyer appointed by the government," they said. "The investigation of Xu Zhiyong is still ongoing, and it's for incitement to subvert state power."
"They won't allow Xu to meet with a lawyer for the duration."
Beijing-based rights activist Hu Jia said he had heard that Xu's girlfriend Li is also being held on suspicion of "incitement to subvert state power."
"She has been a huge help to Xu Zhiyong … and it makes sense for the authorities to detain her because [if they] get her cell phone and computer[s] … then she won't be able to get in contact with Xu Zhiyong or make arrangements [to destroy evidence]," Hu said.
He said Li would likely be used as a bargaining chip to force Xu to cooperate with the authorities and "confess" to the charges against him.
"By detaining Li Qiaochu, the authorities can stop her playing a key role in advocating for Xu Zhiyong," Hu said. "Basically, by placing her under criminal detention, they are taking her hostage."
Facial recognition technology and big data analysis
Police finally caught up with Xu — who had been on the run for seven weeks — using facial recognition technology and big data analysis to track him down to a friend's apartment in Panyu city, Guangdong province.
His detention came amid a nationwide operation targeting human rights lawyers and dissidents who attended a gathering in the southeastern port of Xiamen on Dec. 13 to discuss current affairs and possible futures for China.
That crackdown is being coordinated by police in the eastern province of Shandong.
In his Feb. 4 letter to Xi, Xu urges China's supreme leader — who is currently serving an indefinite second term as national president and chairman of the ruling Chinese Communist Party — not to cling to power.
He says Xi lacks the ability to govern China, citing the public perception of his "belt and road" infrastructure project and the economic damage done by the Sino-U.S. trade war.
"I am willing to play the role of the child in the Emperor's New Clothes, and ask you not to go against the tide, but to take a rest," Xu wrote, in a reference to Xi's resignation.
Xu had also penned a New Year's message to China's citizens in 2020, calling on them to think about whether they want to carry on with an authoritarian government or movement towards democratic constitutionalism, an idea that President Xi has said has no place in his vision for China.
Dozens of people linked in some way to the New Citizens' Movement group have been detained and jailed in recent years.
Xu was handed a four-year jail term in January 2014 on public order charges after staging a street protest calling for greater transparency from the country's richest and most powerful people.
Reported by Gao Feng for RFA's Mandarin and Cantonese Services. Translated and edited by Luisetta Mudie.
Source: Copyright © 1998-2016, RFA. Used with the permission of Radio Free Asia, 2025 M St. NW, Suite 300, Washington DC 20036. https://www.rfa.org.