The CCP persecutes people for electronic devices with religious content as part of the campaign against "illegal publications and pornography."
by Lin Yijiang
In recent years, audio Bible players have become popular with people of faith in China due to their ease of use. Apart from Bible verses, these electronic players are also equipped with sermons, hymns, and other religious content.
Players, however, are also targeted as part of the nationwide campaign to "eradicate pornography and illegal publications," along with other religious materials and audio-visual products. As per a document issued in 2018 by the government of Changwu county in the northwestern province of Shaanxi, Bible players containing content not approved by the state are also targets of investigations.
Weiquanwang (Rights Protection Network), a blog dedicated to human rights in China, reported about four Christians—Fu Xuanjuan, Deng Tianyong, Han Li, and Feng Qunhao—who were arrested on July 2 on charges of "illegal business operations" selling Bible players. Mr. Fu is the general manager and executive director of Life Tree Culture Communication Co., Ltd., and Mr. Deng is the company's supervisor. Life Tree Culture Communication Co., Ltd., founded in April 2011 in Shenzhen, a sub-provincial city in the southern province of Guangdong, is a legally established company that produces bible players. It is committed to spreading biblical culture and has cooperated with many influential churches, bookstores, institutions, and sales agents at home and abroad.
The four are detained in the Jiuwei Detention House in Shenzhen, and their families and lawyers are prohibited from revealing any information about the case.
This is not an isolated case. A house church member from Guangdong's Zhongshan city told Bitter Winter that the police summoned him in December last year for buying a Bible player online over a year before.
The believer did not remember the player's brand, but the police claimed that it was produced by a Shenzhen company that is being investigated because their players had religious content that did not conform to state regulations. And because the company is run by a church. The police found the believer's personal information on the company's sales list. They searched his home and questioned him repeatedly on the player's whereabouts.
The same month, a Three-Self church deacon from the eastern province of Zhejiang was summoned by the police for buying several Yuehong brand Bible players for other believers.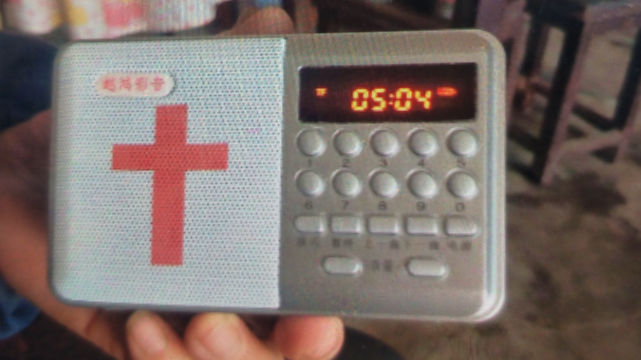 A church member told Bitter Winter that the police pressed the deacon to disclose to whom he had given the players and prohibited him from distributing them again.
Source: Bitter Winter