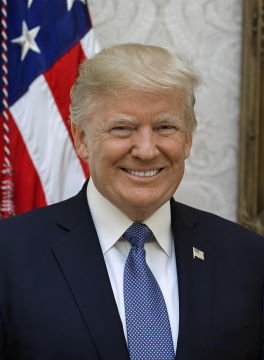 President Donald Trump has issued a ban on U.S. transactions with the Chinese parent companies of video-sharing app TikTok and messaging app WeChat, citing threats the two subsidiary firms present in harvesting the data of U.S. citizens.
In two executive orders late Thursday, Trump said transactions to be identified by Commerce Secretary Wilbur Ross with ByteDance Ltd., the owner of TikTok, and Tencent Holdings Ltd., the owner of WeChat, will be prohibited within 45 days.
"The spread in the United States of mobile applications developed and owned by companies in the People's Republic of China (China) continues to threaten the national security, foreign policy, and economy of the United States," Trump said in the order targeting TikTok says, noting that the app has been downloaded more than 175 million times in the U.S.
"TikTok automatically captures vast swaths of information from its users, including Internet and other network activity information such as location data and browsing and search histories," he added.
"This data collection threatens to allow the Chinese Communist Party (CCP) access to Americans' personal and proprietary information — potentially allowing China to track the locations of Federal employees and contractors, build dossiers of personal information for blackmail, and conduct corporate espionage."
The order also highlighted reports that the app censors content China deems politically sensitive, including protests over issues of autonomy in Hong Kong and Beijing's abuses of Uyghurs and other Muslim minorities in the Xinjiang Uyghur Autonomous Region (XUAR), and said it could be used to spread disinformation to benefit the CCP.
It effectively bans the app in the U.S., as it prohibits "any transaction by any person, or with respect to any property, subject to the jurisdiction of the United States, with ByteDance Ltd. … or its subsidiaries."
In a similar order banning transactions with Tencent, Trump also warned that WeChat "captures the personal and proprietary information of Chinese nationals visiting the United States, thereby allowing the CCP a mechanism for keeping tabs on Chinese citizens who may be enjoying the benefits of a free society for the first time in their lives."
Reactions to orders
Chinese Foreign Ministry spokesperson Wang Wenbin accused the U.S. of using "state power to wantonly oppress non-U.S. companies" during a regularly scheduled press briefing in Beijing on Friday, suggesting the move was "nothing short of bullying."
Wang called on the Trump administration to "correct its mistakes" and reverse the orders, saying Washington should "stop politicizing economic issues" and provide "a fair, just and nondiscriminatory environment" for international firms.
He also warned that China will "firmly safeguard the legitimate rights and interests of its companies," suggesting that reciprocal measures may be taken.
In a statement on Friday, TikTok said it was "shocked" by the executive order, which is said was issued "without any due process."
"For nearly a year, we have sought to engage with the U.S. government in good faith to provide a constructive solution to the concerns that have been expressed," the company said.
"What we encountered instead was that the Administration paid no attention to facts, dictated terms of an agreement without going through standard legal processes, and tried to insert itself into negotiations between private businesses."
A spokesperson for Tencent said Friday that the company is "reviewing the executive order to get a full understanding," according to a report by Reuters News Agency.
Tencent is one of the world's largest tech companies and owns stakes in major video game studios, music companies, and social media apps. The company's stock value plummeted by nearly eight percent in Hong Kong on the news.
U.S. technology giant Microsoft is in negotiations to acquire TikTok's business in the U.S., Canada, Australia, and New Zealand at a price that observers project at U.S. $10-30 billion, which reports say are expected to be completed within three weeks.
Microsoft has committed to the U.S. government to transfer all TikTok software code from China to the U.S. within one year after the acquisition. TikTok also announced that it will build the first data center for European users in Ireland, which is expected to begin operations in early 2022.
'Clean Network' program
Washington and Beijing have been embroiled in a tit-for-tat exchange over issues including trade, the handling of the coronavirus pandemic, the autonomy of Hong Kong, territorial claims in the South China Sea, and ethnic rights in Tibet and the XUAR that has seen bilateral relations reach their lowest point in four decades.
The two countries have traded sanctions in recent weeks and last month, the U.S. ordered China to shutter its consulate in Houston citing concerns over espionage, prompting China to demand that the U.S. close its consulate in Chengdu over similar allegations.
Trump's executive orders came a day after Secretary of State Mike Pompeo announced five new initiatives within the Trump administration's "Clean Network" program, which the White House says is working to protect citizens' privacy and U.S. companies' most sensitive information from intrusions by bad actors, including the CCP.
Among the initiatives listed by Pompeo was the removal of "untrusted applications" from U.S. mobile app stores, including Chinese apps that "threaten our privacy, proliferate viruses, and spread propaganda and disinformation."
The announcement builds on the roll out of the Clean Network program in April, during which the administration proposed that network relay communication paths end the use of any transmission, control, operation or storage facilities from "unreliable' IT vendors, such as Chinese firms Huawei and ZTE.
RFA spoke with Francis Fong, honorary chairman of the Hong Kong Information Technology Federation, who said recent U.S. sanctions against China—including the rescinding of Hong Kong's special status following Beijing's introduction of restrictive laws there—are extensive and likely to influence innovation and technology in the island territory, where many tech companies benefit from Western capital.
He noted that Hong Kong serves as a "springboard" for the export of Chinese products to foreign countries, as well as the importation of foreign products, but as the U.S. has prohibited the export of sensitive technology and dual-use technologies to Hong Kong, this status is now under attack.
"Because many limitations have been imposed, companies in Hong Kong will have many corresponding problems when they go to the United States," Fong said.
"The five initiatives mentioned [by Pompeo] include telecommunications, apps and the cloud. If the U.S. government believes that your company has Chinese capital backing or works with sensitive content, it may prevent you from doing business."
Reported by Rita Cheng for RFA's Mandarin Service and the Cantonese Service. Translated by Scott Savitt. Written in English by Joshua Lipes.
Source: Copyright © 1998-2016, RFA. Used with the permission of Radio Free Asia, 2025 M St. NW, Suite 300, Washington DC 20036. https://www.rfa.org.