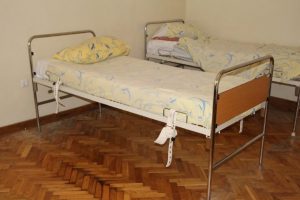 This is the story of how a key political body within the Council of Europe sought to circumvent a United Nations Convention protecting the rights of people with disabilities. It's also about how one of its members, Bulgaria, is pushing back against the move.
In 2011, the Committee of Ministers – made up of foreign ministers from across Europe – proposed a new agreement to allow "people with mental disorders" be treated and institutionalized against their will. This was to become the draft Additional Protocol to the Oviedo Convention.
This week, Bulgaria has become the first state to publicly speak out against the draft protocol. The Committee of Ministers should be listening. For the protocol is deeply problematic.
While the UN Convention on the Rights of Persons with Disabilities (CRPD) guarantees people with disabilities the same right as anybody else to liberty, to make decisions about their health, and other deeply personal matters. The protocol, if adopted, would allow people to be deprived of their liberty and forcibly treated because they have psychosocial disabilities (mental health conditions).
With 46 out of 47 Council of Europe member states being party to and bound by the CRPD, there is no clarity on how the Committee of Ministers believes governments should deal with contradicting legal standards.
Organizations representing people with disabilities, the UN – including the Special Rapporteur on Disability, and even the Council of Europe's Parliamentary Assembly and Commissioner for Human Rights – all oppose the draft protocol. Yet the Committee of Ministers appears unfazed.
Year after year, it has pursued the protocol. And while people with psychosocial disabilities all over Europe are waiting to be treated more humanly, experts in Strasbourg are discussing how to better lock them up.
Then on Monday, during the UN review of Bulgaria's implementation of its commitments under the CRPD, Bulgaria was challenged to show its commitment to disability rights. The country's key message was: We oppose the Additional Protocol to the Oviedo Convention.
This statement was celebrated by organizations promoting the rights of people with psychosocial disabilities, such as Mental Health Europe and the European Disability Forum.
Bulgaria's leadership should inspire other countries to publicly reaffirm their commitments under the CRPD, ensuring people with disabilities enjoy equal rights, and confirming that they would not sign on to other treaties which directly undermine those obligations. That would truly be a happy end.
Human Rights Watch.Bulgaria Stands up for the Rights of People With Disabilities © 2018 by Human Rights Watch.