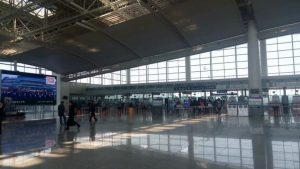 Authorities are closely monitoring house churches with foreign affiliations disguising anti-religious activities as the fight against "foreign infiltration forces."
On April 26, 2017, over 200 house church believers from all over China held a special meeting at a hotel in Tianjin, hosted by pastor from Singapore Vincent Choo.
At the beginning of the gathering, more than a dozen police officers from Tianjin's State Security Bureau, Public Security Bureau, and Religious Affairs Bureau stormed into the hotel. An official from the Religious Affairs Bureau told Pastor Vincent Choo who was on the platform delivering his speech, "We, the Chinese people, have our own preachers. We don't need foreigners to come to China to preach!" The police then called out the names of the attendees from a list to identify church leaders who, along with Pastor Choo, were detained and escorted to the Tianjin Municipal Public Security Bureau.
In the early hours of the following morning, State Security Bureau officials escorted Pastor Vincent Choo to a plane bound to Singapore, bypassing all security checks in the airport. The other arrested were taken to their hometowns by officers of local Public Security Bureaus.
One night in April 2018, the Public Security Bureau of Jiangxi's Nanchang city dispatched more than 30 armed police officers, and, together with over 30 local security guards, surrounded a house church gathering place. The police arrested several church co-workers and a South Korean missionary couple who was later deported back to South Korea. According to insiders, plainclothes local police officers had been monitoring the church for some time.
One of the arrested, Chen Li (pseudonym), was detained for "disturbing public order" and was released seven days later after her family had bribed officials. Chen Li was subsequently fired from her work because of her detention.
Reported by Feng Gang
Source: Bitter Winter / Feng Gang