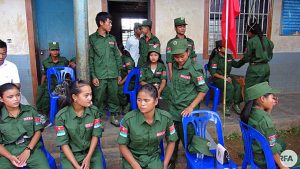 Myanmar's largest non-state army on Friday freed 100 ethnic Wa Christians it had detained, but continues to hold more than 100 ethnic Lahu Christians in a crackdown on religious freedom in mountainous territory the rebel faction controls in Shan state.
The United Wa State Army (UWSA), a 30,000-strong ethnic armed group comprising the military wing of the United Wa State Party (UWSP), the de facto ruling party of the self-declared Wa state not officially recognized by the Myanmar government, began detaining Christian clergy members and shutting down dozens of their churches in September.
The rebel faction questioned the clergy members about whether they were engaging in development work or persuading people to convert to Christianity, in a bid to ferret out "religious extremists" in Wa territory, including missionaries who have not obtained official permission and clergy members who operate outside the law.
Those who were freed on Friday had to sign a document saying that they would pray only at home and not in churches, said Rev. Dr. Lazarus, general secretary of the Lahu Baptist Convention (LBC).
Seven priests who refused to sign the document are still being detained, he said.
UWSA militants, most of whom follow tribal religions, also seized more than 40 ethnic Wa students participating in Bible study classes in Mong Pauk township and has reportedly forced them to become recruits, according to a statement issued by the LBC on Sept. 25. The township, the majority of whose population is Lahu, is the headquarters of the LBC.
"I believe they [the students] have been forced to become soldiers because photos of them in military uniforms are posted on Facebook," Rev. Dr. Lazarus said.
The ethnic army also shut down 52 Christian churches in the Mong Pauk region, including ones operated by the Wa Baptist Convention and Kachin Baptist Convention, and destroyed three others, the statement said.
The UWSA is also detaining more than 130 ethnic Lahu Christians, including 92 male and female priests, the LBC said.
Rev. Dr. Lazarus told the online journal The Irrawaddy that the LBC has heard that the USWA plans to hold the detainees until April 2019 when it celebrates the 30th anniversary of a bilateral ceasefire it signed with the Myanmar government.
RFA could not reach UWSA officials for comment.
Aung San Win, director of Myanmar's Ministry of Religious Affairs and Culture, said he could not comment on the matter because his office had received no reports about it.
Campaign against Christians
The UWSA announced in September that it would investigate all churches, missionaries, school teachers, and clergy members. It also said it was prohibiting ethnic Wa organizations from getting involved in support groups at churches and banned the teaching of religious lessons or beliefs in government schools.
In a bid to keep out foreign Christian missionaries, the UWSA also said all religious leaders must be local residents of the Wa region and conduct their work activities only with the permission of the Wa government under the rules and regulations of UWSA headquarters.
The rebel army also said that Christian churches erected in the region between 1989 and 1992 had been built legally, but that others constructed after 1992 would be destroyed.
The UWSA is one of several ethnic armed organizations that have not signed the Myanmar government's nationwide cease-fire agreement (NCA), insisting that the pact should include all ethnic armies.
The multiethnic area in which the UWSA operates includes various ethnic minority groups, including the Wa, Lahu, Shan, Ta'ang, Kachin, Kokang, Chinese, and Muslims. Christians comprise the largest religious group in the region, whose inhabitants also practice Buddhism, Islam, animism, and spirit worship.
About 88 percent of Myanmar's roughly 53 million people identify as Buddhists, while 6.2 percent say they are Christian, according to 2014 figures from the Ministry of Labor, Immigration, and Population.
Reported by Kyaw Htun Naing for RFA's Myanmar Service. Translated by Khet Mar. Written in English by Roseanne Gerin.
Source: Copyright © 1998-2016, RFA. Used with the permission of Radio Free Asia, 2025 M St. NW, Suite 300, Washington DC 20036. https://www.rfa.org.