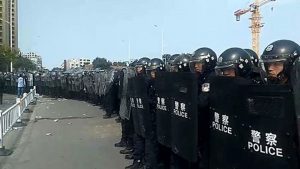 Authorities in the eastern Chinese province of Shandong have sealed off a city after thousands of People's Liberation Army (PLA) veterans converged there over a weekend of protests and clashes over police beatings of their former comrades-in-arms, local activists and residents told RFA on Monday.
Video footage of the protests showed police in full riot gear backing off in the face of elderly men in camouflage gear wielding wooden sticks during the protests in Shandong's Pingdu city on Sunday.
Police were also seen walking alongside a long line of marchers carrying banners from different parts of China and the hammer and sickle of the ruling Chinese Communist Party.
Police beat up a number of protesters, sources told RFA, providing footage of several elderly veterans lying on gurneys at a hospital in Pingdu, one with a broken arm, according to the veteran who filmed it.
In the video, a man is heard telling healthcare staff that he has no money to pay for treatment, and that the government should pay, because they were beaten by police.
A Chinese journalist at the scene told RFA that clashes between veterans and police had started on Saturday and continued into the early hours of Sunday morning until police were ordered to withdraw for fear of sparking mass riots.
"They were all still there at two, three in the morning," the journalist, who gave only his surname Lin, told RFA. "Finally, the police withdrew–there was a report online that said an order had come through from police headquarters not to use violence."
"Instead they surrounded the protesters and cordoned them off … By [Sunday] morning they were arriving from all over China," Lin said. "They are still coming now. I'm not sure exactly how many there are, but their numbers are probably in the thousands."
"We don't yet know how many people have been injured," he said.
Protest area cordoned off
He said the area of the protest had been cordoned off and closed to traffic on Monday, with police roadblocks at more than a dozen intersections around the protests.
A number of veterans were blocked by police and prevented from reaching the main protest, Lin said.
The protests began after a group of 38 elderly petitioners from Pingdu, which is administered by the port city of Qingdao, were forcibly returned from a petitioning trip to Beijing and beaten up by the Pingdu deputy police chief, sources said.
The beatings sparked angry protests against police brutality from other PLA veterans living nearby, and a call for support from veterans from China.
A Pingdu resident surnamed Li said the veterans were still arriving in the city on Monday amid growing public anger over police beatings of elderly men.
"They are still marching on the street, near the old Hall of the People in Pingdu," Li said. "I don't know exactly how many there are, but there are a lot."
"Army veterans from [the southwestern province of] Sichuan are also here," she said, adding that the injured veterans were taken to the Pingdu People's Hospital, but were left in corridors rather than treated in a timely manner.
"They were all left in the hallway and given some medicine, but they didn't receive good treatment," she said. "One veteran was beaten and had a heart attack and this wasn't treated."
Li said local public opinion tends to support the veterans, amid widespread anger at their beatings at the hands of the police.
"When I was at the scene, the local veterans were very supportive of these veterans, and they condemned the government's actions," she said. "I think there are talks going on with the mayor [or other city officials] today."
City-wide lockdown
An official who answered the phone at the Pingdu police department on Monday declined to comment, saying they didn't know the details of the situation.
A rights activist said police began taking action to clear the protesters from the city's streets at around 9.00 a.m. onMonday, however.
"First, they drive all away all the local people, and then they kettled the veterans over by Lianhuachi," rights activist Jiang Jiawen told RFA. "The police used force during this operation, but they managed to stay restrained, and fortunately this didn't lead to a more serious incident."
"The whole city is in security lockdown right now, and the government has issued an order that any veterans in the city must be reported to the authorities," Jiang said. "Some are being escorted back home, while others are being taken on forced vacations, and some have been detained."
"All routes into the city, the expressways, all have police checkpoints, and they are using facial recognition to ensure that no petitioners get in," he said.
The government recently promised a boost to benefits paid to veterans of its People's Liberation Army (PLA) in the wake of mounting nationwide protests by thousands of former soldiers who say they've been sold short since demobilization.
Veterans staged protests across the country ahead of Aug. 1 this year, the anniversary of the PLA's founding in 1927, gathering in Henan and Sichuan provinces since the beginning of the year, and converging in their thousands on Jiangsu's Zhenjiang city in a highly organized demonstration in June.
Activists helping PLA veterans lodge petitions and complaints over unpaid pensions say many local governments failure to deliver on promised demobilization benefits, and veterans have said they are skeptical that the promised boost to their benefits will actually materialize.
Reported by Wong Siu-san and Lau Siu-fung for RFA's Cantonese Service, and by Gao Feng for the Mandarin Service. Translated and edited by Luisetta Mudie.
Source: Copyright © 1998-2016, RFA. Used with the permission of Radio Free Asia, 2025 M St. NW, Suite 300, Washington DC 20036. https://www.rfa.org.