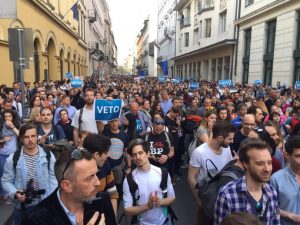 The Central European University (CEU) today announced that unless the Hungarian government signs a deal by December 1 allowing it to continue operating in Hungary, the CEU will be forced to relocate to Vienna – a major blow to academic freedom.
The CEU, one of the most prestigious universities in Central Europe, has been engaged in negotiations for one-and-a-half years with the Hungarian government about its future in the country.
In April 2017, the Hungarian Parliament made changes to the country's Higher Education Law, rendering the operations of some independent universities illegal, a move which effectively put the CEU in the crosshairs. Despite CEU fulfilling new criteria outlined in the law, credible reports suggest the government won't sign the agreement, thereby forcing CEU out of Hungary.
Why is this prominent academic institution likely to be forced to leave? It appears that Hungarian Prime Minister Victor Orban has a personal crusade against CEU's founder, the billionaire philanthropist George Soros. The Orban government has subjected Soros to several years of smear campaigns, and passed several laws targeting organizations and institutions which receive international funding with the sole aim of obstructing their work and demonizing their views. Many of the groups affected receive funding from the Open Society Foundation, which is headed by Soros.
The attempts to kick out the CEU is just the latest in a long list of actions taken by the Orban government since it came to power to shut down criticism, demonize nongovernmental groups and restrict media freedom.
The European Commission did the right thing when it referred Hungary's Higher Education Law to the EU Court of Justice in December, but this proved insufficient to safeguard the rights and freedoms that the CEU's looming closure represents.
EU institutions and member states should hold Hungary to account for its blatant disregard of shared common values and can do so by swiftly moving Article 7 proceedings – enabling political sanctions – against Hungary. The European People's Party, which warned Orban in 2017 that kicking out the CEU would be a red line for his party's membership in the pan-European conservative alliance, should reconsider Fidesz' membership if CEU is forced to leave Budapest.
Human Rights Watch.Central European University May Be Forced Out of Hungary © 2018 by Human Rights Watch.