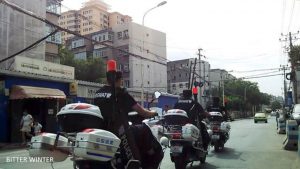 After more than a year of denying the existence of political "re-education camps" in northwest China's Xinjiang Uyghur Autonomous Region (XUAR), a vast buildout of a system housing as many as a million Uyghurs has forced Beijing to acknowledge the facilities and justify them to the international community, according to a camp researcher based in Canada.
Beginning in April 2017, Uyghurs accused of harboring "strong religious views" and "politically incorrect" ideas have been jailed or detained in re-education camps throughout the XUAR, where members of the ethnic group have long complained of pervasive discrimination, religious repression, and cultural suppression under Chinese rule.
While Beijing initially denied the existence of such camps, the Uyghur chairman of Xinjiang's provincial government, Shohrat Zakir, told China's official Xinhua news agency earlier this month that the facilities are an effective tool to protect the country from terrorism and provide vocational training for Uyghurs.
According to Zakir, Uyghurs and other ethnic Muslims in the region are taught Mandarin at the camps, as well as important vocational skills and lessons on Chinese law, all while being provided with free meals in comfortable living conditions, and that they are free to come and go as they like.
Reporting by RFA and other media organizations, however, has shown that those in the camps are detained against their will, routinely face rough treatment at the hands of their overseers, and endure poor diets and unhygienic conditions in the often overcrowded facilities.
Shawn Zhang, a law student at the University of British Columbia, has compiled a blog list of 59 re-education camps he confirmed the existence of by researching government tenders and using information found in the documents to locate the facilities through satellite imagery on Google Maps. He has also identified 16 sites he believes to be camps, but is seeking additional documentation that confirms them as such.
Speaking to RFA's Uyghur Service, Zhang said that growing evidence of the camps, which are believed to hold or have held more than 1 million people, have made Chinese authorities "see that they can't hide it" from the international community, and led Beijing to change its tune in mid-October.
"It's different than 30 or 40 years ago when there was no internet and no satellite images, whereas now you have so many satellite images and the Chinese government also published so many documents that have descriptions of these camps," he said.
"They see that it is very difficult to hide all this information now, so I think they find that denying it maybe makes them look even more suspicious because they [appear to] want to hide the facts. For the Chinese government, maybe it is more effective to admit to these camps but to use some excuses such as counter-terrorism to justify it."
Tracking camps
Zhang told RFA that he became interested in tracking down re-education camps in late April, after reading about Uyghurs living overseas whose family members had gone missing back in the XUAR, but said he was initially skeptical.
"So I did some research myself, searching for keywords through Google, and I found some tender notices about this kind of camp," he said.
"Some of [the notices] had locations, so I followed the information and I found some of the camps … Usually in Xinjiang's rural areas, there aren't very large construction sites, so when you see that you can tell it is a camp. In most of them there are wire fences inside the camps in front of buildings. It's very rare in Xinjiang that these kinds of buildings will have wire fences surrounding … the entrances."
Zhang noted that according to China's official explanation, there are only re-education camps at the county level and above in the XUAR, but he said that through his research he had found that "even villages and small towns" have detention and political indoctrination centers.
"You need to pay good attention to detail, because there isn't much information in government documents," he said, adding that the camps can be difficult to locate.
"The Chinese government often builds the camps in the suburbs. These suburbs are often newly built, so the streets have no names on Google Maps … You need to find the names of the streets from the government documents."
But while Zhang has located dozens of camps since he began documenting them earlier this year, he said the facilities are becoming much more difficult to find.
"The problem is that the Chinese government is deleting all information about the re-education camps from the internet, so I haven't been able to find a tender notice since at least August or so," he explained.
Growing scrutiny
Western governments have increasingly drawn attention to the camp network, where Adrian Zenz, a lecturer in social research methods at the Germany-based European School of Culture and Theology, has said that some 1.1 million people are or have been detained—equating to 10 to 11 percent of the adult Muslim population of the XUAR.
U.S. State Department spokesperson Heather Nauert recently said the U.S. government was "deeply troubled" by the crackdown on Uyghurs, while U.S. Ambassador to the United Nations Nikki Haley described it earlier this month as "the largest internment of civilians in the world today" and "straight out of George Orwell," during a speech at the Chiefs of Defense Conference Dinner in Washington.
Next week in Geneva, China is likely to face a grilling on the Uyghur camps from some Western countries at the UN Universal Periodic Review (UPR) of its human rights record.
According to Zhang, by acknowledging the existence of the camps, but portraying them in a way that suggests they have been established to help improve the lives of ethnic Uyghurs in the XUAR, the government is putting on a "performance to convince outsiders."
But Zhang said that according to what he has uncovered in his research, "it is almost impossible to provide such activities" as vocational training, because the camps lack the infrastructure to do so.
Instead, he said, the camps serve as indoctrination centers that the Chinese government is using to achieve its "ultimate goal" of "fully assimilating Uyghurs into the Chinese identity."
"The Chinese government thinks that separatism in Xinjiang is a result of Uyghurs' own identity," he said.
"When one [minority] group keeps their own identity apart from the Chinese people, the Chinese government may think it is very dangerous. They think it will lead to separatism. So I think their ultimate goal is to transform Uyghur people into ordinary Chinese."
But Zhang cautioned against the approach of forcing Uyghurs to conform to Chinese culture.
"In my opinion, this kind of coercion hasn't succeeded in the past, because it is impossible to convince a group of people when they aren't voluntarily taking part," he said.
"It may lead to more instability or even more violence because when so many people suffer this kind of tragedy, some become more extremist."
Reported by Alim Seytoff for RFA's Uyghur Service. Written in English by Joshua Lipes.
Source: Copyright © 1998-2016, RFA. Used with the permission of Radio Free Asia, 2025 M St. NW, Suite 300, Washington DC 20036. https://www.rfa.org.