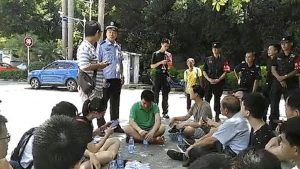 Student activists from several of China's top universities staged a small protest outside the Beijing Apple Store on Friday over a controversial internship scheme involving the company's suppliers.
"So this morning some Beijing students took a picture in front of an Apple Store to demonstrate their support to students forced to work in Apple's suppliers factories in South China," Liu Zhifan, a French freelance journalist based in Beijing, tweeted.
"A student was taken away by the police!" the journalist tweeted, including a photo and video of the incident.
"We protest the use of illegal student labor by Apple suppliers," read a slogan held up by the students in the photo.
"We support the workers in their bid to form their own union," a second slogan said.
Video posted to the account showed police coming over to the students after the photo was taken and detaining at least one person.
The Hong Kong-based activist group Scholars Against Corporate Misbehavior (SACOM) confirmed the incident in a later Tweet.
"This morning, in Beijing, 10 students from Peking, Renmin, and Peking Language [Universities] staged a small demonstration in front of Apple Store to protest against student intern and … union issue[s] in its supplier[s]," the account tweeted.
Jasic workers
The ruling Chinese Communist Party has been quick to clamp down on student support for workers' rights in recent months, detaining some 50 student activists in the southern city of Shenzhen after they supported a campaign by workers at Jasic Technology to unionize.
"Since July, more than 70 workers, activists and students had been harassed, assaulted or detained," according to the text of a petition on the overseas site Action Network.
It said four workers have been charged with criminal offense awaiting trial while two workers and six activists are in detention and "at high risk" of facing criminal charges.
"Released student supporters are disciplined by their colleges, under police surveillance at home," the petition said.
It said the crackdown was the worst to target workers and labor activists in China since a crackdown on labor rights organizations in 2015.
Marxist and Maoist activists, many of them students, had flocked to Shenzhen to support the Jasic workers' cause, with some of them taking jobs in the factory.
However, dozens of members of the Jasic Workers' Solidarity Group (JWSG) were themselves detained in a mass raid on their temporary accommodation on Aug. 27. According to Hong Kong labor groups, many were subsequently released, but 11 remain under some form of house arrest.
The ruling Chinese Communist Party has responded with a clampdown on student activism on campus, banning Marxist study groups, and punishing students at Peking University, Renmin University and Nanjing University.
Nanjing protest
Last week, a rare protest on the campus of Nanjing University in the eastern province of Jiangsu over the authorities' banning of a Marxist study group sparked beatings by the authorities.
The protesters said they were attacked by unidentified men as they tried to meet with Nanjing University party secretary Hu Jinbo on Nov. 1.
Several students were injured and their banners and flyers destroyed, they told RFA at the time. Student protester Yang Kai was later detained.
Independent journalist Bei Feng said the "unidentified" people were likely hired by the government to stifle dissent on campus.
"I suspect that those people in the video were the personnel of the local stability maintenance office," Bei Feng said. "The university party committee must have communicated with certain government departments to assist in these matters."
A similar fate has befallen the Marxism-Leninism Society at Peking University, while Cornell University recently withdrew from a partnership with Renmin University, citing the punishment of students who had supported the Shenzhen labor movement.
'No different interpretations'
Hu Ping, editor-in-chief of the Chinese political magazine Beijing Spring, said that the Chinese Communist Party is acting according to its own internal logic in stifling student labor movements inspired by Marx and late supreme leader Mao Zedong.
"In a country dominated by ideology, you not only have to show that you believe in this ideology, you have to be consistent with the central government, and believe only in its set of explanations," Hu told RFA. "There can be no different interpretations."
"All communist countries have this problem … the first thing they want to suppress is those people who actually believe in communism," he said.
U.S.-based Li Qiang, who heads the group China Labor Watch, said the administration of President Xi Jinping, who began an indefinite term in office in March, has targeted left-wing students in particular.
"Real communism, according to its original meaning, means caring about the people," Li said. "But this creates a contradiction between the original and basic Marxism, and the politics of Xi Jinping's 'new era'," he said.
"That's why the students' respect for Marxism must be curbed," Li said.

Reported by Wang Yun for RFA's Mandarin Service. Translated and edited by Luisetta Mudie.
Source: Copyright © 1998-2016, RFA. Used with the permission of Radio Free Asia, 2025 M St. NW, Suite 300, Washington DC 20036. https://www.rfa.org.