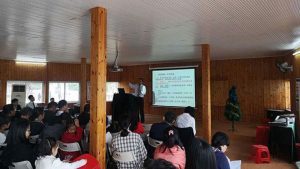 Local authorities in a number of cities across China raided churches on Christmas Eve, in a bid to prevent them from celebrating Christmas.
Police and religious affairs officials from the municipal government raided the premises of the Early Rain Covenant Church in the southwestern city of Chengdu early on Monday morning, confiscating bibles, books, computers and other materials, church members told RFA.
They changed the locks on the premises, and sealed them up with police tape. The raid comes after police detained more than 50 church members, including pastor Wang Yi and his wife Jiang Rong.
Twenty-four church members remain in detention, with police charging Wang and Jiang with "incitement to subvert state power."
Several hundred church members are now under close surveillance from the authorities, who have warned them not to try to celebrate Christmas, on pain of further punishment, a church member who asked to remain anonymous told RFA.
"Now we have nowhere to worship," she said. "Many people can't leave their homes."
She declined to comment further. "It's not a good time to talk, because police came to our home this morning; many of our brothers and sisters are in a dangerous situation."
A second church member, also speaking anonymously, said police are now making the rounds of Early Rain church members' homes.
"Just now there were [police] everywhere; a lot of people have been called in to make statements," he said. "Basically, they have clamped down on every bible study group."
"It's hard to speak [freely] right now; there are a lot of things happening that I daren't tell you about," he said.
Raids in Hohot, Guangdong
Meanwhile, authorities in the northern region of Inner Mongolia raided an unofficial Protestant "house church" in the regional capital Hohhot, members told RFA.
On Dec. 16, several police officers broke into a house church in Hohhot, saying it was carrying out unauthorized religious activities, in violation of recently updated rules on religious activities.
And in the southern province of Guangdong, several house churches had been prevented from holding any services during the Christmas period, according to a Dongguan-based church member surnamed Wang.
"They won't let any house churches meet, unless we do it in secret," Wang said. "We're not even allowed to have any activities for Christmas."
"A lot of house churches haven't done anything at all, and this is the same right across the country," she said.
Wang said the only churches in China allowed to meet openly over Christmas are those that sign up for the ruling Chinese Communist Party's Three-Self Patriotic Association of Chinese Protestants.
Meanwhile, authorities in a number of Chinese cities have taken down Christmas decorations from public places and businesses, although some remained in venues where foreigners were more likely to gather.
A Protestant Christian surnamed Zhou said many people are confused, as different local governments have different policies on the public celebration of Christmas.
"There is stuff all over the internet about the boycotting of Christmas, but actually this is only being implemented in some places," Zhou said. "We have an event planned for [Christmas Day], so we'll have to see what happens."
Church skips Christmas to avoid pressure
A church member surnamed Wu said his church had decided not to bother with Christmas, and had been left alone by the authorities as a result.
"We have no program of activities for Christmas, so they haven't bothered us," Wu said. "If we did, then they would send people around to interfere."
"They don't do anything if you just sing a hymn or say a prayer, not if you do it out of sight," he said.
A Christmas event at a semi-official Protestant church Ruancheng county in the central province of Henan was monitored by police on Tuesday, but no further action was taken, church members said.
Local governments across China are targeting independent churches following the newly amended  subsequent dissent from such churches over state control of religious practices.
Officials have required that video surveillance equipment be installed in churches and members' information be handed over, while banning the sale of Bibles online, and demolishing churches or visible crosses in some areas of China, rights groups say.
Early Rain pastors were among more than 100 Protestant pastors who complained about the new policies in a public statement in September.
The church's pastor Wang Yi, currently criminally detained on suspicion of "incitement to subvert state power," is a former Chengdu University professor, and has been outspoken in defense of religious freedom in China, including for Tibetans Buddhists and Muslims in Xinjiang.
Reported by Qiao Long for RFA's Mandarin Service. Translated and edited by Luisetta Mudie.
Source: Copyright © 1998-2016, RFA. Used with the permission of Radio Free Asia, 2025 M St. NW, Suite 300, Washington DC 20036. https://www.rfa.org.