Chinese authorities are confiscating citizen's passports, making sure that only "politically clean" and patriotic individuals are allowed to go outside the country.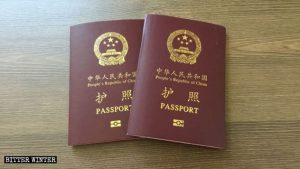 Yang Xiangwen
The Chinese authorities are expanding their long-term control over private outbound travel for citizens. Last year, the restrictions were applied not only for low-level civil servants and employees of state-run enterprises but also to teachers and health-care workers. To prevent people from traveling abroad, everyone is required to hand over their passports.
Passport seizure as political assignment
An employee of a state-owned enterprise in central China's Hubei Province told Bitter Winter that at the end of November 2018, nearly 20 employees from his unit were penalized for failing to hand over their passports before a set deadline. Penalties included warnings from the Communist Party, demotions, fines of 500-5,000 RMB (about $75-750), and alike. Disciplinary department leadership summoned some of his colleagues to admonish them, notifying that this misstep "will be put on their record."
"These severe penalties are because the provincial-level Party Committee Organization Department and provincial Department of Public Security have issued the Notification Regarding Continued Special Work to Deal With Illegal Handling and Possession of Documentation for Leaving the Country for Private Purposes. The document demands more stringent penalties for Party members and middle-level management personnel involved in issues concerning documentation for going abroad," the employee stated. He didn't hand over his passport by the time he was ordered because of busy work schedule, and thus received a harsh warning and was informed that he must treat handing over his passport as a political assignment.
In October 2018, a hospital in Ningxia Hui Autonomous Region in north-central China received a notice demanding all personnel to hand over their passports. As many employees at the hospital were opposed to doing so, the police promptly acquired information on when and where their passports had been issued and confiscated them, making sure not to miss anyone.
One traumatized hospital employee said, "You can't even refuse, or they'll find you and take you to the Public Security Bureau. My colleagues and I were so scared that we handed over our passports right away."
Patriotism is the most crucial prerequisite for traveling abroad
On March 18 this year, the administration of a primary school in Liaoyang city of Liaoning Province in northeast China demanded that all teachers hand over their passports. Some teachers tried to oppose the requirement, but the school's headmaster said that the only people who can leave the country are those with family members abroad holding events like weddings and funerals. "Don't even think about going abroad for travel; your application will not be approved!" the headmaster said, adding that there was no chance for those who hadn't applied for passports to get one now.
According to a teacher from Ningxia, the CCP had collected passports from citizens in the past, but the policy had never been implemented so strictly. Circumstances have significantly changed these past two years, however, and work units have initiated stricter implementation of the requirement, pressuring employees to hand over their passports, including even the retired staff.
"This time when I applied to go abroad to visit my daughter, I had to go through investigations at three different levels just to get my passport," the teacher said. "The school's authorities told me that the current government policy is that, in principle, none of the personnel is allowed to leave the country, except to attend offsprings' graduation or wedding ceremonies overseas."
The teacher complained: "Even for a policy as important as passport seizures, they haven't given us any explanations. The administration is becoming more and more stringent, and after being handed over, a passport becomes a 'luxury' you can only long for, but can't have."
And the restrictions on travel continue to expand, affecting people from all walks of like. The Regulations on Political Investigation of the Faculty's Leaving the Country on Official Duty in Fujian Medical University demand that personnel applying to travel must undergo investigation and must "be politically dependable, have a clean [political] history, ardently love the socialist motherland, be of progressive ideology, have moral integrity, and observe law and discipline. Emphasis should be put on the investigation of the basic personal information of the applicants themselves, the statuses of their family members, etc."
One individual who had applied to travel abroad revealed that not only was he put under rigorous investigation, but he also had to sign a statement before leaving the country promising that he would not participate in any overseas organizations, express any views unfavorable to the state, or divulge state secrets.
source:BITTER WINTER/Yang Xiangwen