The son of a member of The Church of Almighty God travelled to South Korea and urged his mother, who fled abroad, not to return to China, where she would be immediately arrested.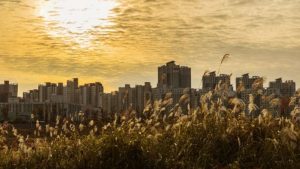 Bai Shengyi
The Church of Almighty God (CAG), the largest Christian new religious movement in China, is banned there by the CCP and subject to violent persecution. Hundreds of its members have escaped to South Korea, where they are seeking asylum.
One of them is a woman we will call Tang Lu (we are not disclosing her real name for security reasons). She is not being left alone in South Korea either. To sabotage the political asylum applications of CAG members in South Korea, the CCP uses threats, intimidation and other means to recruit their China-based relatives. It then brings them to South Korea, and holds demonstrations there under the pretext of "searching for relatives," with the intention of having CAG members extradited back to China. Recently, Tang Lu's son also arrived in South Korea. However, unlike those in the government-organized "relative search groups," Tang Lu's son told her absolutely not to return home.
A Phone Call from Her Son
On May 10, a fellow CAG believer, Ms. Wang, told Tang Lu that her son was calling from China and was looking for her. This was the first time Tang Lu had heard news from her son in more than three years after she fled overseas. Due to the CCP's tight surveillance of the Internet and phone lines, Tang Lu never contacted her family for fear of putting them at risk.
Tang Lu has always kept and treasured an audio recording of her son reciting poetry. She told Bitter Winter that, when she left home, she didn't bring her son's photos with her, for fear that if she was arrested while passing through customs, her family members would be implicated. She only brought the audio recording with her. For three years, this audio recording has been her most precious treasure, to which she confided all the worries in her heart.
A Mother's Concern
The news that her son was coming to South Korea came as a pleasant surprise to Tang Lu. But soon, she started feeling a bit nervous. She learned that South Korean pro-CCP activist O Myung-ok was going to bring another "relative search group" to Seoul to harass CAG refugees in the near future. She was worried that her son would also be a member of the CCP-controlled "relative search group," and that he would try to coerce her into returning to China.
Tang Lu mentioned the incident of Zhang Fu, a co-religionist she personally knows. She reported to Bitter Winter that, "On May 18, 2016, the wife of brother Zhang Fu brought their child to Jeju Island to look for him. Traveling together with her was a CCP agent. At the behest of the agent, Zhang's wife trapped him in a hotel; secretly took his passport; snatched his wallet, credit cards, and the remaining 700,000 KRW (about $ 580) that he had with him; and tried to intimidate him into returning to China with her. The CCP agent even pursued him to Jeju Island Airport and sought to forcibly kidnap him back to China. In the end, brother Zhang made a thrilling escape."
When bringing up this matter, Tang Lu still had lingering fears. If her son were to come together with CCP agents, she didn't know how she would deal with it.
A Family Reunion
On the afternoon of May 14, Tang Lu received her son's contact number with mixed feelings in her heart. In the past few years, she had read in the news media that the CCP's persecution of religion has become increasingly severe. CAG has been mercilessly persecuted. From the moment she embarked on the road of exile, she knew that it would be difficult for her to see her son again. Now, unexpectedly, her son was coming abroad to visit her. Tang Lu was very excited, and, without giving it any further thought, hurriedly dialed her son's number.
"After my son answered the phone and shouted out 'mom,' he kept crying," she recalled. "I felt terrible inside and tears swirled in my eyes." Tang Lu kept comforting her son, and agreed to meet him at the Onsu premises of the CAG in Seoul.
"You Should Not Return"
When they finally met, Tang Lu learned that her son's visit to South Korea had not been organized by the CCP. Her son told her that personnel from the National Security Brigade of the local Public Security Bureau had been continuously investigating her situation, and recently came to visit him. They wanted to track down the present whereabouts of Tang Lu, and find out who else in her family believes in Almighty God.
"Mom, you cannot return home no matter what. I've grown up now and can take care of myself. I'm relieved to see that you're living well here," said Tang Lu's son.
The son also told her that he has a friend who works for the National Security Brigade, in the unit gathering files on CAG believers living overseas. The friend had many photos of CAG members in South Korea, including Tang Lu. The police have already ascertained Tang Lu's situation overseas. They know which church she goes to, and even know her religious name in the church.
"All the news published on domestic websites attacks The Church of Almighty God. You absolutely should not return to China," her son exhorted again.
Reluctant to Part
On the afternoon of their separation, Tang Lu accompanied her son to the subway entrance. She had no tears. Both of them had smiles on their faces. Tang Lu's son once again urged her not to return home, and told her that he would take care of things at home. Tang Lu also told her son that, if he misses her, he can come to South Korea to see her, but he must be careful not to be manipulated by the CCP and come as part of the so-called "relative search groups" that they organize.
source:BITTER WINTER