Promoted as a tool to "maintaining stability," the locks that use facial recognition, phones, or IDs, is a new addition to the system of complete surveillance.
Tang Wanming
As the primary accommodation choice for transient population and used for gathering venues by religious groups, rental properties have become critical targets for the CCP's control. A variety of technologies using facial recognition or biometric data, are employed in response. On top of nation-wide video surveillance systems, like "Sharp Eyes," smart residential communities and guarded entrances, as well as surveillance cameras installed in rental apartments, smart door locks are primarily being installed to monitor renters of properties at all times.
In early April, Ms. Zhang from Changxing county of Huzhou city in the eastern coastal province of Zhejiang received a call from her landlord who notified her that a smart lock should be installed in the door to her apartment. "This is mandatorily required by the police station. All rental properties throughout the county have been required to implement this directive," said the landlord, complaining that police are calling every day. "It's so annoying," he added.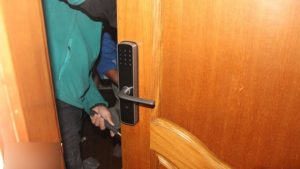 Soon afterward, two police officers brought a locksmith to the property, changed the lock, and registered Ms. Zhang's ID card information and mobile phone number. "There is a record on the mobile phone showing the time of day and the number of times that the door is opened each day," explained one of the officers.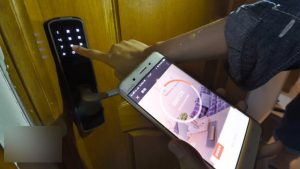 Since then, Ms. Zhang needs to use her mobile phone to enter the property. Often unsuccessfully, in instances when her mobile phone is down. Despite her dissatisfaction, she has no right to change the lock. The police warned that she would have to move out if she did, and the landlord prohibited from renting out the property.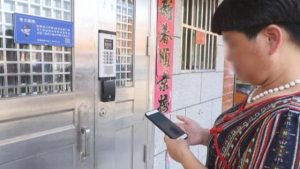 Tenants in other localities in China have been encountered similar situations. Beijing city, for example, has been implanting a plan to deploy smart locks with facial recognition technology to monitor approximately 120,000 tenants.
While recommending the smart door lock system at a press conference, Mr. Yang Changle, the CEO of Tujia, a global lodging-service sharing and booking platform, said: "Since the public security departments have very clear and specific needs with regard to monitoring the accommodations of all transient people, if this cannot be done, it would create a great risk for public security departments."
Also presented as a means to prevent theft and protect the safety of citizens, just like all other surveillance systems, the smart locks are used to collect data – including residents' names, their ID numbers, gender, marital status, etc. – that is required to be uploaded on government-established databases. Critics have pointed out that hi-tech surveillance systems in China are used by the authorities to track political targets or crackdown on dissidents and banned religious groups.
A document from a county in central China's Henan Province, entitled Notice on Conscientiously Carrying Out a Basic Investigation of Xie Jiao Members, specifically demands that investigations and registrations of rental properties be greatly strengthened since members of The Church of Almighty God (CAG) often hold gatherings there.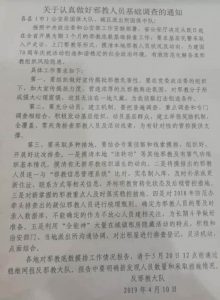 "When renting a housing unit, one must have his ID information registered. It was challenging to find a landlord who was willing not to register the information of my ID card," explained a member of the CAG. "Even if I find one, after moving in, I still feel scared and anxious every day. The police are rigorous in inspecting rental properties. As soon as I'm suspected, I will have to move immediately. Coupled with all kinds of methods of smart monitoring, house church believers will have nowhere to go."
A house church Christian in Zhejiang's Hangzhou city said that she has more than ten rental units. In the past, they would occasionally be used for gatherings, but because the government's management and control of rental units is getting stricter and stricter, and because she has been pressured to install surveillance cameras, she doesn't dare to let fellow believers come to her rental properties for gatherings anymore.
source:BITTER WINTER/Tang Wanming