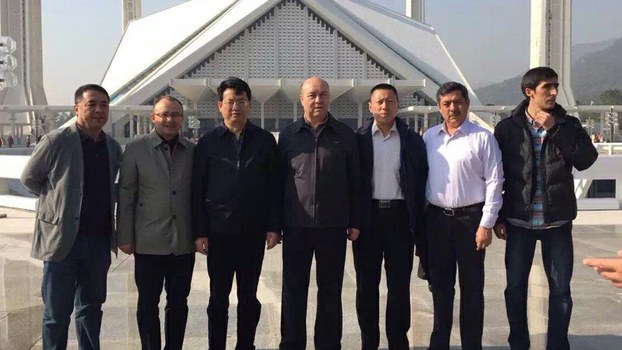 One of the wealthiest Uyghur businessmen in Kashgar (in Chinese, Kashi) city, in northwest China's Xinjiang Uyghur Autonomous Region (XUAR), remains jailed in poor health more than eight months after his conviction on charges of "terrorism" was overturned on appeal, according to court documents.
In January last year, RFA's Uyghur Service learned that authorities had arrested Abdujelil Hajim—the 52-year-old chairman of the Kashgar Prefectural Trade Association and head of goods transport firm Xinjiang Helil International Business LLC—along with leading Uyghur entrepreneurs Gheni Haji, Memet Tursun Haji, and Imin Hajim in May 2017 for acts of "religious extremism."
Sources told RFA at the time that the four men, whose last names signify that they have made the Muslim holy pilgrimage to Mecca, were later sentenced to a total of 42 years in prison.
Official documents recently obtained by RFA from a U.S.-based family friend, who asked to remain anonymous, confirm that the Kashgar Intermediate Court sentenced Hajim to 14 years in prison, fined his company 5 million yuan (U.S. $707,500), and confiscated assets worth 73 million yuan (U.S. $10.3 million) for "providing material support for terrorist activities" on May 18, 2017—12 days after his arrest.
A second hearing related to the case was held at the same court on July 28, 2018, according to the documents, although the reason is unclear.
However, the same documents show that Hajim's legal representatives later appealed verdict "(2017) X31 J D No. 180" to the High People's Court of the XUAR, citing a "violation of court proceedings" because he lacked access to a lawyer during the trial, and arguing there was "insufficient evidence to prove that Abdujelil Helil's crime was deliberate," using his last name prior to his pilgrimage.
The High People's Court of the XUAR deliberated the appeal and found on Jan. 8 of this year that Hajim's trial had been conducted with "procedural errors," overturning his sentence and returning the case to the Kashgar Intermediate Court for retrial.
No release
Despite the appeal court's ruling, Hajim is still serving his sentence, the family friend told RFA, adding that he was recently transferred to Kashgar's Yuandong Hospital for treatment for an unspecified illness "because his health had deteriorated in jail."
"He was never released from the Karlighachbinam Prison in Peyziwat (Jiashi) county, where he has been jailed since May 2017," the friend said.
"Over the past two and a half years, he has been taken to hospitals twice for operations. He was taken most recently to Yuandong Hospital, where he is in intensive care after his health declined sharply."
RFA called the Kashgar Intermediate Court seeking comment on Hajim's case, but was told by a court official, who declined to provide his name, that he could not provide any information "unless you call us from a local number."
Liao Yong, an attorney from the Sichuan Yafeng Law Firm who represents Hajim, told RFA that "due to the sensitivity of the case, I can't reveal any information."
A staff worker at Yuandong Hospital confirmed that Hajim is staying at the facility, but said his primary care physician had left for the day and suggested calling back to speak with him at a later time.
A 'political' matter
Nury Turkel, a lawyer and chairman of the Washington-based Uyghur Human Rights Project exile group, questioned why Hajim is continuing to serve his sentence and urged authorities to release him so that he can return to his family and seek medical treatment.
"According to China's Criminal Procedure Law, if a verdict by the lower court is overturned by a higher court, the accused should be acquitted and released immediately," he said.
But Turkel suggested that the reason Hajim had yet to be released is because "his case is not a legal matter, but a political one."
"Since China doesn't have an independent judiciary, a person is arrested on the decision of a politician, and his or her fate is determined by politicians," Turkel said.
Abdujelil Hajim is member of a family that China has seen as threat for a long time—[so his case has nothing to do with] committing so-called separatist or terrorist acts, but rather his family's influence in society," he added.
"Governments like the one in China, who lack confidence and are worried about their future, perceive intelligent people, or people with influence, like the members of Abdujelil Hajim's family, as a political threat."
Repressive policies
Authorities are believed to have held more than 1.5 million Uyghurs and other Muslim minorities accused of harboring "strong religious views" and "politically incorrect" in a vast network of internment camps in the XUAR since April 2017, and have jailed or detained hundreds of Uyghur academics and other influential members of the ethnic group in recent years.
While Beijing initially denied the existence of the camps, China this year changed tack and began describing the facilities as "boarding schools" that provide vocational training for Uyghurs, discourage radicalization, and help protect the country from terrorism.
China recently organized two visits to monitor internment camps in the XUAR—one for a small group of foreign journalists, and another for diplomats from non-Western countries, including Russia, Indonesia, Kazakhstan, and Thailand—during which officials dismissed claims about mistreatment and poor conditions in the facilities as "slanderous lies."
But reporting by RFA's Uyghur Service and other media outlets suggest that those in the camps are detained against their will and subjected to political indoctrination, routinely face rough treatment at the hands of their overseers, and endure poor diets and unhygienic conditions in the often overcrowded facilities.
The fates of the three other wealthy businessmen who were arrested alongside Hajim are currently unknown.
Reported Mamatjan Juma and Sada for RFA's Uyghur Service. Translated by Mamatjan Juma. Written in English by Joshua Lipes.
Source: Copyright © 1998-2016, RFA. Used with the permission of Radio Free Asia, 2025 M St. NW, Suite 300, Washington DC 20036. https://www.rfa.org.