Arrested for her faith, Ren Cuifang, 30, passed away on the 12th day of detention. After seeing her bruised body, the family suspects she has been tortured to death.
 by Chang Xin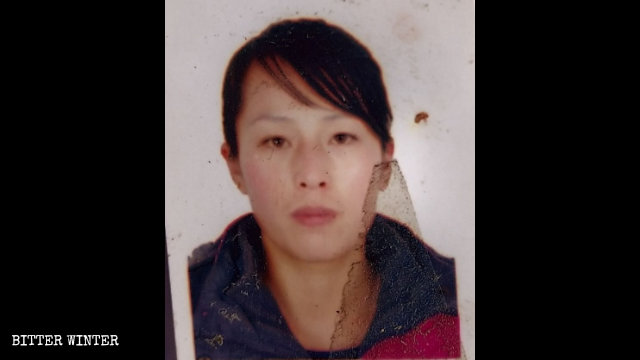 Her name is Ren Cuifang, and she lived in Karamay city in the Xinjiang Uygur Autonomous Region. She joined The Church of Almighty God (CAG) in 2011. At the age of 30, Ren Cuifang was arrested for her faith on December 22 last year and was savagely beaten by the police. She died on January 3, leaving behind her eight-year-old daughter and grieving parents who still have no answers why and how their daughter died in police custody. Ren Cuifang's family recounted to Bitter Winter their tragic story.
Police: CAG members are "serious criminals"
On December 22, 2018, Ren Cuifang's family in faraway Inner Mongolia Autonomous Region learned that she was arrested that day in Karamay, a prefecture-level city in Xinjiang. Twelve days later, their relatives in Xinjiang informed them that Ren Cuifang had died "after attempts to resuscitate her were unsuccessful."
Because Ren Cuifang had always been in excellent health and had rarely been sick ever since she was a child, her family's immediate thought was that the police had beaten her to death. They couldn't think of anything else that could have caused her death in custody.
The CAG is the largest Chinese Christian new religious movement and the single most persecuted religious group in China. Since its inclusion on the list of the xie jiao in 1995, anyone associated with the CAG is heavily persecuted, often subjected to brutal torture, and could be sentenced to lengthy prison sentences.
On the morning of January 5, Ren Cuifang's family traveled from Inner Mongolia to the Dushanzi district of Karamay. They went to the branch of the city's Public Security Bureau to find out why she was arrested in the first place and what was the cause of her death. But the officer in charge of the case, surnamed Yan, didn't give any explanations, just said that the Communist Party doesn't allow people to believe in Almighty God, adding that Ren Cuifang was a CAG leader, and religious books were found in her home during a search – that makes her a "serious criminal."
Body covered with scars and bruises
That day, the police took Ren Cuifang's family to the funeral home where her body was kept, instructing them not to touch it. The family narrated to Bitter Winter with emotion the devastation they felt taking every step to see the remains. But they were not prepared for what they saw: purple marks were around her eyes, a palm-sized, blackish-purple bruise was visible on the left side of her chest, and her legs and arms were covered in round purple and green spots of varying sizes. Her thigh had a burn scar, wrists and heels had bloody lesions, and the nail of her big toe on one of her feet had come off. The family's only conclusion was she had been viciously tortured.
"She bit her lower lip with teeth; it was very white. It's clear that she died in extreme pain," a family member recounted the horrifying state of Ren Cuifang's body. "There were still traces of blood on her teeth and nose, small pieces of cotton have been left behind after someone must have tried to wipe off the blood." To date, the image still lingers in the minds of Ren's family, making them break down in tears every time they speak about the pain she was subjected to.
The family questioned the police why the body was covered in bruises and wounds, asking them directly if they had beaten her, but officers continued denying any wrongdoing. When they asked to see the surveillance footage of Ren Cuifang's interrogation, the police used all sorts of excuses to delay giving them the videos and eventually refused, saying that "the case involves state secrets."
The family was furious. To get some answers, they requested an autopsy. When the results came on January 17, they learned that multiple bruises and scars were also on her back, which they did not see in the funeral home.
Police obstruct family from learning the truth
The local police closely monitored each step that the family took in Xinjiang, as well as surveilled their communication devices. After a long and exhausting day, at around 3 a.m. on January 5, the family returned to Ren Cuifang's apartment to rest. To their surprise, they found police officers staked outside, and were shocked even more when they were requested to give them their phones.
Striving to get justice for their relative, the family decided to get a lawyer. On January 8, when the hired lawyer arrived in Xinjiang's Kuitun city and was on the way to Dushanzi district, police officers intercepted him and prohibited him from intervening in the case.
After many attempts to get answers, the family was only able to learn from a doctor who treated Ren Cuifang that she had died after seven minutes of resuscitation, but, threatened by the police, he didn't dare to show her family any medical records and reports.
Despite police obstructions, the family persisted with their attempts to find out the real cause for Ren Cuifang's death. For a whole month, from February 25 to March 24, they repeatedly approached Dushanzi district police to give them answers, but officers only told them that she had died from a thrombosis that formed while she was made to sit on a tiger bench – a torture device when victims are forced to sit on an iron bench with their knees tied together – for a long time, causing a sudden onset of acute respiratory failure that ended her life. The police said that her death had nothing to do with them, and only agreed to give Ren's family some monetary compensation as "humanitarian assistance." The officers threatened the family not to go public with the story.
Source: Bitter Winter