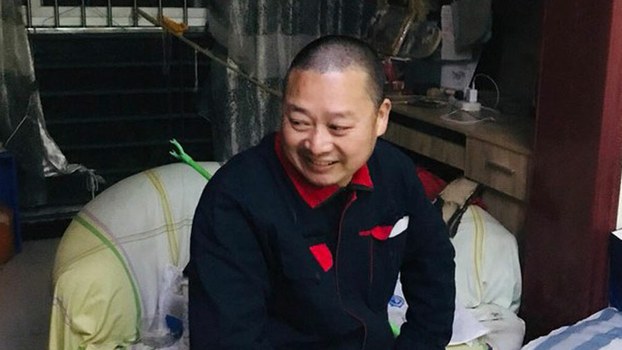 Authorities in the southwestern Chinese province of Sichuan have criminally detained a prominent rights activist after he repeatedly showed public support for the anti-extradition protests in Hong Kong.
Chen Yunfei was taken away by state security police from his home in Gucheng township in Sichuan's provincial capital Chengdu on Sept. 19, his friend told RFA on Monday.
activist
"Eight or nine people came from the Gucheng township police station, some in uniform, some in plain clothes," Chen's friend Luo Kaiwen said. "The police station called his sister and offered to find a lawyer for him."
"I heard that it was because of interviews Chen Yunfei gave to overseas media during which he expressed his support for the anti-extradition movement, that's what this was," Luo said. "They didn't say what the charge was, but I read online that it was for 'supporting Hong Kong'."
"The authorities basically have a lot of different options if they want to bring charges," he said.
Chen's family received official notification on Sept. 21 that he is under criminal detention for publishing comments in support of the anti-extradition movement in Hong Kong, it said.
Chen has outspokenly defended the anti-extradition movement at a time when the ruling Chinese Communist Party is ramping up the nationalistic narrative that the Hong Kong protests are being carried out by a small minority of troublemakers in the pay of "hostile foreign forces."
In recent interviews with RFA, Chen has called repeatedly for a dialogue between Hong Kong leader Carrie Lam and protesters to try to reach a resolution over the five demands of the anti-extradition movement.
Several Chinese dissidents have had their Twitter accounts taken offline or been called in for questioning by police after they voiced support for the Hong Kong protests.
Chinese authorities have also been checking the devices of anyone crossing the internal border from Hong Kong to mainland China, as part of a concerted campaign to ensure that no unedited news of the Hong Kong anti-extradition protests is able to reach residents of China.
Admiration for the anti-extradition protesters
In an interview with the Epoch Times on Aug. 31, Chen expressed his admiration for the anti-extradition protesters and said Hong Kong should serve as a model for people in mainland China, an idea that gives voice to concerns in Beijing that Hong Kong's liberal attitudes could lead to the overthrow of the ruling Chinese Communist Party.
Chen was only released last March from a jail term handed down on public order charges after he marked the anniversary of the 1989 Tiananmen Square massacre, politically sensitive and forbidden topic in China, in 2015.
Back then, he was detained after visiting the grave of Tiananmen massacre victim Wu Guofeng near Chengdu along with a group of fellow activists.
The government bans public memorials marking the event, and has continued to ignore growing calls in China and from overseas for a reappraisal of the 1989 student protests, which it once styled a "counterrevolutionary rebellion."
Chen has also campaigned vigorously for human rights protections and against environmental pollution in the past two decades.
Sichuan-based writer and activist Tan Zuoren declined to comment in detail, citing additional security measures ahead of celebrations of the 70th anniversary of Communist Party rule on Oct. 1.
"Of course I'm worried about him, but there's not much I can do to help, particularly not before National Day on Oct. 1," Tan said. "I have been told not to make any comments, as part of the conditions of my current bail."
Chen's wife said she and her husband are currently estranged, and that she is also under pressure from the authorities over the birth of the couple's daughter, which was deemed a violation of family planning restrictions.
"I just saw on the group chat that he was in trouble," she said. "But I don't know any of the details. I'll go and visit him in a few days … we are not living together at the moment … and I don't have much time to take care of him."
National Day on Oct. 1
Calls to the nearby Wenjiang Detention Center rang unanswered during office hours on Monday.
An employee who answered the phone at the the Gucheng township police station said he knew nothing of Chen's detention.
"I don't really know about this," the employee said. "You could come to the police station and ask. Different people are on duty here every day."
Fellow dissident Zeng Rongkang said Chen's detention could also be linked to his attempts to make news of the Hong Kong protests available to social media users in mainland China.
"News from Hong Kong is usually deleted from WeChat, and a lot of ordinary people don't actually know about the anti-extradition movement in Hong Kong," Zeng said.
"Security is extremely tight across the whole country ahead of National Day on Oct. 1," he said. "There are police on all the buses and metro trains in the Chengdu area."
Zeng said Chen had previously been sentenced to four years' imprisonment over his commemoration of the Tiananmen massacre. "He didn't even do anything, just visit the grave of a 1989 student protester."
"Strictly speaking, that's not a crime."
Reported by Lau Siu-fung for RFA's Cantonese Service, and by Gao Feng for the Mandarin Service. Translated and edited by Luisetta Mudie.
Source: Copyright © 1998-2016, RFA. Used with the permission of Radio Free Asia, 2025 M St. NW, Suite 300, Washington DC 20036. https://www.rfa.org.