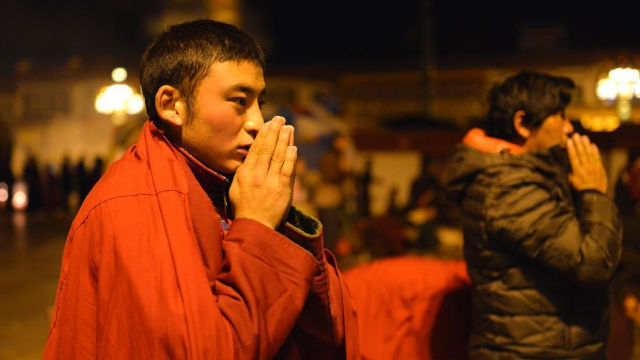 Chinese authorities have tightened controls in Tibet ahead of Oct. 1 celebrations of China's National Day, hoisting Chinese flags on monastery roofs and forcing monks to sing songs praising the ruling Communist Party, a Tibetan advocacy group said in a report released on Thursday.
In the run-up to the 70th anniversary of the founding of the People's Republic of China, Tibetans are also being coerced to attend events promoting government policies and are hanging scrolls with pictures of senior Chinese Communist Party leaders on the walls of private homes, London-based Free Tibet said in its report.
A video obtained by Free Tibet's research partner Tibet Watch meanwhile shows monks at a monastery in Tibet's Chamdo prefecture waving Chinese flags and singing songs of loyalty and gratitude to the Chinese "Motherland," vowing never to be separated "even for a moment."
In a Sept. 26 statement, Free Tibet campaigns and advocacy manager John Jones hit out at what he called the Chinese Communist Party's assault on Tibetan culture, religion, and history masked by the forced celebrations shown in the video.
"The pictures of CCP leaders hanging from the walls and the choreographed routine involving hundreds of monks may represent a show of strength by the CCP, but they do nothing to demonstrate Tibetans' loyalty to the Party or acceptance of its rule," Jones said.
"Rather than using monks for public show, the CCP should leave them alone to practice their religion and live their lives in peace," he said.
Movements restricted
Authorities have meanwhile tightened restrictions on movements inside Tibet as National Day celebrations approach, with foreign tourists and other visitors told to leave the region "as soon as possible," Tenzin Dorje, a U.S.-based Tibetan who returned this week from visiting Tibet, told RFA.
"They don't want any outsiders to be in the country during this time," Dorje said.
"I couldn't stay in Tibet for more than a month, and there were more restrictions while I was there than I had seen before. We could actually see more restrictions in the monastic institutions, where they were being forced to celebrate and participate in the festivities of the anniversary," he said.
Also speaking to RFA, a Tibetan source living in Europe said on condition of anonymity that security has now been tightened even in Tibet's most remote regions, calling it "almost impossible" now to communicate with contacts there.
'Political reliability'
In a move last year aimed at bringing Tibetan Buddhist monasteries more closely under the control of Beijing, authorities are now also grooming carefully chosen monks to learn and represent the views of the Chinese Communist Party.
The program is part of a campaign of "Sinicization of religion" launched during the first term of Chinese president Xi Jinping, New York-based Human Rights Watch (HRW) said in an Oct. 30, 2018 news release.
Under a Four Standards policy introduced in China's Tibet Autonomous Region, monks and nuns must demonstrate not only religious learning but also "political reliability," "moral integrity," and a readiness to play an active role in blocking Tibetan protests against Chinese state policy, HRW said.
Tibet's exiled spiritual leader the Dalai Lama fled Tibet into exile in India following a failed 1959 national uprising against rule by China, which marched into the formerly independent Himalayan region nine years earlier.
Chinese authorities have maintained a tight grip on Tibet and on Tibetan-populated prefectures of Chinese provinces ever since, restricting Tibetans' political activities and peaceful expression of ethnic and religious identity, and subjecting Tibetans to persecution, torture, imprisonment, and extrajudicial killings.
Reported by Yangdon Demo for RFA's Tibetan Service. Translated by Tenzin Dickyi. Written in English by Richard Finney.
Source: Copyright © 1998-2016, RFA. Used with the permission of Radio Free Asia, 2025 M St. NW, Suite 300, Washington DC 20036. https://www.rfa.org.