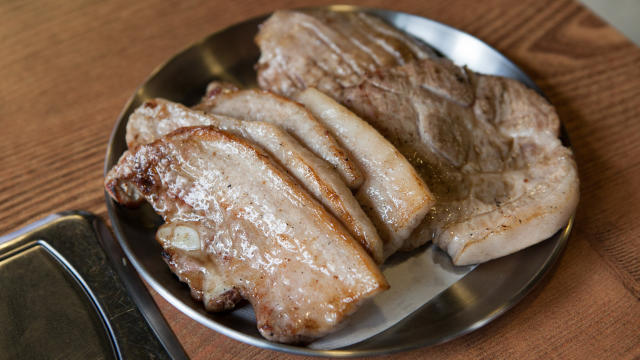 Government work groups in China's Xinjiang Uyghur Autonomous Region (XUAR) are undermining the Muslim practice of abstaining from pork as part of a bid to assimilate Uyghurs into Han Chinese culture, according to sources, who also said officials are seeking to turn the region into a major pork producer.
In recent years, RFA's Uyghur Service has received reports that Chinese authorities in the XUAR were delivering pork to Muslim households during the Lunar New Year holiday, and forcing some Muslims to drink alcohol, smoke tobacco, and eat pork, despite Islamic laws that designate them as "haram," or forbidden due to their perceived uncleanliness.
Similar claims have been made about pork being made part of the diets provided for detainees in the XUAR's vast network of internment camps, where authorities are believed to have held up to 1.5 million Uyghurs and other Muslim minorities accused of harboring "strong religious views" and "politically incorrect" ideas since April 2017.
While there is no hard evidence indicating a centralized government plan to force Muslims in the region to break the dietary laws of their religion, RFA recently interviewed officials, public servants and former camp detainees, who said that a quiet effort is in place to undermine the traditions under the guise of promoting "interethnic unity," while abstaining is branded a sign of "extremism."
As part of the "Four Togethers" campaign—which began last year and also includes "Living Together, Working Together, and Learning Together—authorities in the XUAR regularly host communal activities referred to as "Eating Together" events, where pork is included as a so-called "ethnic unity food."
In October 2018, a photo was posted online by the government of Kashgar (in Chinese, Kashi) prefecture's Maralbeshi (Bachu) county, which portrayed a Uyghur village head eating a piece of pork and calling on other Uyghurs to join him. The photo was taken down shortly after publishing.
RFA recently spoke with a village head in Maralbeshi who confirmed that the photo was real, and that local authorities are teaching people to eat pork as well.
RFA also interviewed a government employee who was "sent down" to Kashgar's Makit (Maigaiti) county as part of a practice by China's ruling Communist Party cadres to deploy political and ideological "work groups" in southern XUAR, where concentrations of Uyghur populations are higher than in other parts of the region.
The employee, who spoke on condition of anonymity, said that while he has yet to participate in an "Eating Together" event, many of his colleagues had, and that they always serve "Han food."
When asked if pork is included, the employee said no, but he added that it is forbidden to characterize the meat as "haram."
"Come on," he said, laughing, "I think you know we can't say that."
A Uyghur government employee in Kashgar's Peyziwat (Jiashi) county told RFA that his work group set up a restaurant and brought a Han Chinese chef in from Shanxi province to provide food that everyone eats, including many of the local Uyghur farmers.
But when asked whether the restaurant distinguishes between "haram" foods and those that are considered "halal," or acceptable by Islamic traditions, the employee said, "you can't make a distinction like that—you might as well give up on living in that case."
Asked if he and others will eat food prepared with pork, the employee said he would, as "it's in the air" and couldn't be avoided, adding that one of the work group's roles is to encourage people to eat all kinds of meat and assimilate into Han Chinese culture.
"Since coming here, we've been explaining new things and new culture to the farmers," he said.
"We're teaching them that they need to walk in accordance with new culture, what they need to do to adapt to it."
'Just another kind of meat'
RFA also spoke with Zumuret Dawut, a Uyghur mother of three who in April last year was detained for months in an internment camp, where she was forced to recite Chinese propaganda, beaten for providing food to an ailing fellow prisoner, and injected with unknown drugs, according to an account she related in September during an event on the sidelines of the United Nations General Assembly in New York.
While Dawut was released after her Pakistani husband advocated on her behalf, she was first forced to renounce her faith and promise not to speak about what happened to her there, and later subjected to official monitoring at her home and forced to eat pork, against the dietary restrictions of Islam.
Dawut told RFA that each locality has its own "laws" with regard to cultural practices and how they are applied can be totally arbitrary, but said the promotion of pork is "rarely done in the open" by higher officials, while it is overt at the local level.
"From the outside, it appears as if they aren't saying anything, but that's because the higher-ups have ordered them to use different means to take care of this," she said.
But she said she and others were routinely chastised for refusing to eat pork, which cadres from her local neighborhood committee would say is just another kind of meat.
"They said things like, 'This is meat, and this is too, so why are you being picky over them,'" she said.
"We couldn't even say, 'Oh, it's just what I'm used to,' because they'd see right through it and criticize us."
Dawut said she had never seen any written documentation about the promotion of eating pork, but that local officials aren't concerned about people speaking out against the practice because "none of us stands equal with the government."
A village secretary from Hotan (Hetian) prefecture told RFA that including pork in meals is also common as part of the "Pair Up and Become Family" campaign that since late 2017 has required Muslim—and particularly Uyghur—families in the XUAR to invite officials into their homes and provide them with information about their lives and political views, while hosts are also subjected to political indoctrination.
Reports suggest that Uyghurs who protest hosting "relatives" as part of the program, or refuse to take part in study sessions or other activities—including eating meals containing pork—with the officials in their homes, are subject to additional restrictions or could face detention in the camp system.
The village secretary said that while preparing meals, such as dumplings, hosts and "relatives" share the responsibility.
"If they prepare the filling, we'll prepare the dough—we work together like this and spend the whole week making dumplings," he said.
But no one complains that the "relatives" might prepare the food in ways that are considered "haram" to the Muslim community.
"We'd be crazy to say that—they're people just like we are, so they eat what we make, and we eat what they make," the secretary said.
"We've spent the last two years being relatives like this," he said, adding that if they were to offer them pork-based foods to eat, "we would."
Pig production
The revelations about the promotion of pork for the purpose of cultural assimilation come after the XUAR government held an executive meeting on Nov. 2 to discuss transitioning the region into one of the most important pig breeding and commodity pig production bases in northwest China, according to a report by the official Xinjiang Daily newspaper.
The meeting, led by XUAR Chairman Shohret Zakir, stressed that accelerating the transformation and upgrading of pig production in the region is of great practical significance in promoting the high-quality development of the pig industry, and comprehensively improving the supply capacity of pork, the report said.
China, which is home to half of the earth's pigs, has been decimated by an outbreak of African swine fever that has seen prices for pork skyrocket in the past year, leading the government in September to announce additional measures to encourage pig farmers and producers to breed more hogs.
Shen Xue, a Chinese-Canadian author and human rights activist, told RFA that shifting agricultural priorities in the XUAR from crop farming to pig breeding is not the right way to address the problem, and would represent a further restriction of the rights of Uyghurs and other Muslim minorities in the region.
"In China, the worst persecuted people are Uyghurs and other minority groups in the Uyghur region—the Chinese authorities are not only destroying their identity and culture, but also carrying out all sorts of inhuman forcible acts in order to change them and humiliate them by attacking their faith and cultural traditions," she said.
"This cannot be accepted. If the government's plan also includes the Muslim population, this is clearly a violation of their human rights for economic benefits; and it is a great insult against their religion, culture and way of life."
Reported by RFA's Uyghur Service. Translated by Elise Anderson. Written in English by Joshua Lipes.
Source: Copyright © 1998-2016, RFA. Used with the permission of Radio Free Asia, 2025 M St. NW, Suite 300, Washington DC 20036. https://www.rfa.org.