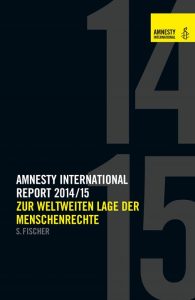 The Amnesty International Report 2014/15 documents the state of human rights in 160 countries and territories during 2014. Some key events from 2013 are also reported. This report also celebrates those who stand up for human rights across the world, often in difficult and dangerous circumstances. It represents Amnesty International's key concerns throughout the world, and is essential reading for policymakers, activists and anyone with an interest in human rights.
Source:https://www.amnesty.org/download/Documents/POL1000012015ENGLISH.PDF
Amnesty International. AMNESTY INTERNATIONAL REPORT 2014/15(THE STATE OF THE WORLD'SHUMAN RIGHTS) © Amnesty International 2014.