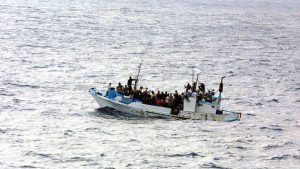 The United Nations on Wednesday welcomed Malta's agreement to allow a European rescue ship carrying 141 migrants to dock at one of its ports after the vessel became the latest to stuck in a disagreement among various nations about what to do with people rescued at sea.
The U.N.'s refugee agency further commended France, Germany, Luxembourg, Portugal and Spain for joining Malta in taking in the migrants once they reach shore.
But the agency's chief Filippo Grandi said the situation never should have existed, calling it "dangerous and immoral" that rescue ships are left to sit at sea while governments do their best to take as little responsibility as possible.
"There is an urgent need to break away from the current run of impasses and ad-hoc boat-by-boat approaches on where to dock rescued passengers," Grandi said. "Only with clearly identifiable ports of safety will shipmasters feel confident when responding to distress calls that they'll be able to promptly disembark passengers, and won't become objects of lengthy negotiations."
After initially refusing to let the Aquarius dock, Malta changed its mind when five other European Union nations agreed to take in the migrants. Malta called it a "concrete example of European leadership and solidarity."
The migrants to be given refuge across the EU include 141 from the Aquarius, and 114 others Malta rescued in the Mediterranean Monday.
France, which has agreed to take in 60 of the migrants, is thanking Malta "for its humanitarian gesture."
"Maybe European states have finally understood that this concerns our common border at the south of Europe, that this is a problem for the 28 member states, and that we can't avoid responsibility," said Frederic Penard of the European rescue group SOS Mediterranee, which operates the Aquarius with Doctors Without Borders.
On Friday, the Aquarius picked up the 141 migrants who were stuck in unstable wooden boats off the Libyan coast.
SOS Mediterranee said most of the migrants came from Somalia and Eritrea and had been held in inhumane conditions in Libya before heading out to sea. Many were suffering from malnutrition.
Thousands of people from sub-Saharan Africa and countries such as Syria and Afghanistan try crossing the Mediterranean every year to escape war, terrorism and poverty for a better life in the European Union.
Italy had been the most popular destination for the migrants because its islands are closest to the coast of North Africa.
But Italy is refusing to accept any more, saying it has done enough and that other EU members must pitch in.
It also said cooperating with private rescue ships like the Aquarius plays into the hands of human traffickers who get large sums of money and abandon their passengers at sea.
Source: VOA