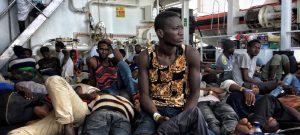 Turkey's coast guard says two people died Monday after a boat carrying migrants sank just 50 meters off Turkey's western coast near Bodrum.
Seventeen people were rescued from the boat, according to the coast guard.
Three people were able to swim ashore, but two of them died later at a hospital, a coast guard statement said.
The coast guard said it is continuing search and rescue efforts for possible survivors.
There were no immediate details about the nationalities of the migrants.
Turkey is one of the transit countries used by migrants fleeing conflict and poverty in the Middle East and Africa in their quest to seek a better life in Europe.
Source:UN