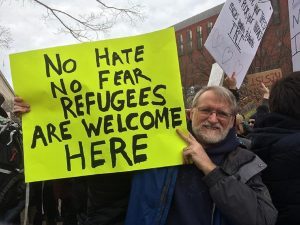 The fact that the US will cap the annual number of refugees admitted here at 30,000 – by far the lowest ceiling in four decades – demonstrates an utter lack of compassion for the victims of armed violence and persecution. Secretary of State Mike Pompeo's announcement yesterday is also a cold shoulder to countries on the front lines of conflict, many of whom are close US allies and bear the burden of caring for and protecting the overwhelming majority of the world's refugees.
It is true that even at its most robust, refugee resettlement only directly benefits a small fraction of the world's 25 million refugees, and by itself is no panacea for these crises. When used strategically, however, and in combination with humanitarian assistance and technical support, it can have enormous benefits beyond helping the relatively few people who are rescued.
US leadership over many years has been critical in garnering greater resettlement commitments and support from other countries, and in convincing frontline states to keep their doors open to new refugee arrivals or to improve conditions for those languishing in camps and settlements.
The US refugee resettlement program aims to identify the most vulnerable among a refugee population, often those who are not only persecuted in their home country but also unwelcome in the country of first arrival – such as members of religious minorities or LGBT people. The US resettlement program also responds to US citizens and permanent residents who petition on behalf of their close relatives who are refugees. And, dating back to the Vietnam War era, US resettlement has identified refugees persecuted because of their connections and associations with the United States.
Even in 2016, when the US admitted 85,000 refugees, resettlement was a path only open to a tiny fraction of the world's refugees. But it provided hope to countless more refugees and made their lives of waiting more bearable. President Donald Trump's decision to lower the numbers is yet another abdication of US leadership, at a time when there are more people displaced around the world than at any time since the Second World War. It may also do incalculable damage to the complex global system that supports refugees and that is sustained as much by hope as it is money.
Human Rights Watch.Trump Slashes Number of Refugees Resettled in US. © 2018 by Human Rights Watch.