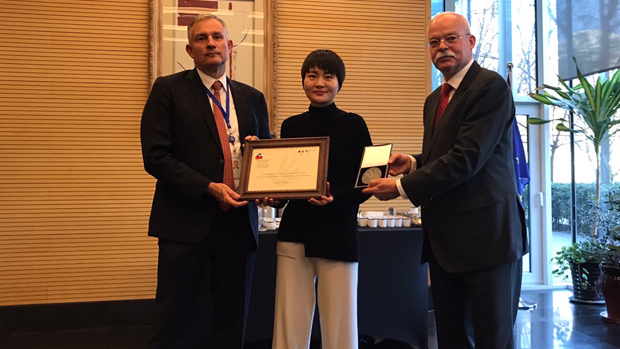 Li Wenzu, rights activist and wife of detained Chinese rights lawyer Wang Quanzhang, has won a European human rights award for her "exceptional contribution" to the protection and promotion of human rights.
Li received the Franco-German Prize for Human Rights and the Rule of Law on her husband's behalf from the French and German ambassadors to China on Wednesday at a joint ceremony in Beijing hosted by the embassies of both countries, she told RFA.
Fellow activists were prevented from attending the ceremony by China's state security police, and Li herself had been followed all the way to the embassy, only making it inside by losing her security detail.
"The state security police found out about my award, and posted officers outside my door," she said. "They followed me the whole time, until I was finally able to get into the embassy."
"Many other friends were invited but were forced to stay home," she said.
In her acceptance speech, Li said the award was a boost not just to her personally, but to all the hundreds of lawyers, rights activists and their families caught up in a nationwide crackdown that began in July 2015.
"I would like to thank the governments of Germany and France, as well as the embassies of various countries, their current and previous human rights officials, for continually paying close attention to the
July 2015 cases for the past four years and more," Li told the gathering.
Wang Qiaoling, who won the same award in 2016, said the award was a huge morale boost to all of those affected by the crackdown on China's legal profession.
"That includes detained and arrested lawyers, their defense lawyers, a group of lawyers who support us, and the sisterhood [between lawyers' wives and other women working for human rights since the crackdown began]," Wang said.
Fellow rights attorney Lin Qilei called on the international community to keep up its scrutiny of the ruling Chinese Communist Party's treatment of lawyers, however.
"The rule of law is being harshly turned back on itself in China, and these family members have been an example not just of resistance from within the group affected by the July 2015 crackdown, but the epitome of the entire civil resistance movement," Lin said.
He warned that Li's husband Wang wouldn't likely be free even after his release at the end of his formal jail term, and that he would likely be held with his family under house arrest in the eastern province of Shandong.
"I hope that — with the solidarity of the international community — Wang Quanzhang won't end up with his entire family under house arrest," he said.
The Franco-German Human Rights and the Rule of Law Prize, created in 2016, is awarded every year to human rights defenders around the world, but also to lawyers who represent the human rights defenders and journalists who work to make the truth known, according to a description on the French diplomatic service website.
"The winners of the 2019 Franco-German Human Rights and the Rule of Law Prize are fighting battles in key fields such as the fight against torture and inhuman or degrading treatment, against forced
disappearances, against violence on women, against discrimination of LGBT people and the promotion of gender equality," it said.
This year's prize winners also included Egypt's El Nadim Center, Ameha Mekonnen Asfaw of Ethiopia, Robin Chaurasiya of India and Nasrin Sotoudeh of Iran.
Reported by Ng Yik-tung and Sing Man for RFA's Cantonese Service, and by Wang Yun for the Mandarin Service. Translated and edited by Luisetta Mudie.
Source: Copyright © 1998-2016, RFA. Used with the permission of Radio Free Asia, 2025 M St. NW, Suite 300, Washington DC 20036. https://www.rfa.org.