The State Department's new annual Human Rights Report denounces a staggering situation. Bitter Winter and its detained reporters are among those mentioned.
by Marco Respinti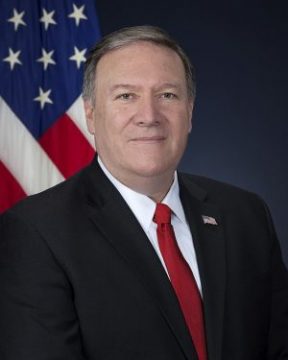 On March 11, the US State Department, led by Secretary Mike Pompeo, issued the Country Reports on Human Rights Practices for 2019. This is an American tradition, now in its 44th year, whose main motivation has been stated by Secretary Pompeo upon the release of the document: "As our founding documents remind us, nothing is more fundamental to our national identity than our belief in the rights and dignity of every single human being. It's in our Declaration of Independence."
Based on facts gathered by team members in Washington, D.C., and US embassies throughout the world working with and through experts, the 2019 Report virtually covers the whole world. Publicly, Secretary Pompeo singled out four countries to exemplify what violation of human rights means today, out of which three are run by socialist regimes (only the first in the following list isn't): Iran. Venezuela, Cuba, and of course China.
The report's section on "China (Includes Hong Kong, Macau, and Tibet," as its title reads, offers an effective "cold list" of trespasses committed by the CC-led regime in its executive summary: arbitrary or unlawful killings, forced disappearances, torture, arbitrary detention, harsh and life-threatening prison and detention conditions, arbitrary interference with privacy, physical attacks on and criminal prosecution of journalists, lawyers, writers, bloggers, dissidents, petitioners, and others as well as their family members; censorship and site blocking; interference with the rights of peaceful assembly and freedom of association including overly restrictive laws that apply to foreign and domestic NGOs, severe restrictions of religious freedom; substantial restrictions on freedom of travel within the country and overseas; refoulement of asylum seekers to North Korea (where they have a well-founded fear of persecution). The Report notes substantial problems with the independence of the judiciary, totally dominated by the CCP, which controls the appointment of all judges and even sometimes directly dictates courts' rulings, and the widespread corruption that plagues the country. It also underlines the coercive birth-limitation policy that in some cases included forced sterilization or abortion, trafficking in persons, severe restrictions on labor rights, and child labor.
"Bitter Winter" quoted
One key point is the mass detention of members of Muslim minority groups in the Xinjiang Uighur Autonomous Region (which Uyghurs prefer to call East Turkestan) under the false accusations of terrorism, separatism, and extremism. In the detention camps in Xinjiang Turkic people are abused, tortured, and killed: mainly Uighurs, but also ethnic Kazakhs, Kyrgyz, and others. This situation, the Report notes, is paralleled by the repression of Tibetans in the Tibet Autonomous Region (TAR) and other Tibetan areas.
The number of single cases mentioned in the Report is huge, and the Report's peculiarity is precisely that of showing such an amount of critical material in one place. In the list of staggering cases presented is for example that "[…] of Pastor Wang Yi, the leader of the Early Rain Church". Together with China Aid, Bitter Winter has been one of the first media outlet to lit a light on it, and has followed the case subsequently, since the Pastor, "who was charged and convicted of 'inciting subversion of state power' in an unannounced, closed-door trial with no defense lawyer present," has been sentenced to nine years in prison.
Of all the cases reported, the US Department document significantly quotes Bitter Winter and the disappearance of many of its correspondents and journalists working every day on the ground, at their own high risk, in Mainland China: "In December 2018, Bitter Winter reported police had detained at least 45 of its contributors since August 2018.  Of the 22 detained in Xinjiang, four were released by February.  The other 23 detained were held in Henan, Fujian, Zhejiang, and Shanxi. Several had been released after indoctrination training.  Police arrested the Fujian contributors in October 2018 and prohibited family members from visiting them. Online media reported that police tortured them."
Organ harvesting
The Report contains also a rather disappointing phrase, though. "There was no direct evidence of an involuntary or prisoner-based organ transplant system", it reads. We disagree. The human harvesting system is fairly established in the country, and it can't be managed on a private or casual base, as Chinese expert Dr. Huige Li, out of many, told Bitter Winter. We have in fact drawn light on what seems to be a scheme and a flourishing industry.
Fortunately, the US document adds that "[n]evertheless, some activists and organizations continued to accuse the government of involuntarily harvesting organs from prisoners of conscience, especially members of Falun Gong,", among which is mentioned the nongovernmental Independent Tribunal into Forced Organ Harvesting of Prisoners of Conscience in China. In June, the China Tribunal (as it is commonly known) definitely found the CCP regime guilty. Its full report, 500-pages long, was released on March 1 to be promptly reviewed by Bitter Winter in an article suggesting suspicions that organ harvesting is increasing in the time of coronavirus, and even used to address coronavirus. On the same topic, another impressive amount of evidence is published online by the Victims of Communism Memorial Foundation (VCMF), in Washington, D. C. in a report authored by Matthew P. Robertson, China Studies Research Fellow at VCMF.
The State Department's Human Rights Report doesn't deal specifically with religious liberty. A specific report on this subject by the State Department is in fact forthcoming. Let's then hope it will deal specifically with the ill fate that every day awaits believers of all faiths, among which are groups listed as xie jiao and enclosed into the so called "black market" of Chinese religion, where believing, belonging and behaving as a member of a banned group is sufficient to be accused of crime. Typical is the situation of the single most persecuted religious group in China, The Church of Almighty God, whose case is unfortunately not yet recognized publicly as its members deserve.
Source: Bitter Winter