A citizen journalist detained in Shanghai after she reported on the emerging coronavirus epidemic in the central Chinese city of Wuhan has lost weight after refusing food in a police-run detention center, her lawyer said on Monday.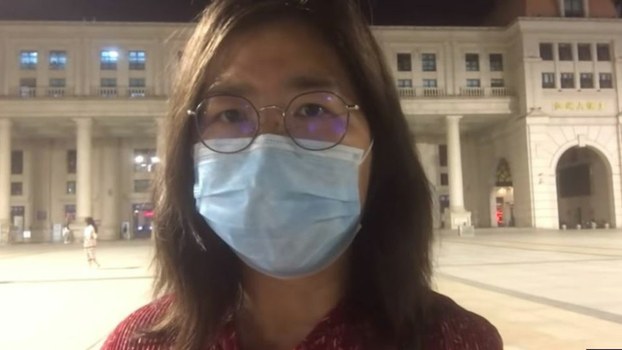 Zhang Zhan, 37, faces prosecution on charges of "picking quarrels and stirring up trouble," a charge often used to target peaceful critics of the ruling Chinese Communist Party, but has resisted pressure from police to "confess," her lawyer Wen Yu told RFA.
"I met with her at 10.00 a.m., for about 50 minutes," Wen said. "She has lost a lot of weight."
Zhang told Wen she is still refusing food in protest at her detention.
"I told her to take care of her health … to get ready for the trial, which is likely to be soon, maybe in October," Wen said.
Last week, the Chinese Human Rights Lawyers' Group called on the government to release Zhang, citing illegal restrictions on meetings with lawyers and procedural violations in the handling of her case.
It said nothing she had done in Wuhan had broken any Chinese law, and that Zhang had merely been exercising her constitutional rights.
"Her arrest by the Shanghai police and her prosecution are completely illegal … [This is] political persecution targeting Zhang Zhan," it said.
"Zhang Zhan has been on a hunger strike for many days and is weak," the statement said. "She should be declared innocent and released immediately."
Posts on social media
According to Wen, the charge against Zhang all relate to comments or posts she made to social media platforms including WeChat, Twitter, and YouTube.
"We will be pleading not guilty based on her right to freedom of speech," Wen said.
But lawyer Chen Jiangang, who is also a member of the China Human Rights Lawyers Group, said he wasn't optimistic about Zhang's case.
"The real reason Zhang Zhan was accused of committing a crime was that she relayed the truth about what was happening in Wuhan to to the outside world, and talked about her personal reactions to it," Chen said.
"There is no crime here, even under Chinese law … but Zhang will soon be sent to prison," he said.

'Friends are very worried'
Wang Jianhong, director of the U.S.-based rights group Humanitarian China, said there are growing concerns for Zhang's health.
"Friends are very worried about her health since we learned about her hunger strike," Wang said, adding that around 300 people have signed a petition calling for her release.
"We just wanted to speak out to say that there was no crime in Zhang Zhan's comments," he said. "This is basic common sense."
Zhang, who lives in Shanghai but who traveled to Wuhan in early February, was taken away from Wuhan's Caiguang Hotel near Hankou railway station on the night of May 14.
She was held by police near her home in Shanghai's Pudong district, then formally arrested on that charge on June 19 on the orders of the Pudong state prosecutor, and is currently being held in the Pudong Detention Center.
She recently "dismissed" her defense attorney, Ren Quanniu, who had been hired by her mother, her mother told RFA in a recent interview.
Zhang has been force-fed in detention after she started a hunger strike to protest against her treatment.

Reported by Qiao Long and Gigi Lee for RFA's Mandarin and Cantonese Services. Translated and edited by Luisetta Mudie.
Source: Copyright © 1998-2016, RFA. Used with the permission of Radio Free Asia, 2025 M St. NW, Suite 300, Washington DC 20036. https://www.rfa.org.