One of the sentenced believers will spend 15 years in prison merely for keeping at home CAG-related e-books and videos.
by Chang Xin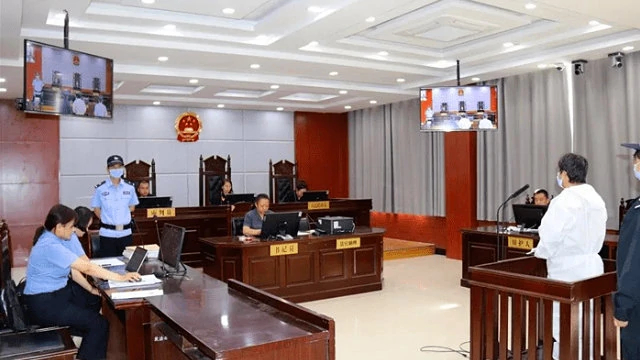 Amid the coronavirus outbreak, The Church of Almighty God (CAG)—the single most persecuted religious movement in China—remained a primary target of the CCP's oppression. CAG members were subjected to continuous arrest operations across China and given hefty sentences for practicing their faith.
Bitter Winter has obtained information about 52 CAG members tried and sentenced this year in Xinjiang region, Shanxi, Anhui, Hubei, Yunnan, and other provinces. Sadly, this is only a small part of the countless cases.
Jiang Yanghua from Xinjiang's Aksu city was arrested on August 21, 2019. The People's Court of Aksu sentenced Ms. Jiang on June 9 to 15 years in prison for "organizing and using a xie jiao organization to undermine law enforcement," as per Paragraph 1 of Article 300 of the Chinese Criminal Code. She was also fined 100,000 RMB (about 14,000 USD). The court's judgment states that Jiang Yanghua was given a hefty sentence merely because she kept many CAG e-books, videos, and audio recordings. She was also accused of "undermining enforcement of the state's laws or administrative regulations" for gathering with other CAG members at home.
The Article 300 stipulates that members of religious groups identified as xie jiao can be sent for extended terms in prison for participating in regular religious activities, like attending worship services, sharing the gospel, or distributing religious books.
The 2019 International Religious Freedom Report, published on June 10 by the US Department of State, says that China's "Criminal law defines banned groups as 'cult organizations' and provides for criminal prosecution of individuals belonging to such groups and punishment of up to life in prison. There are no published criteria for determining, or procedures for challenging, such a designation. A national security law also explicitly bans 'cult organizations.'"
"Jiang Yanghua's case is disturbing," a CAG member told Bitter Winter worriedly. "Against the backdrop of the CCP's prolonged suppression and persecution of our Church, we prefer to use faith-related materials in electronic format. It's dangerous to use paper books or look for information online." She thinks that Jiang's trial signifies that most CAG members, including her, could be given 15-year sentences if arrested.
Another CAG member commented that the Chinese Constitution guarantees religious freedom, and CAG members should not be punished for regular religious activities. But the CCP subjects them to ruthless suppression and persecution. She believes that it is the Communist Party that "undermines enforcement of the state's laws or administrative regulations."
On May 6, not long after the coronavirus lockdown has been lifted, the People's Court of Luannan county in Tangshan, a prefecture-level city in the northern province of Hebei, collectively tried 20 CAG members. One was sentenced to eight years in prison and fined 30,000 RMB (about $ 4,270) for serving as a church leader. Three were given five years and fined 20,000 RMB (about $ 2,840), and a 72-year-old member will have to spend three years in prison and pay a 5,000 RMB (about $ 710) fine.
According to the CAG information, the 20 members were arrested in July last year during an organized crackdown campaign. Bitter Winter previously reported that this campaign was launched on the central government's orders and implemented after secretly investigating and surveilling CAG members for several months.
On May 6, the People's Court of Wenshui county in Lüliang, a prefecture-level city in the northern province of Shanxi, sentenced six CAG members to prison.
On April 24, the People's Court of Zhijiang city in the central province of Hubei collectively tried four CAG members, three of whom were sentenced to seven years and six months and one to seven years in prison.
On March 30, a court in Bengbu city in the eastern province of Anhui sentenced four CAG members, who spent over a year in detention, for "organizing and using a xie jiao organization to undermine law enforcement." The lawyer of one of the sentenced people explained that CAG members are not usually released on bail. "No amount of money could secure that," the lawyer said. "Even CAG members who have cancer won't be released on bail."
Image 2: On June 17, the People's Court of Dunhuang city in the northwestern province of Gansu held an open trial of CAG members.
On February 10, as the coronavirus was surging through China, ten CAG members from Zhuhai city in the southern province of Guangdong were tried collectively. Five were sentenced to three years or more in prison.
On January 10, the People's Court of Maguan county in Wenshan Zhuang and Miao Autonomous Prefecture in the southwestern province of Yunnan sentenced seven CAG members to imprisonment from six to nine years and fined them 296,000 RMB (about $ 42,000) collectively.
According to the CAG's annual report, in 2019, at least 6,132 CAG members were arrested, and 1,355 were sentenced. Twelve people were given ten years or more in prison, while nearly 500—three years or more.
Source: Bitter Winter