The Church of Almighty God remains one of the primary targets of China's religious persecution, as its members are given hefty sentences for practicing their faith.
by Yang Guang'an 
The Church of Almighty God (CAG), the largest Chinese Christian new religious movement, is the single most persecuted religious group in China. Alarmed by its rapid growth, the CCP included the CAG in the list of the xie jiao already in 1995, but its persecution intensified significantly after President Xi Jinping took office in 2013.
According to the CAG's annual report, at least 6,132 of its members were arrested last year, among whom 1,355 were given prison sentences: 481 will be incarcerated for three or more years, and 12—ten years or more. Many believers are tried collectively, and church leaders and those whom the CCP identifies as "key members" are given particularly long sentences.
According to the verdict, issued by the People's Court of the Ganyu district in Lianyungang, a prefecture-level city in the eastern province of Jiangsu, on January 14, 15 CAG members were sentenced on charges of "using a xie jiao organization to undermine law enforcement" merely for practicing their faith. Among them, Cao Fengying, Wu Qian, Lu Qing, and Yan Zhaoyun were given seven years and six months in prison, and Wei Chunqin—seven years.
The verdict issued by the People's Court of the Ganyu district on January 14.
According to Article 300 of the Chinese Criminal Code, members of religious groups identified as xie jiao can be sent for extended times in prison for participating in regular religious activities, like attending worship services, sharing the gospel with their relatives and friends, or distributing religious books, which the Chinese regime regards as "crimes."
As José Elías Esteve Moltó, Professor of Public International Law and International Relations at the University of Valencia in Spain, commented in an interview, the CCP uses Article 300 as "a weapon against various religious groups within the country, defining religious worship as a crime against the state."
On December 16, 2019, 14 CAG members, 19 to 69 years of age, were tried collectively by the Runzhou District People's Court in Zhenjiang city. Among them, Zhu Liping, labeled as a "church organizer," was given four years and six months in prison. The court did not inform the families of the believers about the time of the trial.
The 14 people were arrested in October 2018, after authorities monitored them for six months. According to a relative of one of the arrested, the police thoroughly searched her house before taking her into custody and confiscated all her faith-related books and the church money she kept at home.
Two more groups of CAG members were tried collectively in Jiangsu Province in the second half of 2019: nine people were put on trial in Yancheng city on September 20, and seven in Yangzhou city on December 20.
In Changsha, the capital of the central province of Hunan, the Wangcheng District People's Court ruled to imprison 28 CAG members for "using a xie jiao organization to undermine law enforcement" on December 19. Among them, Xiao Meili, a church leader, was sentenced to eight years and ten months, and Gong Xiyue, a preacher, to eight years and two months. Chen Jin and Liu Min, identified by the government as "key church members" for writing faith-related texts and testimonies of their experiences, were given seven years and four months and seven years and eight months, respectively.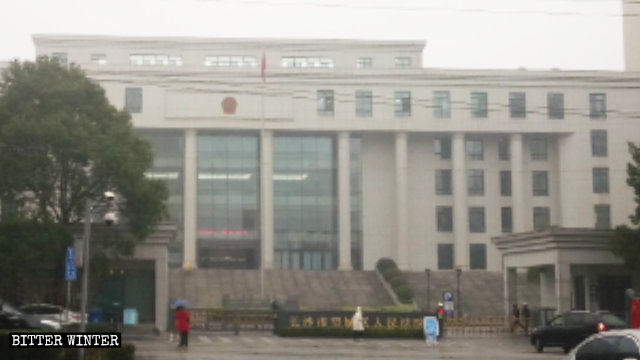 Source: Bitter Winter