Religious persecution in China affects each aspect of believers' life. Those unwilling to give up their faith may lose their jobs.
by Zhang Wenshu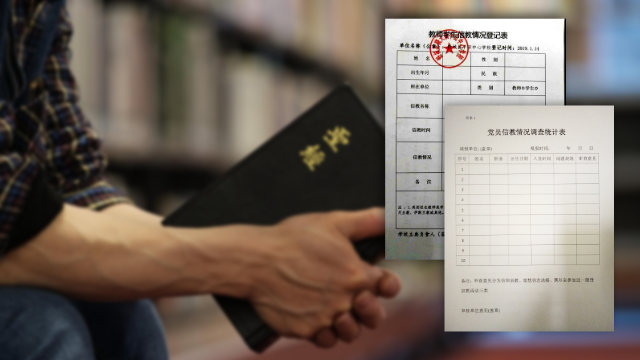 On July 28, thousands of workers in over 200 government-affiliated institutions in the Fushan district of Yantai city were convened for a meeting to investigate their religious status. Their spouses, children, and parents were also scrutinized.
In May, the Education Bureau of Jinan, the capital of Shandong, required some primary and secondary schools to determine if any of their teachers, students, or their family members were religious. Similar investigations have been carried out in schools of other cities as well.
A primary school teacher, a member of a Sola Fide house church, told Bitter Winter that the school principal summoned her to fill out a government-issued form about the religious status of teaching and administrative staff. "The principal told me that all religious gatherings are banned, even reading the Bible in small groups is not allowed," the teacher said. The woman added that she was greatly upset by the government's increasing persecution of religions. She is afraid that if her religious affiliation is revealed, she could be subjected to surveillance, or worse, be punished and even lose her job.
A hospital staff member revealed that at least two hospitals in the city investigated the religious status of employees and their family members in April. Personal information of people who attend state-run places of worship was also collected. Those who are discovered to have concealed their faith could be punished.
People of faith worry that their job security and wellbeing could be affected if their religious belief is disclosed. Many have been discriminated against because of their religion.
In June, a sanitation worker, nearly 70 years old, from the central province of Henan, was fired for reading the Bible during her break at work. She was let go the same day after the director of the Environmental Sanitation Bureau publicly criticized her. The director demanded that all potential employees present a certificate from the police in the area of their permanent residence registration, proving that they are not religious. "No religious person shall get recruited," the director proclaimed.
The woman's colleagues commented that she was a good worker, laboring hard without complaints. Because of her faith, she has never been named a "model worker." "All leaders kept an eye on her and punished her just because she believes in God and often shared the gospel with us. No one dared to defend her," one of her colleagues commented.
"I'm aging, and I don't know how I will support myself," the woman lamented.
A staff member at a hotel in the northwestern province of Shaanxi told Bitter Winter that he had worked in many hotels over the years. He had to provide a "no-faith certificate" issued by his permanent residence in all of them. The same happened when he applied for the position of a security guard in a kindergarten.
For members of banned religious groups, the situation is even worse. A public servant from Shandong's Yantai city, whose belief was recently investigated, explained to Bitter Winter that if government workers or their family members are ascertained to be members of a xie jiao, they will be immediately fired.
A person working in the public security system in the province has lost his job because his father is a member of The Church of Almighty God. "I have friends working in police stations or criminal police and national security brigades, but none of them dared to help me," the man revealed. "And no money could have helped to keep my post. My superiors said that when religious beliefs are involved, no connections will help."
A man who moved to Xinjiang at the beginning of the year told Bitter Winter that the police questioned him about his father's membership in the Shouters, a religious group declared a xie jiao and banned in 1983, four days after he started working in a state-run enterprise.
"My father has a police record because he has been arrested for his faith, and this information is in the system," the man explained. "Every time they check my ID card, authorities learn about my father's faith. The enterprise leader told me that if a person has a police record for religious beliefs, three generations of their descendants would not be able to join the army or work in a state-run entity." The police also questioned the man to find out if he was religious as well. They ordered him to attend "study classes" for two hours every day. Because the employer has learned about his father's faith, the man could no longer work in the state-run institution, and he left Xinjiang.
Source: Bitter Winter