Beijing is ramping up transfers of Uyghurs into forced labor outside of their region, according to an Australian think tank set up to probe human rights violations in Xinjiang.
by Ruth Ingram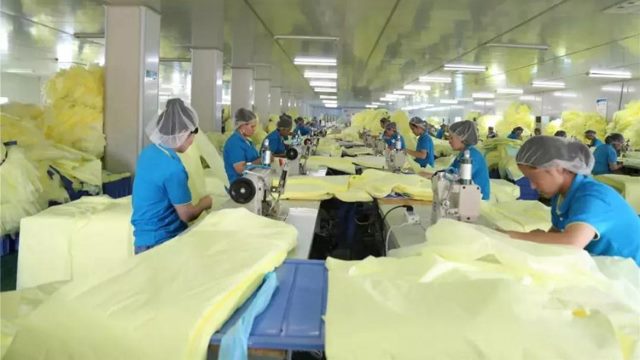 Following its groundbreaking report of February 2020, "Uyghurs for Sale," further investigations by the ASPI (Australian Strategic Policy Institute) have unearthed more evidence that, far from scaling back its activities following adverse publicity towards its policies, the CCP has unashamedly stepped up its mission. Tens of thousands of unwilling Uyghur recruits, many straight from internment camps, are being herded as never before, onto trains. To fulfill a rising tide of punishing Government quotas, they are being shipped in increasing numbers to factories and sweat shops to make goods for well-known western companies in China's heartland.
In "Uyghurs For Sale," the ASPI original report, 83 global brands and labels were identified as having benefitted from Uyghur forced labor at some stage in their supply chain. Major tech, automotive and fashion companies from around the world, including from nine European countries, have all been implicated.
Sharing their findings during a webinar of May 19, organized by Reinhard Bütikofer, European Parliament Green Party Chairman and foreign affairs spokesperson, members of the ASPI research team spelled out a more shocking tranche of facts.
Using open source material and Chinese government websites, researcher Vicky Xu has found that, far from trying to hide its campaign, the CCP has been boasting openly online about its activities. "The Chinese Government proudly brags about taking Uyghurs away from their home to a faraway province, giving them a job, getting them to work, getting them to wash their hair and stop wearing a head scarf," she said.
Taking advantage of material in the public domain, the ASPI team is continuing to uncover an accelerated stream of Uyghur resettlement, particularly to the coastal provinces.
Ms. Xu described the segregated dormitories and after-work ideological and Mandarin language classes. "They are forbidden to practice their religion, of course," she said. She recounted the constant surveillance whereby every group of 50 is supervised by a minder. "Frequently, police officers escort them to the factory and watch them work," she said, adding that reports were even written about their thoughts. "The lengths the Chinese Government has gone to is enormous," she said incredulously. "They even try to monitor their thoughts."
She said the tally of companies did not stop at 83. "There are definitely more," she added. Which exact tier each company was implicated in the manufacturing process was not always clear, she pointed out, but noted that the factories themselves advertised themselves as part of the chain, thereby confirming the possibility that the international brands are benefitting from forced labor.
She cited a report by The Washington Post reporter Anna Fifield, who visited the Taekwang Shoe Company factory in Qingdao earlier this year, interviewing anyone she could. She confirmed the virtual imprisonment of 800 Uyghur workers behind razor wire and high fences, under the 24/7 gaze of surveillance cameras and unable to return home of their own accord. "This is the main manufacturer for Nike, producing 8 million pairs of shoes every year," said Ms. Xu. "They are not allowed to leave the premises without permission, they cannot go home for holidays, they don't have freedom of movement, they undergo indoctrination classes and are paid lower wages than their Han counterparts." She said their families back in Xinjiang were visited regularly by Government officials, and each worker was forced to install a monitoring app on their phones. "If they were happy to go and work there, why the need for such surveillance?" she asked. She invoked Nike's own cynical advertising push to engage Muslim women in sport, whilst at the same time turning a blind eye to Uyghur Muslim women working under duress in the factory. "That's just not good enough," she said. "They need to stay true to themselves."
Foxconn, another destination for Uyghur laborers, was notorious, according to Ms.Xu, for suicides and mistreatment of workers. "If Uyghurs are there with no rights, what does that look like, particularly during the time of the virus," she asked.
In another case, a company making goods for the German brand Adidas, had been found to be complicit in the roll off transfer of hundreds of Uyghurs straight from a "detention facility" in Xinjiang to a factory in the coastal province of Anhui. There, Ms. Xu fears for their safety given the enforced nature of their employment and secrecy surrounding the conditions.
German firms BMW, Bosch, Mercedes, Puma and Siemens, Italy's Candy, Sweden's H&M and Electrolux, the Philippines' Jack and Jill, France's Lacoste and Spain's Zara, among many others have all been named.
Chinese government response to the report has been brutal and their policies repeatedly defended in terms of poverty alleviation and employment opportunities for "graduates" from the transformation through education camps. Chinese Foreign Ministry condemnation, Global Times and People's Daily denouncements swiftly followed the findings, but independent research by the U.S. Congressional-Executive Commission on China, reported inter alia by the Associated Press, and the South China Morning Post (SCMP) have not only corroborated the conclusions, but the SCMP has gone further with evidence of the campaign's acceleration, even to the extent of transporting Uyghurs to Hunan province, one of the epicenters of COVID-19 to work in factories there while the virus was in full sway. Ms. Xu added that Government quotas to force provincial governors to take increasing numbers of Uyghurs meant the situation "could only get worse."
Dr. James Leibold, Associate Professor and Head of Department at La Trobe University in Melbourne Australia, and co-author of the ASPI report, was quick to stress that nowhere in the report was there a suggestion that every Uyghur worker in these factories was coerced. Uyghur labor transfers started in 2000, and many were happy to work away from home. But since 2017, with the appointment of Chen Quanguo, and the incarceration of up to 3 million Uyghurs in the transformation through education camps, he added that there was a considerable body of evidence now to prove that a large proportion of Uyghurs "could be working against their will."  "We take what evidence we can find," he said, adding that their conclusions were based on "partial evidence," but that widespread intimidation of workers' families and threats of being returned to a camp, together with pay discrimination and intense surveillance, spoke for themselves.
According to Kelsey Munro, a senior analyst at ASPI and a co-author of the report, the Central Government's mandate to move Uyghurs out of Xinjiang is making life very difficult for the companies themselves, which risk closure if they refuse to take part. Non-participation is not an option, she said.
Neither she nor her co-authors advocated a knee jerk reaction against all Uyghur labor in China. "That would be disastrous," she said. The hope of the team was that companies doing business with China would be more aware of their supply chain. "Foreign companies have leverage," she said.
Responses to the report by the foreign companies themselves have been disappointing, said Vicky Xu, with some even threatening to sue. A few, namely Microsoft, Apple and Amazon had undertaken to pursue the matter further, but the best hope for change lay with activists and consumers, and courageous governments willing to put value and morality above money and if necessary face the wrath and sanction of Beijing. Grass roots campaigns might be the way forward, she thought, urging consumers to lobby companies and vote with their feet. America, the European Union, and the UK to some extent had raised their heads above the parapet, and had the issues firmly in their sights, but Kelsey Munro regretted the difficulty in getting the world to speak up. She hoped for a seed change among Han Chinese within China itself, without which she held out small hope for transformation in the near future.
Lack of sympathy for the Uyghur people was prevalent within the country, and the criminalizing of an entire race of people, driven by racism and fear, was exacerbating the deeply engrained xenophobia within the nation, concluded Vicky Xu. "They believe that only by subduing the Uyghur people can they lead peaceful and prosperous lives," she thought.
Source: Bitter Winter