The CCP regime enforced mobile apps to prevent the spread of COVID-19, which will likely outlive the pandemic and will be used to expand automated social control.
by Lin Yijiang
China's health code services, run on Alipay, an online payment platform owned by the Chinese e-commerce giant Alibaba, or the ubiquitous multi-purpose WeChat app, assign one of the three color codes to people. Red means that a person is at a high risk of spreading the coronavirus and should quarantine for 14 days, yellow—for seven days. The green code requires no restrictions.
As lockdowns were lifted across the country, people's freedom of movement became highly dependent on these virus-checking apps, introduced nationwide at the height of the outbreak to identify and isolate those who might be spreading the virus. To sign for one of the apps, which are installed on smartphones, people need to enter their personal information, recent travel data, and their health status. All this collected data is stored and shared with the police.
The authorities claim that these health apps are voluntary and are only intended to curb the virus. Although many believe that the move is a new form of automated social control in China, expected to last after the pandemic is over.
According to a document issued by a local government in the southeastern province of Jiangxi in March, health codes have been vigorously promoted on orders from higher authorities "to ensure widespread coverage in the province." Governments on all levels were required to investigate if all members in each household, both in rural and urban areas, have a health code.
A grid administrator from the eastern province of Zhejiang told Bitter Winter that he was going door to door to enforce the order, making sure that even newborns and the elderly, who are too old or weak to travel, have a code.
Mr. Hu, a businessman who works outside the province, said that his father, who was recently diagnosed with advanced gastric cancer and isn't expected to live long, was also told to install a health code. Even a notice from the hospital confirming his health status didn't help. Mr. Hu joked bitterly that when his father dies, he won't be allowed into a crematorium without a code.
"My one-year-old child can't even talk, but I was asked to apply for a health code for him," a mother from the northern province of Hebei complained to Bitter Winter. "Where can an infant go on his own?"
Residents in the eastern province of Shandong were required to apply for a health app in early May, even though no new coronavirus cases had been reported there for 55 days in a row.
In mid-May, counties, towns, and villages administered by Heze, a prefecture-level city in Shandong, were ordered to enforce health codes on all residents before a set deadline. Local officials threatened those who refuse to do so that they would be forced to self-isolate for an indefinite time.
"Local officials pressure and intimidate everybody—adults and minors—to apply for a health code," a villager from Heze's Cao county told Bitter Winter. "As schools were about to reopen, we were told that children wouldn't be allowed in if they don't have a health code."
Compared to omnipresent facial recognition software and other surveillance systems in China, the health code mechanism covers more people and collects a broader range of personal information. The state can also impose stricter control as people now have to use health codes going to work, getting into a taxi, seeing a doctor, shopping, or doing many other daily activities.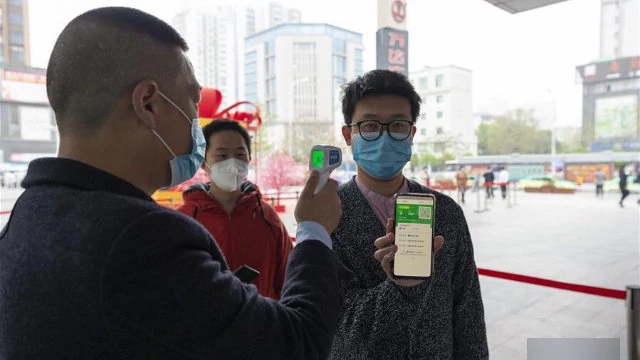 For dissidents and people of faith, the expanded control undoubtedly poses more significant threats.
On March 3, a member of The Church of Almighty God (CAG) from the eastern province of Zhejiang, previously arrested for her faith, was taken into custody while applying for a health code. The woman had no choice but to get one since the local government threatened that only people with a green code on the app would be allowed to get into grocery stores and supermarkets. After police officers learned from records about her previous arrest, they immediately performed a body search, photographed her, and took her blood sample. They demanded to know if she were still a member of the Church and took her to a hotel for forced "quarantine," claiming that she was suspected of coming from Wuhan, the epicenter of the pandemic. The woman was interrogated, police officers threatening to send her to jail again and implicate her family if she continued practicing her faith.
As stated in a recent New York Times article, China's "officials are extending the health code concept beyond public health, a possible sign of where this experiment in digitized social control might lead." As cities throughout China "are now trying different ways of keeping residents glued to their virus apps," according to the article, "such readily accessible information could enable discrimination, however. Insurers could raise rates for people with red or yellow codes. Employers could deny jobs or promotions."
Source: Bitter Winter