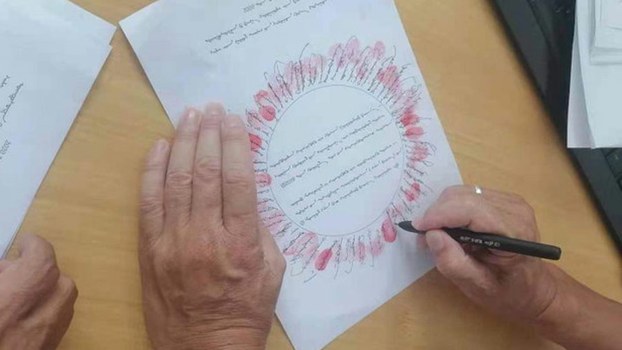 Parents in China's northern region of Inner Mongolia are refusing to send their children to school this semester in protest over changes to the curriculum by the ruling Chinese Communist Party.
A directive from the Inner Mongolia education department recently ordered an end to Mongolian-language classes for first-year primary students and an end to Mongolian-medium teaching and materials in favor of the Chinese language, teachers in the region have told RFA.
The move prompted protests from parents in the region's Tongliao city.
Photos circulated on social media of parents holding up cardboard placards on city streets and squares in Tongliao.
One placard read: "Prohibition of learning Mongolian in Inner Mongolia is violating the constitution of [the People's Republic of] China."
"It is the inalienable right of Mongolians to learn the Mongolian language," read another.
Refusal to enroll
Ethnic Mongolian rights activist Khubis said parents at one Mongolian-medium school in Tongliao had refused to enroll their children in protest.
"Yesterday [Aug. 27], none of the parents of Mongolian students in Zaruud, near Tongliao city in eastern [Inner Mongolia], went to register their children," Khubis said.
"I went to the school and but I didn't enrol mine either."
The Zaruud Mongolian Experimental Primary School responded by issuing a notice to parents on Friday, he said.
"The notice basically said that any parents who refused to enrol their kids would have their kids sent back to the school where they were previously registered," Khubis said.
"The Tongliao municipal education department notified parents that … schools officially went back on Aug. 27, so any parents refusing to enrol are delaying their children's access to compulsory education," he said.
'Tensions are running high'
Haschuul, a resident of Shilingol League near the border with the independent country of Mongolia, said similar tensions had emerged in his hometown in Shuluun Huh banner, a county-level administrative division.
"Previously they didn't start teaching them Chinese until the third grade of elementary school, but now they have to start Chinese in the first grade," Haschuul told RFA on Friday.
"And Chinese is the language of instruction, with Mongolian as a minor subject," he said. "This will mean the gradual disappearance of our Mongolian language, so of course we have a problem with that."
Nomin, a former schoolteacher from Shuluun Huh who now lives in the U.S., said teachers have also been joining the campaign, signing petitions to ask the ruling Chinese Communist Party to reverse its policy in the region.
"People are very angry and tensions are running high," Nomin said. "They are putting pressure on teachers and parents and threatening the kids, saying that they won't get into university in future [if they don't learn Chinese]."
Plans are also afoot on social media for rallies against the new language policy on Sept. 1 in the regional capital Hohhot, and in Baotou, Wuhai, Tongliao and Hailar.
Those protesting say the new policy, which is being billed as "bilingual education" by the authorities, are in breach of the constitution, and regional ethnic autonomy laws.
Repeated calls to the complaints department of the Zaruud banner government rang unanswered during office hours on Friday.
Parents posted conversations with officials to social media in which the officials claimed that no such policy document existed, and said the parents' ire was premature given that school hadn't yet started.
However, the regional education department said in a statement on its website that it was soliciting comments on the new policy "in the light of strong public reactions and international media attention."
Reported by Qiao Long for RFA's Mandarin Service. Translated and edited by Luisetta Mudie.
Source: Copyright © 1998-2016, RFA. Used with the permission of Radio Free Asia, 2025 M St. NW, Suite 300, Washington DC 20036. https://www.rfa.org.