The CCP comes up with new pretexts to suppress people of faith. In Zhejiang Province, believers' businesses are threatened if they disobey government orders.
by Zhao Mingzhe
On July 28, the Huai'en Church, a state-approved Protestant church in Longgang, a county-level city administered by the prefecture-level city of Wenzhou in the eastern province of Zhejiang, removed the cross from its roof. They did it after a prolonged pressure by local authorities. On July 7, crosses were also toppled from two Three-Self churches in Wenzhou's Yongjia county.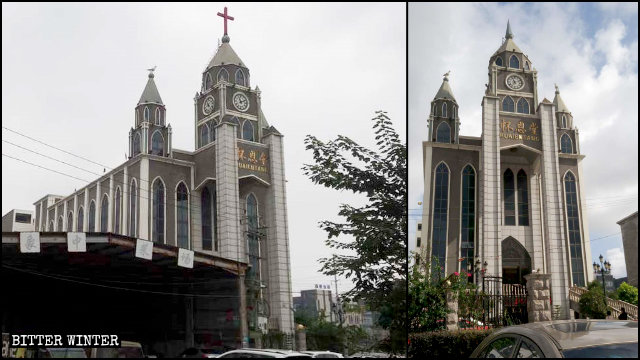 This is the second time the Huai'en Church had its cross removed. In 2014, amid a provincewide campaign to demolish crosses, hundreds of armed police officers surrounded the church to topple its cross. Three years later, the congregation re-installed the removed symbol.
A congregation member told Bitter Winter that because Longgang county was upgraded to a city on September 25 last year, central and provincial government officials plan the first-anniversary visit this month. "That is why we were coerced into demolishing the cross, officials threatening to shut the church down if we disobeyed," the believer said.
"Since last September, the Longgang city government repeatedly exerted pressure on the church, demanding us to do away with the cross ourselves," another church member explained. "Officials told us that the government doesn't want to demolish the cross because of intense pressure from abroad. They don't want to get into trouble if the news about forced removals were reported overseas, especially amid the pandemic. Therefore, the government uses various pretexts to pressure those in charge of places of worship to topple religious symbols themselves."
In Wenzhou, called "China's Jerusalem" because of a large population of Christians, numerous entrepreneurs running businesses there are religious. Even though the CCP appoints all personnel in state-run churches, well-off businesspeople in Wenzhou still maintain some influence in religious communities: They often finance the construction of places of worship, participate in venues' management, sometimes even serving as directors, and promote their development using contacts and finances. But with the intensifying crackdowns on religion, authorities started using their businesses as leverages to pressure and manipulate them.
"As the church directors refused to remove the cross, the government resorted to dirty tricks to attack them individually, trying to ruin them," the believer continued. "Since some church directors run factories or companies, officials threatened to fine or shut them down after tax or production inspections find 'irregularities.' One church director was forced to resign from a company's board, not wanting to implicate his business."
"The government targeted the entire church, pressuring us to remove the cross," a third church member commented. "We can do nothing about it, as we are powerless to fight back."
An elderly believer added that the Communist Party does not want crosses to be visible for ideological reasons. "Because Christianity came to China from abroad, they fear it poses a threat to their regime, and that is why they demonstrate their power," he said. "Churches have always been persecuted in China. Even Three-Self churches can't escape persecution."
Source: Bitter Winter