Ahead of provincial government inspections, local authorities ordered to eliminate crosses from the roofs of Protestant and Catholic venues from April through June.
by Wu Xishan
On May 20, more than ten local government officials, including the heads of the United Front Work Department and Religious Affairs Bureau, supervised the cross removal from the Great Wall Church, a Three-Self church in Lanling, a county in the prefecture-level city of Linyi. The cross was toppled for being "too eye-catching."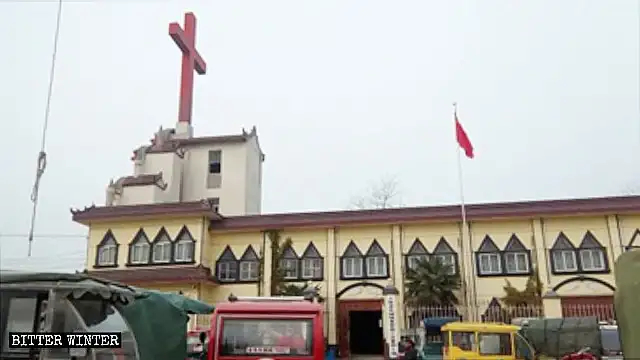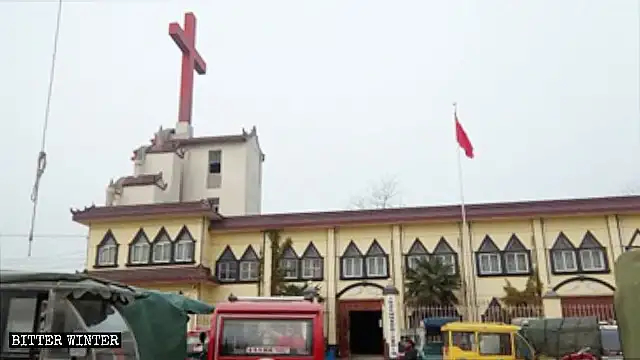 Video: The cross of the Great Wall Church is being removed.
In a village administered by the county's Jinling town, the roof cross and a statue of the Virgin Mary were forcibly removed from a Catholic church on May 19. Local officials said that the reason for the move was that the cross was taller than the village committee building.
Two crosses were removed from a Three-Self church in Linyi's Tancheng county also in May. "Officials said that the order came from higher authorities," the church deacon told Bitter Winter. "If the crosses were not removed, the church would be shut down, its land confiscated, and all facilities destroyed or taken away."
On May 17, the government of Linyi's Hedong district removed the roof cross from a local Three-Self venue on the grounds that "it was higher than the red flag."
Though devastated by the act, congregation members didn't dare voice their feelings. "Speak less, don't ask any questions or say anything, or you'll be arrested," an elderly believer said.
Crosses were also removed from a Three-Self church in Zhangzhuang town in Linyi's Yi'nan county in April, and a Three-Self church and several house churches in Gaoqing county of the neighboring Zibo city in June.
"Officials said that the Communist Party has ways to deal with those objecting the removal of crosses, like imprisoning or blacklisting them," a house church director told Bitter Winter.
"They can also prevent their children from entering universities or getting a bank loan."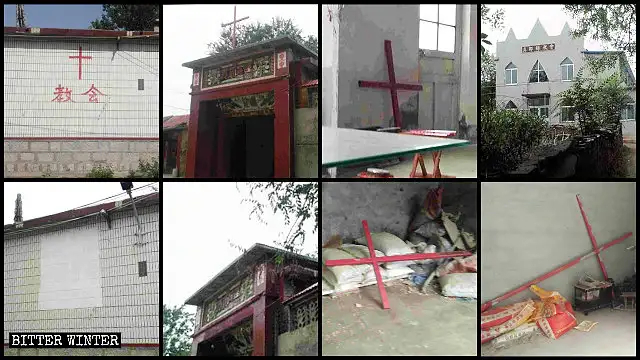 Since the State Administration of Religious Affairs sent its inspection team to Shandong in May 2019, nearly all Christian venues there lost their crosses. According to some calculations, between March 2019 and January 2020, in Linyi city alone, at least 70 churches had their crosses removed.
In April, crosses were removed from the Eden Garden Three-Self Church in Rizhao city and the Three-Self church on Danyang Road in the city's Donggang district.
Local officials stressed that this concentrated removal of crosses was implemented ahead of a provincial inspection team visit. "The government told us that all crosses on roofs must be removed before the visit," a Three-Self church deacon from Dezhou city's Shanghe county said. His church's cross was removed on April 29.
The director of a Three-Self church venue in Qingdao city's Jimo district was told by local officials that all crosses had to be removed from churches as soon as possible because the state doesn't want them to be visible. The church's cross and other religious symbols were also taken off.
"Crosses from all our church venues have been removed," a Three-Self church preacher from the Jimo explained. "The last demolished cross was erected more than ten years ago. I feel bad for not witnessing its removal."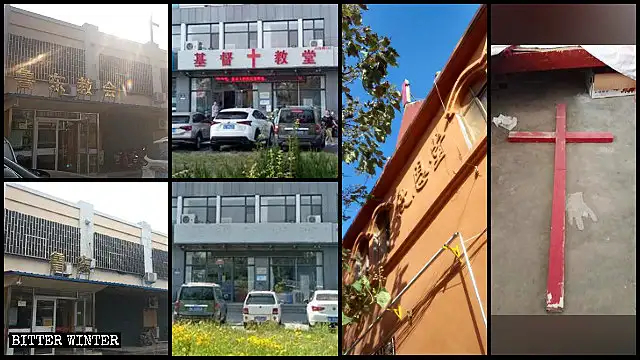 On April 28, six or seven officials from Yuncheng county in Heze city came to a Three-Self church and ordered to remove its cross and paint over religious couplets. Three days later, after the cross has been removed, they went to the church director's home and destroyed crosses and other religious symbols they found.
Source: Bitter Winter