The CCP treats any link the Chinese believers have with abroad as "foreign infiltration" that threatens its regime. Any such tie is investigated and severed.
by Li Mingxuan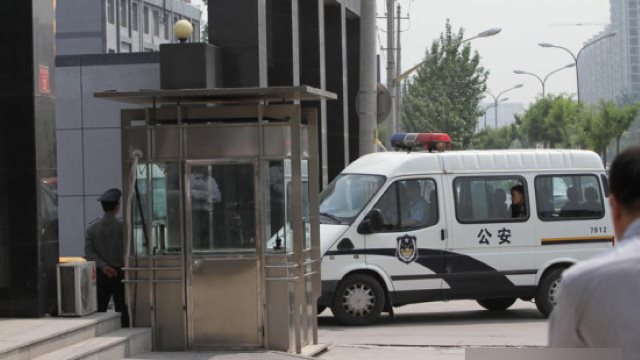 Last year, the United Front Work Department and the Ministry of Public Security adopted the Work Plan of the Special Operation to Investigate and Deal with Overseas Christian Infiltration According to Law. As a result, crackdowns on churches with foreign ties intensified significantly throughout China. Many religious groups faced comprehensive investigations that included checking their background, organizational setting, membership, online evangelism, and finances. Subsequently, a large number of churches were shut down.
In February, the Religious Affairs Bureau of Jilin Province issued a document, demanding to investigate and crack down on churches related to or funded by overseas religious groups, as well as block their activities online.
In the eastern province of Shandong, national security officers interrogated a house church pastor in February for evangelical activities abroad. He was questioned for hours, with a particular focus on his recent trip and who financed it. The pastor was warned not to go overseas to evangelize again, and his cell phone was put under surveillance.
"The CCP forbids evangelism and doesn't allow people to hold religious beliefs," a deacon from the pastor's church commented. "They fear that the pastor could bring back foreign religious thoughts, which could threaten their regime."
A church with ties to South Korea in Shandong's Yantai city stopped gatherings due to the coronavirus pandemic. Still, the local government did not relax the control over the church even after lockdown restrictions were eased. In mid-March, citing the Rules for the Implementation of the Provisions on the Administration of Religious Activities of Aliens within the Territory of the People's Republic of China, which state that "Within Chinese territory, aliens may not establish religious organizations, institute religious offices, set up sites for religious activities, run religious institutions or hold religious classes in any names or forms," the local Ethnic and Religious Affairs Bureau prohibited the church director from accepting preachers from abroad. He was threatened to be criminally accountable if he disobeyed.
On November 26, 2019, a church established by a South Korean pastor held a 2-day meeting in a hotel in Yancheng, a prefecture-level city in the eastern province of Jiangsu. To evade being reported to the police, the nearly 60 participants pretended to be attending a psychology-pedagogy training course. Nobody was allowed to take photos or post them on their social media accounts.
Despite safety precautions, authorities managed to discover the gathering. Just before it was over, the police stormed the hotel and arrested over 40 believers; the others managed to escape. The churchgoers were taken to a local police station for interrogation. One of the believers told Bitter Winter that the police said that the church had been under surveillance for a long time because it was suspected of "religious infiltration." Six of the arrested were detained for up to 14 days.
On May 30 last year, two national security officers broke into the home of a Three-Self pastor in Shandong's Binzhou city. They told him that by surveilling him, they intercepted his communication with a South Korean church. The pastor was questioned about donations from that church and was warned that contacts with foreign churches "were considered espionage, which could lead to serious consequences." The officers confiscated his cell phone and computer.
Resulting from "anti-infiltration efforts," multiple foreign missionaries have been taken into custody and deported from China in the past few years. In February 2019, a South Korean pastor was arrested while attending a preaching meeting in a hotel in Jiangsu's Lianyungang city. A local house church member told Bitter Winter that the church's nine preachers, who were arrested alongside the pastor, were warned not to follow his teachings. The police confiscated the pastor's computer and then repatriated him.
On July 5 last year, a house church pastor from Taiwan in the southern province of Guangdong was summoned by the local Religious Affairs Bureau and told that foreigners were not allowed to engage in religious activities in China. The woman was threatened to be deported if she was found engaging in religious activities again. She was forbidden from returning to the church and was put under surveillance. The church was shut down shortly afterward on the grounds that "it was disturbing people."
Source: Bitter Winter