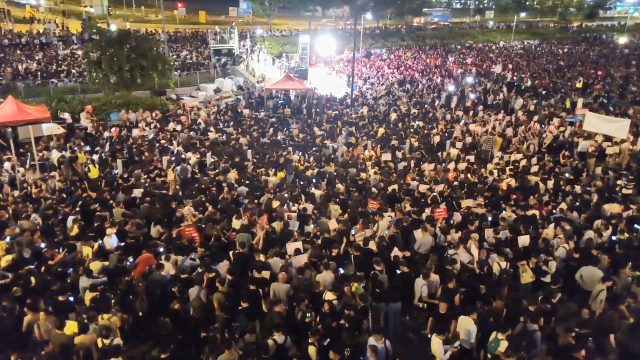 China's national security law for Hong Kong will put everybody in the city at risk of arbitrary detention and unfair trial unless underpinned by measures to guarantee protection of human rights, Amnesty International said today as Beijing lawmakers prepare to adopt the dangerous legislation.
Chinese authorities are expected to vote through the law at the upcoming National People's Congress Standing Committee (NPCSC) extraordinary session – which runs from today until Tuesday 30 June – despite having not yet publicly disclosed its full details.
"Hong Kong stands at the cliff-edge of an uncertain and unsettling future, its freedoms threatened by national security legislation that could override the laws currently protecting the city's inhabitants from the worst excesses of state-sponsored repression," said Joshua Rosenzweig, head of Amnesty International's China Team.
"The Chinese government must abandon plans to pass a national security law for Hong Kong unless it can provide water-tight guarantees that the legislation conforms with human rights in all aspects."
Security agencies pave way for police state
Under the national security law, all individuals, institutions and organizations in Hong Kong would be prohibited from "engaging in activities that endanger national security". The NPCSC looks set to adopt it in its current session, without public consultation.
Amnesty International has a range of human rights concerns about the proposed law. Not least that it would authorize the Beijing central government and the Hong Kong government to set up a national security office in the city.
On the mainland, such agencies systematically monitor, harass, intimidate and secretly detain human rights defenders and dissidents, with many indications of torture and other ill-treatment.
Without explicit guarantee in the law that these agencies and their personnel will be bound by the local government's existing responsibilities to respect and protect human rights, it may be difficult – if not impossible – to hold them accountable for violations of human rights.
"The Hong Kong authorities are already weaponizing the local law against too many of its citizens ­­– a secretive national security agency simply creates more tools to crack down on human rights and risks turning the city into a police state," said Joshua Rosenzweig.
"The already inadequate implementation of safeguards in Hong Kong's criminal process will be even less effective if mainland-style security agencies are exempted from complying with human rights in line with Hong Kong laws."
Threat of extradition returns
Details about the national security law published by Chinese state media last week contain a series of worrying proposals, including a set of frightening loopholes that would enable mainland authorities to detain and try suspects.
Among them is a plan to equip Chinese authorities with the power to "exercise jurisdiction" over Hong Kong national security cases "under specific circumstances". Although the precise meaning of this power is unclear, public statements by senior Hong Kong officials indicate that this could essentially provide mainland authorities with the discretion to take over any case they wish.
There are also questions over whether the law will allow national security detainees to be treated differently from other criminal suspects.
This could include being held in special detention facilities or being detained for indefinite periods of time. It could even involve being extradited to the mainland – a threat that prompted, and was blunted by, the 2019 protest movement.
In addition, the city's chief executive would get a hand in selecting which judges are able to hear national security cases – potentially impeding the independence of the judiciary.
"The authorities' assertion that the national security law will only affect a tiny minority is hardly reassuring when the law includes repressive measures that could be used to target literally anyone the government chooses," said Joshua Rosenzweig.
Law pushed through on basis of exaggerated security concerns
Hong Kong and Chinese officials claim there is an urgent need for security laws to counter the threat of "terrorism" and violence in the city. However, the protesters that marched against the extradition bill in 2019 – and have recently returned on a smaller scale in the wake of COVID-19 – have been overwhelmingly peaceful.
Seven United Nations human rights expert bodies have expressed concerns about the overly broad and imprecise definitions in the counter-terrorism legislation for Hong Kong.
"As well as rushing this national security law through in a manner that avoids all meaningful public or political scrutiny, the authorities are also trying to justify its necessity on the unsubstantiated pretext that Hong Kong must root out a terrorist threat," said Joshua Rosenzweig.
"China's promise that the national security law will respect human rights is worthless without the legal provisions to guarantee and enforce it. If this law is truly aimed at combating genuine national security threats and terrorism, as Beijing claims, then it must include clear exemptions for the peaceful exercise of rights such as freedom of expression, assembly and association."
Chilling echoes of China's security law
The so-called crimes of separatism (or "splittism"), subversion, terrorism and "collusion with foreign or overseas powers" to endanger national security will be banned under the law.
These broad, vaguely defined offences are similar to those that feature in China's own National Security Law, which was enacted in 2015.
Amnesty International has documented the systematic and widespread abuse of that law by the Chinese authorities to target human rights defenders. Lawyers, scholars, journalists, pastors and NGO workers have all been convicted of national security offences for simply exercising their freedom of expression and defending human rights.
Background
Once it is signed into law by Chinese President Xi Jinping, the national security law would be listed under Annex III of the Basic Law – Hong Kong's mini-constitution – after being "promulgated" by the Hong Kong authorities. This means it would become law on the day it is adopted by Hong Kong's chief executive, without scrutiny by Hong Kong's Legislative Council – effectively bypassing the local legislature.
Hong Kong is guaranteed certain rights under the Basic Law and through being bound by international human rights treaties such as the International Covenant on Civil and Political Rights (ICCPR) and International Covenant on Economic, Social and Cultural Rights (ICESCR).
The national security law draft reportedly includes a guarantee of respect for human rights, including the ICCPR and ICESCR. But crucially, it appears that national security laws could override these protections.
China's national security law has a similar provision on respect for human rights, yet this has provided little or no protection to people targeted.
Source: Amnesty International. China: National security law for Hong Kong risks turning city into police state © Amnesty International 2020.