Religious texts not approved by the state, including the Bible, are confiscated from churches and believers, replaced with socialist propaganda.
by Zhang Feng
During the second half of 2019, the CCP launched numerous operations to confiscate religious books and printed materials that are not approved by the state, as part of the nationwide campaign "to eradicate pornography and illegal publications." Even popular folklore books, like Canaan Hymns, Spirit Song (《靈歌集》), gospel leaflets, religious calendars, and hand fans with religious content are not spared. Only the state-approved Bibles and hymn books are allowed in churches, along with government propaganda and books by Confucius.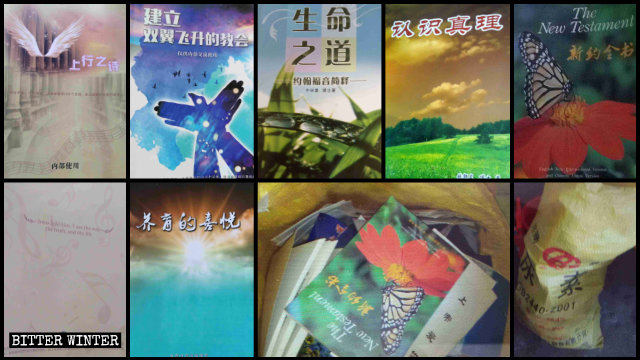 "Banned" religious materials purged
A preacher from a Three-Self church in Panshi city in the northeastern province of Jilin told Bitter Winter that government officials had conducted numerous inspections in his place of worship looking for "illegal" religious materials. "They searched the podium, cabinets, the donation box, and the piano, even went through chair cushions and congregation members' bags," the preacher remembered one of the raids. "They threatened to close the church if any banned books were discovered."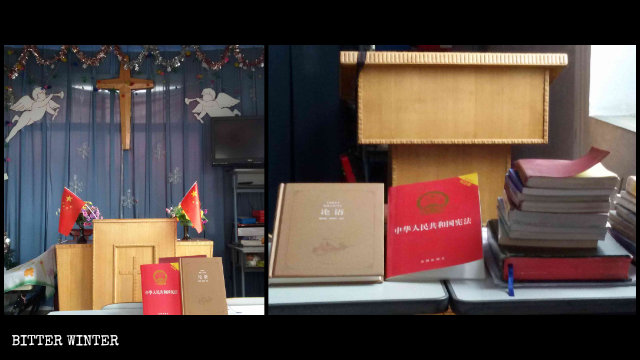 "Such inspections are increasingly becoming a norm," seconded a Three-Self pastor from Dandong city in the northeastern province of Liaoning. "Officials from local culture and religious affairs bureaus frequently come to investigate, either openly or secretly, if we have 'illegal' publications. We are only allowed to use the government-issued hymnbook, which has many hymns we don't know how to sing, including some Party-praising songs. We feel awful about this."
Books from abroad targeted especially hard
A Three-Self preacher from Dunhua, a county-level city in the North Korea-bordering province of Jilin, told Bitter Winter that the local Religious Affairs Bureau convened a conference on November 19 last year, to discuss the ban on religious books from abroad. Churches that are found to have such publications were threatened to be immediately closed.
"Government officials prohibit any contacts with South Korea, and no publications on Christianity from there are allowed," a Three-Self preacher from Jilin's Panshi city said. "Even having a page from such books is punishable."
Korean believers living in Jilin's Huadian city complained that after Bibles in Korean were confiscated, they were only left with versions in Chinese. "If we cannot understand them, how can we use them?" one of them asked. "The CCP wants us to disperse."
"Two weeks after all the Bibles from Hong Kong and Korea were seized, officials from the local Religious Affairs Bureau brought three large packages of publications on laws to display them in the church. But nobody wants to read them," a Three-Self believer from Jilin's Tonghua city told Bitter Winter.
Meanwhile, as part of the drive to confiscate religious books from the US and Taiwan, the government arrests owners of Christian bookstores, tracks down their customers, and seizes the purchased publication.
"The police said that all books that are not approved by the state should be confiscated because they endanger national security," a Christian from the eastern province of Zhejiang recalled a conversation with an officer who came to his home to confiscate the religious books he had ordered. "They told me that I would have had more problems had I shared the books with others."
Believers hide their Bibles
In early 2018, as part of its religion "sinicization" policy, the CCP proposed to issue a revised version of the Bible, which would reflect the core socialist values.
On November 26, 2019, during a symposium, organized by the Chinese People's Political Consultative Conference and its Ethnic and Religious Affairs Committee, it was expressly demanded to re-evaluate the interpretation of religion: to re-compile and revise all religious doctrines and canons that are not in line with the communist ideology and the core socialist values, to "keep pace with the times."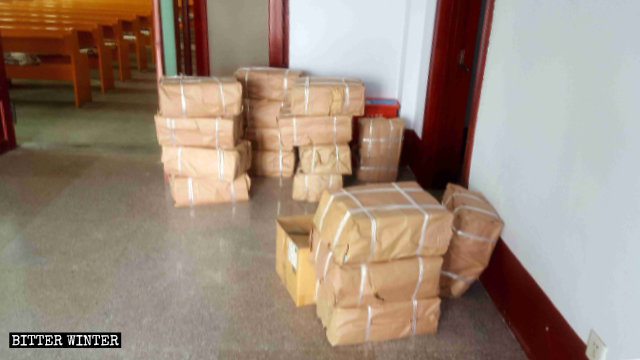 "When the government adds its propaganda to the Bible, we will not have access to pure teachings," a Christian from Zhejiang's Ningbo city lamented. "Many believers have already hidden their Bibles to avoid confiscations."
Fearing that their Bibles would be confiscated and replaced with the CCP-edited versions, some Three-Self pastors from Xinyu city in the central province of Henan started organizing Bible study fellowships to help their congregations remember some of its verses.
"We are now experiencing the same fate as during the Cultural Revolution when Bibles were seized or burned," one of the pastors commented. "We are copying the Bible by hand to keep God's words for ourselves, in case our Bibles are confiscated."
Source: Bitter Winter