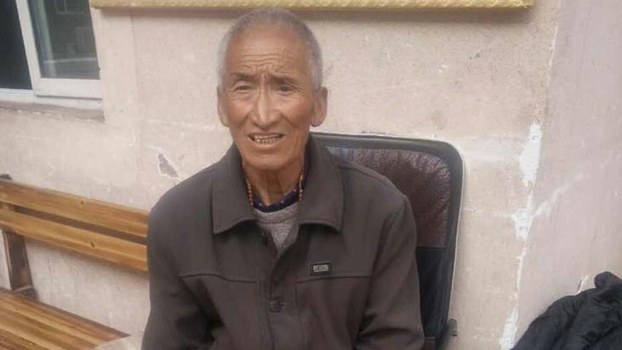 An elderly Tibetan man and his son were detained in the Tibet Autonomous Region at the end of last year for listening to teachings by exiled spiritual leader the Dalai Lama, RFA's Tibetan service has learned.
Jampa Dorje, 75, and his son were taken into custody by Chinese police on or around Dec. 30, 2019, in Chamdo (in Chinese, Changdu) prefecture's Dzogang (Zuogong) county, Geshe Jampa—a Tibetan monk living in south India—told RFA on Monday.
"[They] were detained on a charge of listening to His Holiness the Dalai Lama's teachings on their mobile phone, and also for speaking to their daughters who are living in exile," Geshe Jampa said, citing local sources in Dzogang.
Jampa Dorje, also known as Jampel, and his son are members of the Borchung Tsang family and live in the Chinwa village of Tongpar township in Dzogang, Geshe Jampa said, adding, "The county authorities picked them up at their home in Chinwa for questioning."
When news of the two men's detention was conveyed to Dorje's daughters in India, "they broke down and cried in despair and disappointment," Geshe Jampa said.
"For fear of retaliation and worse treatment for their father in detention, his daughters are now refraining from saying anything more," he added.
Though Chinese authorities quickly blocked outside communication links with Dorje's family, a second source later learned that Dorje and his son were eventually freed after showing "a good attitude" while in custody.
"However, the authorities also warned them that given the nature of their crime, they could have faced up to five years in jail," the source said, speaking on condition of anonymity.
After taking down the phone numbers of all of Dorje's family members, the authorities forced the elderly villager and his son to sign a document promising never to repeat "the offense of receiving their daughters' phone calls or listening to the Dalai Lama's teachings," the source said.
Regarded by Chinese leaders as a dangerous separatist, the Dalai Lama fled Tibet into exile in India in the midst of a failed 1959 national uprising against rule by China, which marched into the formerly independent Himalayan country in 1950.
Displays by Tibetans of the Dalai Lama's photo or public celebrations of his birthday and calls for his return have been harshly punished in the past, and authorities frequently search mobile phones belonging to Tibetans for images of the exiled spiritual leader or other politically sensitive content.
Reported by RFA's Tibetan Service. Translated by Dorjee Damdul. Written in English by Richard Finney.
Source: Copyright © 1998-2016, RFA. Used with the permission of Radio Free Asia, 2025 M St. NW, Suite 300, Washington DC 20036. https://www.rfa.org.