China's propaganda agencies busily create "warm news," propagating "personal sacrifice" and "government's achievements," to manipulate public opinion.
by Bai Lin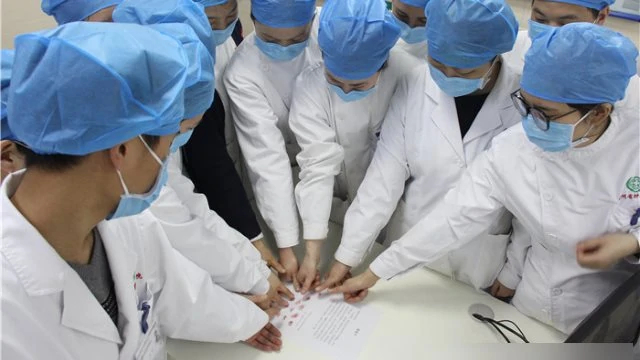 With the subsiding coronavirus pandemic, "patriotism, unity, and optimism" now permeate the Chinese internet, as the CCP's propaganda machine invests time and energy to "remedy" the initial public outcry about the regime's mishandling of the outbreak.
On February 18, the CCP Central Political and Legal Affairs Commission issued a notice, demanding to "introduce more positive 'warm news' with humane, heart-warming, tear-jerking stories" to create "positive energy." Since then, state media outlets changed the narrative of presenting the coronavirus as "preventable and controllable" to praising those on the frontlines and boasting about the government's work to contain the outbreak.
"Positive energy" has become a CCP's popular catchphrase ever since President Xi Jinping started using it in China's political discourse, both domestically and internationally. It is also at the core of the regime's efforts to censor the internet and control public opinion.
Several people who were involved in creating the "positive energy" amid the outbreak, share their experience with Bitter Winter.
Propagandists against their will
Yingzi (pseudonym), a medical worker who was sent to work in Wuhan, has not had much time to rest ever since she returned home two months ago. Supervised by government officials, she is busy propagating "positive energy" by sharing her experience of fighting the virus. She has to write articles that are revised and polished by propaganda experts to reflect CCP's achievements and give speeches about her work in the coronavirus epicenter.
In late January, the hospital where Yingzi worked ordered her to go to Wuhan. Against her will and despite strong objection from her family, she signed a "request to join the battle." The woman had no choice: she would have been punished if she refused to go.
The state media uses such requests to create "warm news," stressing that medical personnel from across China went to Wuhan voluntarily, or to portray "glorious sacrifices" of those who passed away from the virus while fighting it. Articles entitled "Octogenarian doctor writes a request to join the battle to support Wuhan: 'Please send me to battle'" or "Reading requests to join the battle always brings me to tears," dotted the internet in the first months of the year. But many medical workers revealed that requests to be sent to Wuhan were not always voluntary.
Before her departure, Yingzi was told to give an interview to a state media outlet about her "voluntary" decision to go to Wuhan and was given a text prepared by the municipal government, which she had to memorize. "Had I refused, I would have been punished and lost a chance for promotion or salary increase," Yingzi said.
The moment she got to Wuhan, she realized that the epidemic was more severe than she had imagined. "Medical supplies were insufficient in hospitals," Yingzi remembered. "Protective clothing was of extremely inferior quality, falling apart shortly after I put it on. What's even worse, one of the straps on my face mask fell off not long after I attached it. I saw crematorium vehicles coming and going every day, but the real death toll was not reported on the news."
Medical workers were forbidden from revealing any such information, which was deemed as "negative energy," even to their relatives. If they did, they could have been accused of "divulging state secrets."
After her return from Wuhan, Yingzi was given accommodation at a hotel for self-isolation. She was prohibited from talking to the media without permission, but when interviews were arranged, she was told only to convey "positive energy."
"Our future is in the hands of the government," Yingzi concluded. "It is only guaranteed if we follow the Party."
Like Yingzi, a woman from the central province of Henan became a "warm news hero" against her will. When a member of her family returned from Wuhan, she had to self-isolate together with him at home. The government put a banner, reading, "Please stay away—a member of this family returned from Wuhan," at the entrance to their house. When friends or neighbors left food or other supplies outside the door, officials would take photos and post them on social media, boasting that the government had provided the goods out of "love and care for the people."
Threatened to lie
A construction worker, who was recruited "to support Wuhan" in one of its hospitals in January, had a similar experience. When he and his co-workers learned about the assignment, they refused out of worry for their safety. But they had to change their minds after officials threatened to blacklist household registrations for all their family members.
"Every day, new patients were brought to the hospital, as bodies of the deceased were taken away," the worker remembered, adding that his co-workers and he lived in intense fear in Wuhan. Sometimes, overwhelmed with hard work and mental pressure, people collapsed and cried. Regardless, their company director asked them to convey "positive energy" and talk favorably about the government during arranged interviews with state media outlets, or they will "get into trouble" for any mistake. So, workers told the media that they "would support Wuhan even without pay."
After the workers returned home, the director warned them again not to disclose the real situation in Wuhan to anyone, including their family members. If they "divulged state secrets, all their family members would be blacklisted."
Source: Bitter Winter